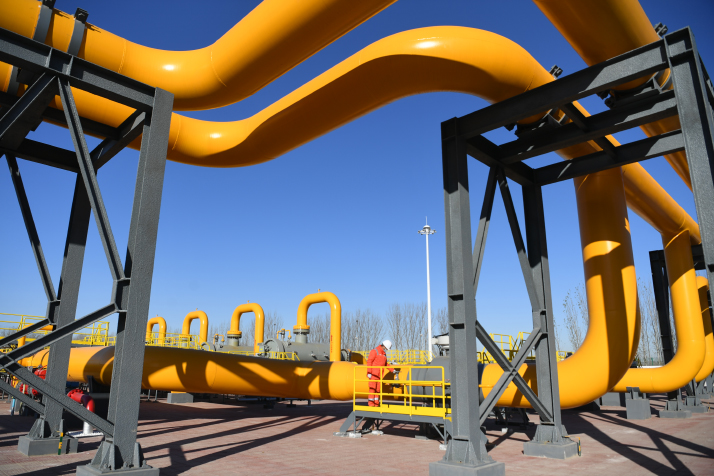 A compressor station of the China-Russia east-route natural gas pipeline in Yongqing County, Hebei Province in north China, on December 3, 2020 (XINHUA)
Guilin in Guangxi Zhuang Autonomous Region, south China, is known in China to have a peerless scenery on the planet. So when Chinese State Councilor and Foreign Minister Wang Yi hosted his Russian counterpart Sergei Lavrov in the tourist city on March 22-23, it's natural for him to liken the bilateral partnership to the local landscape, which he said is also the best in the world.
The spread of the coronavirus has accelerated the evolution of the international landscape, which calls for a rebalancing of the global governance system, and the world now faces new threats and challenges. Against such a backdrop, the extensive dialogue between the two foreign ministers will help consolidate the sound momentum of China-Russia relations, Han Lu, a researcher with the China Institute of International Studies (CIIS), told Beijing Review.
Strong partnership
The year 2021 marks the 20th anniversary of the signing of the Treaty of Good-Neighborliness and Friendly Cooperation between China and Russia, and both sides have agreed to renew the treaty and make it more relevant to the new era. "No matter how the international situation changes, the comprehensive strategic partnership of coordination between China and Russia will only strengthen, not weaken, and will only expand, not shrink," Wang said at a joint press conference with Lavrov.
The solidarity in fighting COVID-19 has underscored the traditional friendship between the two peoples, Wang said. He stressed that both sides can further deepen vaccine cooperation, jointly oppose the politicization of vaccines and help improve the accessibility of vaccines in developing countries.
The two countries have stood shoulder to shoulder and conducted extensive cooperation in COVID-19 prevention and control, diagnosis and treatment, and research and development of vaccines, Han said. For example, the phase-three clinical trial of a vaccine developed by CanSino Biologics, a Chinese biopharmaceutical company, was carried out in Russia.
In 2020, despite the disruption of COVID-19, two-way trade was $107.8 billion, exceeding the $100-billion mark for three consecutive years, according to the General Administration of Customs of China.
China has been Russia's largest trading partner for 11 consecutive years, while Russia is China's 10th largest trading partner. Trade in energy and agricultural products saw robust growth in 2020, with Russia being a top energy supplier of China and its agricultural exports to China reaching a record high of $4.09 billion. In February, Russia's second largest gas producer Novatek reached an agreement with China's Shenergy Group on supplying more than 3 million tons of liquefied natural gas to China over a 15-year period.
Both countries will work toward the goal of $200 billion in trade volume, Wang said. He also called for taking the China-Russia Year of Scientific and Technological Innovation program as an opportunity to tap the potential for cooperation on 5G, big data, the green economy and the health industry.
Han said the two neighbors need to further synergize the Belt and Road Initiative with the Eurasian Economic Union, in order to boost not only trade and investment but also cooperation in emerging areas such as scientific and technological innovation and the digital economy, and contribute to regional economic recovery and growth.
After talks with Wang, Lavrov said Russia would "spare no efforts to ensure the safety of Russia-China relations related to trade and to clearing currencies from any threats from unfriendly countries," according to Sputnik news agency.
Shang Yue, a researcher with China Institutes of Contemporary International Relations, told Beijing Review that accelerating the de-dollarization process may also be one of the priorities of bilateral cooperation in the future, given the rising uncertainties of the dollar-dominated global payment system.
Lavrov's visit to China took place just two days after the China-U.S. high-level strategic dialogue in Anchorage, Alaska, the U.S. In response to a question on whether Lavrov's visit was an intentional arrangement, Chinese foreign ministry spokesperson Hua Chunying said the development of China-Russia ties does not target any third country.
Dmitri Trenin, Director of the Carnegie Moscow Center, a Russian think tank and research center, told China Daily that both countries are under increasing pressure from the U.S. under the pretext of safeguarding human rights and democracy, which is challenging their sovereignty. Most importantly, they share a basic worldview that the world should never be dominated by any countries. No China-Russia alliance will emerge, instead there is likely to be more collaboration concerning national security, according to Trenin.
Global governance
After their talks, the two foreign ministers signed a joint statement on global governance, calling on the international community to put aside differences, build consensus, strengthen coordination and safeguard world peace and geo-strategic stability.
Recently, U.S. Secretary of State Antony Blinken said "a united transatlantic response sends a strong signal to those who violate or abuse international human rights, and we will take further actions in coordination with like-minded partners."
"The U.S. is trying to fix ties with NATO allies and seek a unified stance on the Indo-Pacific to pressure China and Russia, manifesting an outdated Cold War mentality," Ruan Zongze, Executive Vice President of the CIIS, told Global Times.
According to the joint statement, China and Russia agreed that all countries should oppose politicizing human rights issues, reject using human rights as an excuse to interfere in other countries' internal affairs, abandon double standard, and engage in dialogue on the basis of equality and mutual respect.
The statement clarifies that most countries in the world, including China and Russia, oppose the U.S. and Western countries' interference in other countries' internal affairs with such campaigns, Han said. On major international and regional issues such as Afghanistan, global strategic stability and climate change, China and Russia have played constructive roles in accordance with the principle of fairness and justice over recent years, she added.
There is no unified standard for the model of democracy, the document says. The legitimate right of sovereign countries to choose their own development paths should be respected, and interfering in sovereign countries' internal affairs under the pretext of "advancing democracy" is not acceptable.
Ruan said China and Russia, both permanent members of the UN Security Council, are determined to uphold global justice in a gradually multi-polarized world, while the U.S., using multilateralism as a disguise, seeks to impose its ideology on others and meddle in other countries' affairs to maintain its hegemony.
In face of heightened international political turbulence, there is an urgent need to hold a summit of permanent members of the UN Security Council, to facilitate direct dialogue and discussion of solutions to problems facing all human beings and help maintain stability of the world, the statement reads.
The Soviet Union, China, the U.S. and other countries supported each other and fought side by side during World War II. "In the end, justice prevailed over evil, light over darkness, and the progressive over the reactionary," Cui Tiankai, Chinese Ambassador to the U.S., and Anatoly Antonov, Russian Ambassador to the U.S., stressed in their jointly released article in September 2020.
As the cornerstone of the modern international order was laid with the wisdom of all parties, the international order and system born from World War II, with the purposes and principles of the UN Charter as the core, must be maintained, they wrote.
"China is willing to work with Russia to firmly uphold the international system with the UN at its core and firmly uphold the international order based on international law," Wang said.
(Printed Edition Title: United in the Face Of Challenges)
Copyedited by Garth Wilson
Comments to mamm@bjreview.com