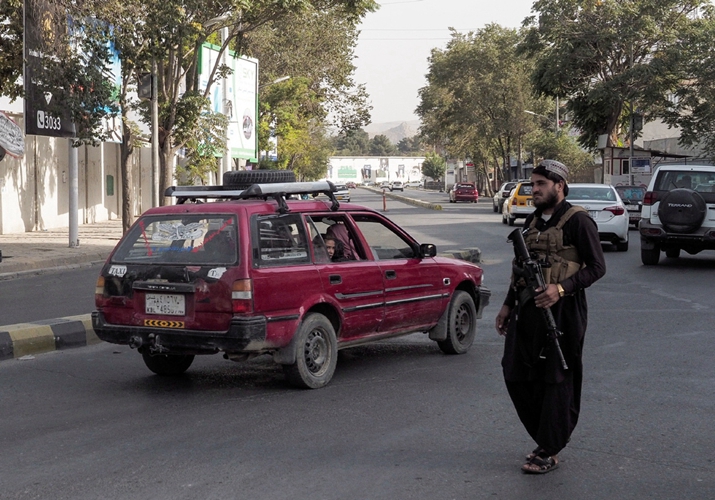 A Taliban fighter guards a check-point on a main street in Kabul, on August 29 (CHINADAILY)
In latest talks with Taliban, Beijing said the Afghan people once again have their future in their hands, and Taliban underscored its readiness to promote China-Afghanistan friendly ties and the Belt and Road Initiative.
The hopes were voiced when Assistant Foreign Minister Wu Jianghao held a phone conversation on September 2 with Mawlawi Abdul Salam Hanafi, the deputy head of the Taliban's political office in Qatar.
During the telephone talks, the two sides exchanged views on the situation in Afghanistan and issues of common concern.
Wu said the situation in Afghanistan "has witnessed a fundamental change", and the future and destiny of Afghanistan is once again in the hands of the Afghan people.
The friendship between China and Afghanistan has stayed true for thousands of years, and China has always respected the sovereignty, independence and territorial integrity of Afghanistan and has pursued a "friendly policy toward all the Afghan people".
He also expressed the hope that the country will achieve peace and stability and rebuild a beautiful home as soon as possible.
The Taliban official said that China is a trustworthy friend of Afghanistan, and Taliban is willing to further engage in developing the friendly relations with China.
He said the Taliban will never allow any force to use Afghan territory to threaten China's interests, and will take effective measures to ensure the safety of Chinese agencies and personnel in Afghanistan.
The Belt and Road Initiative cooperation, as advocated by China, is conducive to the development and prosperity of Afghanistan and the region, and Afghanistan looks to further earnestly support and participate in co-building the Belt and Road, Hanafi added.