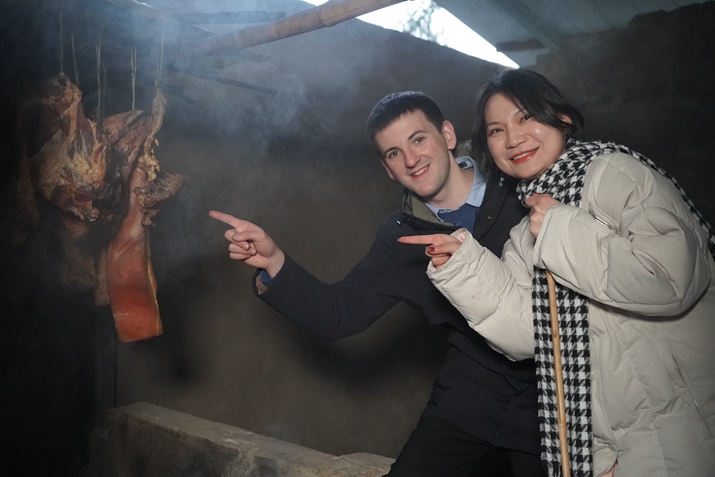 Dylan Austin Walker and his girlfriend Zhou Xin present smoked meat, a Chinese New Year specialty, in Bazhong City, Sichuan Province, on January 17 (YIN KANG)
It's the third time Dylan Austin Walker, a young American from the state of Massachusetts who has come to Bazhong City, Sichuan Province—his girlfriend Zhou Xin's hometown, to celebrate the Chinese New Year, also known as Spring Festival, which falls on January 22 this year. In his own words, "he has mostly integrated into Zhou's family." Walker's Chinese name is Wu Danran and he has been learning Chinese since a very young age.
"The Chinese New Year is kind of like Christmas in the U.S. when family members reunite and share food together, but the Chinese one has a stronger atmosphere," Walker told Beijing Review.
Zhou's family has fully accepted this young expat. "After having spent much time with him, we think Walker is a young man with a sense of righteousness," Zhou's mother said.
Walker and Zhou first met in 2015 when Walker was a high school graduate and was on a one-month trip across China. Zhou was a sophomore student at that time and kindly helped Walker buy a ticket at Beijing's Summer Palace. They kept in touch and soon sparks were flying. Walker later returned to China for his undergraduate and post-graduate studies and now works in Zhengzhou, Henan Province in central China.
"I can feel Walker gradually becoming part of the family," Zhou said. She thinks he is rather special compared with other expats, mainly because of his extensive interest in China and the Communist Party of China. In fact, Walker is a member of the Communist Party of the United States of America.
"As long Zhou is happy and they are happy together, we support them," Zhou's family said.
This year, Walker got to experience a few local Chinese Spring Festival traditions, for example, that of smoking meat, a local holiday staple. Smoking is the process of flavoring, browning, cooking, or preserving food by exposing it to smoke from burning or smoldering material, most often wood.
"We mainly helped by cutting down the branches from the pine and cypress trees and adding them to the fire--to smoke the meat," Walker said. He hopes to catch the full process in the coming years.
"The smoking process allows the pine and cypress scents to penetrate the meat, injecting it with local flavor; plus, it helps preserve the meat," Zhou explained.
Walker also gets to experience life in a small city. "I think we young people like the convenience of working in big cities. But when it comes to celebrating festivals, the small cities and towns might have a more festive atmosphere," he said.
Copyedited by Elsbeth van Paridon
Comments to taoxing@cicgamericas.com