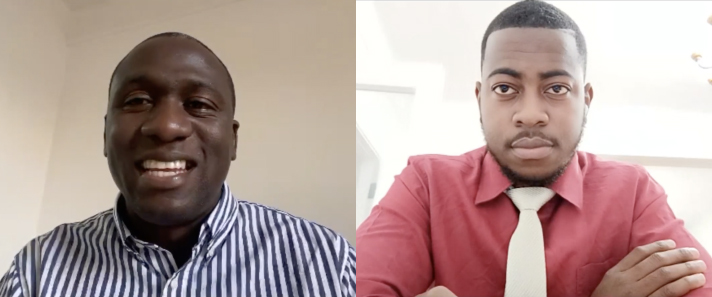 Terry Junior Auchland Andrew (left) from Antigua and Barbuda Broadcasting Services and Akeel Lovell from Nation News in Barbados during their online interview with Beijing Review in March (SCREENSHOTS)
Terry Junior Auchland Andrew, a reporter and anchor for government-owned Antigua and Barbuda Broadcasting Services, has recently gained a deeper understanding of China.
"That's one thing I picked up in all the speeches [from the Chinese leadership]—world peace," he said as he recalled his attending the press conferences on the sidelines of China's most important annual political gatherings that concluded on March 11 and 13, respectively.
The annual gatherings of the National People's Congress (NPC), China's top legislature, and the National Committee of the Chinese People's Political Consultative Conference (CPPCC), the country's top political advisory body, are commonly known as the Two Sessions. As an international journalist, Andrew was invited to cover the events, enabling him to gain a better, firsthand understanding of China and its domestic and overseas policies.
"Several parts [in the government work report delivered to the NPC on March 5] stood out for me… There are the local challenges China is dealing with, but the country still wants to continue its globalization effort. That is always welcome," Andrew told Beijing Review.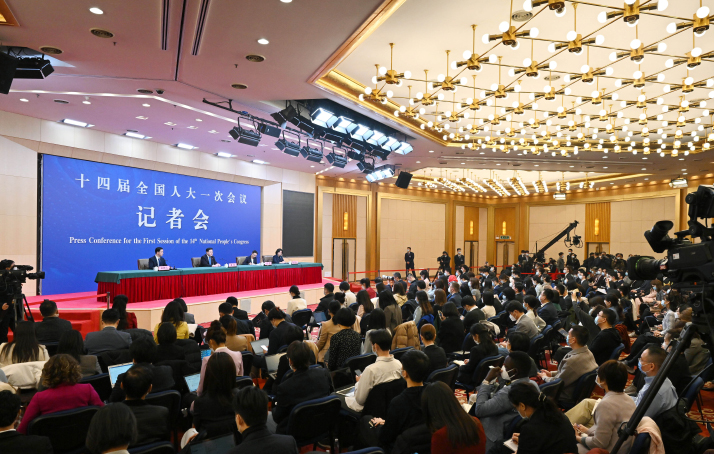 Chinese Foreign Minister Qin Gang speaks at a press conference on China's foreign policy and external relations on the sidelines of the First Session of the 14th National People's Congress, the country's top legislature, in Beijing on March 7 (XINHUA)
A platform for cooperation
Andrew said that the Belt and Road Initiative, a China-proposed undertaking that aims to boost connectivity along and beyond the ancient Silk Road routes, mentioned in this year's government work report has already borne fruit in Antigua and Barbuda since its joining the initiative in 2018.
One of the examples is the renovation and expansion of St. John's Harbor, a main port on Antigua Island. With the project's completion in September 2022, Antigua and Barbuda now has the largest passenger and cargo terminal in the Eastern Caribbean region, boosting local economic development as it is able to host multiple container ships and cruise ships simultaneously. "That has put us at an advantage over all the others (countries in the region)," Andrew said. He added China has also helped his country construct a range of athletic facilities, with the island's biggest international stadium—the Sir Vivian Richards Stadium—being one of them.
China proposed the Belt and Road Initiative in 2013 as a major platform for global cooperation. Over the past decade, the country has signed more than 200 cooperation documents under the initiative with 151 countries, or three fourths of the world's countries, and 32 international organizations, according to China's Ministry of Foreign Affairs. It created some 420,000 jobs in countries along the routes and helped lift nearly 40 million people out of poverty, Foreign Minister Qin Gang told a press conference on the sidelines of the First Session of the 14th NPC on March 7.
"There are opportunities in the Caribbean region [as well]. We have great weather from January to December… I'm sure there are young [Chinese] people who would like to start up [their own] businesses here," Andrew added.
"It's been a relationship that's worth more than money," the reporter said, believing that both countries sharing their experiences and lessons is vital for the progression of bilateral relations.
Akeel Lovell, a multimedia journalist with Nation News in Barbados, also applauded the Belt and Road Initiative and called for more cooperation between China and Barbados, especially in climate change management.
"Barbados has been one of the countries at the forefront of pushing for renewable energy and pushing for climate action. We don't contribute to climate change in a negative way. But we [do] bear the brunt," Lovell said. "I know one of China's objectives is to lower [its] carbon footprint. And I think greater collaboration can be established [in that field]."
According to the Barbados national energy policy issued in 2019, the island country has committed itself to becoming the first fossil fuel free or carbon neutral island state by 2030. In light of this bold move, Lovell added China and Barbados have been discussing plans for more cooperation in new-energy vehicles and fuel efficiency.
Talking about Qin's press conference with Chinese and international journalists, which Lovell attended, the journalist said Qin's emphasis on developing countries requiring greater representation and louder voices on the global stage particularly impressed him. "He mentioned that developing countries account for more than 70 percent of global economic growth," Lovell said, adding Qin's words echoed Barbadian Prime Minister Mia Amor Mottley's widely applauded statement on smaller developing countries needing a bigger voice on the global stage at the 2020 United Nations Climate Change Conference (COP26) in Glasgow, Scotland, the UK.
An open mind
Andrew, too, was impressed by the Chinese foreign minister's press conference, and especially by Qin's words on China-U.S. relations. "He said the relationship should be based on the common interests of both peoples. That should determine U.S.-China relations," Andrew said.
"The American people, just like the Chinese people, are friendly, kind and sincere, and want a better life and a better world," Qin stated, adding that several of the visits he'd made while he was working in the U.S., especially during his term as the 11th ambassador of the People's Republic of China to the U.S. between 2021 and 2022, had convinced him that the bilateral relationship should be determined by the common interests and shared responsibilities of the two countries and by the friendship between the Chinese and American populations, rather than by U.S. domestic politics or, as he put it, "hysterical neo-McCarthyism."
Comparing China and the U.S. to two athletes competing in an Olympic race, Qin said if one of the athletes, instead of focusing on giving it their all, always tries to trip up or even injure the other, this "does not constitute fair competition but malicious confrontation and a foul." He further reiterated China's firm opposition to such competition, which he referred to as a reckless gamble with the stakes being the fundamental interests of the two peoples—and even the future of humanity.
"China will bear in mind the interests of the world, take an active part in global governance and contribute more to world peace and development as well as to human progress," Qin stressed.
However, the bias permeating several Western media reports surprised Andrew. He said the "contentious and combative" Qin those reports described was a far cry from the poised and calm foreign minister he saw with his own eyes. "I was blown away… Was that the same conference I was at? How could they speak that way internationally?" he said.
The discrepancy reminded him of the importance of having an open mind and being objective.
(Print Edition Title: Seeing Is Believing)
Copyedited by Elsbeth van Paridon
Comments to luyan@cicgamericas.com