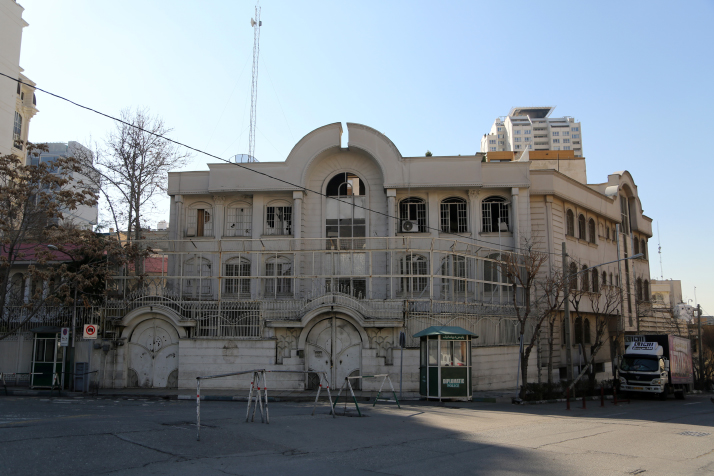 The Saudi Embassy building in Tehran, Iran, on March 11 (VISUAL PEOPLE)
March 2023, Beijing, two long-term rivals in the Middle East have decided to open a new chapter in their relationship. Saudi Arabia and Iran held talks from March 6 to 10, ending seven years of hostility by agreeing to resume diplomatic relations. According to a joint statement released by China, Saudi Arabia and Iran, the latter two agreed to reopen embassies and representative institutions, exchange ambassadors within a maximum of two months, facilitate foreign ministers' meetings, explore opportunities to strengthen bilateral relations and restart important bilateral agreements.
The agreement, which contributes to the peace and security in the Middle East, was not only driven by Saudi Arabia and Iran's desire for detente, but also efforts made by China as part of its Global Security Initiative (GSI), Jin Liangxiang, a researcher with the Shanghai Institutes for International Studies, told Beijing Review.
Regional stability
Islam has two major sects, the majority Sunnis and minority Shiites. The Sunni kingdom of Saudi Arabia and Shiite-majority Iran have been at odds over a range of issues for years and have backed opposing sides in the conflicts in Yemen and Syria.
In 2016, Saudi Arabia cut ties with Iran in response to attacks on Saudi diplomatic missions in Iranian cities. The attacks occurred during a dispute over Riyadh's execution of a Shiite Muslim cleric.
The kingdom also blamed Iran for missile and drone attacks on its oil facilities in 2019, which led to the suspension of over 5 percent of the world's crude oil production, as well as attacks on tankers in Gulf waters—allegations Iran vehemently denied.
By 2021, they began engaging in discreet lower-level direct talks, hosted by Iraq and, later, Oman.
"The kingdom hopes to open a new page with Iran and enhance cooperation," Saudi Foreign Minister Prince Faisal bin Farhan Al Saud said, adding that the agreement would benefit "security and stability and advancing development and prosperity not only in the two countries but in the region as a whole."
With their ties returning to normalcy, Tehran and Riyadh, by expanding their cooperation, will not only serve their own interests, but will also have a favorable impact on enhancing regional cooperation and convergence, Nasser Kanaani, a spokesperson for the Iranian Foreign Ministry, said, adding the agreement will also have positive influence in the international arena.
The Middle East has long been bothered by tensions between regional countries. "The restoration of diplomatic relations between Saudi Arabia and Iran sets an example of how to overcome state-to-state tensions in the region through dialogue," Li Shaoxian, Director of the China-Arab States Research Institute at Ningxia University, told China Central Television on March 11.
The rapprochement could also help normalize the fragile relations between Saudi Arabia and Qatar. The latter has distanced itself from Saudi Arabia, maintained ties with Iran and been sanctioned and isolated by the Saudi Arabia-led alliance, Ma Xiaolin, Dean of and professor at the Institute for Studies on the Mediterranean Rim at Zhejiang International Studies University, wrote in an op-ed for China Daily on March 15. If Saudi-Qatar ties are fully restored, it will help unify the Gulf countries and promote the integration of the Gulf Cooperation Council (GCC), he added. The GCC is an organization of six Arab countries in the Persian Gulf, namely, Saudi Arabia, Kuwait, the United Arab Emirates, Qatar, Bahrain and Oman.
Similarly, Syria may embrace more opportunities to return to the Arab world. It might also prompt the Houthi militia in Yemen, said to be under Iran's influence, to change its attitude and strategy, and agree to hold talks with Saudi Arabia to end the civil war in Yemen, Ma explained.
A mediator
The rapprochement could not have been reached without China's help, which "marks a historic breakthrough for regional relations as also for China's diplomatic stature," Swaran Singh, a professor of international relations at Jawaharlal Nehru University in New Delhi, India, told Beijing Review.
In April 2022, Chinese President Xi Jinping proposed the GSI at the Boao Forum for Asia Annual Conference, calling on countries to adapt to the profoundly changing international landscape in the spirit of solidarity, and address the complex and intertwined security challenges with a win-win mindset.
Jin said the GSI is distinct from the Western zero-sum, bloc confrontation and divide-and-rule approaches. It has provided a new way of thinking for dealing with regional security issues, he added.
The Saudi-Iran dialogue in Beijing has "become a successful practice for the strong implementation of the GSI," Wang Yi, a member of the Political Bureau of the Communist Party of China (CPC) Central Committee and Director of the Office of the Foreign Affairs Commission of the CPC Central Committee, who chaired both the opening and closing ceremonies of the talks, said.
He stressed that China supports the two sides in making the firm strides agreed upon in the deal to work toward a common, bright future with patience and wisdom.
"As a reliable friend of the two countries, China will continue to play a constructive role," Wang said, adding the improvement of ties has opened a path leading to regional peace and stability in the Middle East, and has set an example for the settling of divergences and differences among countries through dialogue and consultation.
China will continue to stand for justice and support countries in the Middle East in seeking political settlement of hotspot issues through dialogue and consultation, Chinese Foreign Minister Qin Gang said on March 7. He made the remarks at a press conference on China's foreign policy and external relations in Beijing on the sidelines of the First Session of the 14th National People's Congress, China's top legislature.
"In the Middle East, China will be a facilitator for peace and stability, a cooperative partner for development and prosperity, and an enabler for building strength through unity," Qin added.
The way forward
However, this development should be viewed with caution, given the track record of past dialogues between Iran and Saudi Arabia. Their deep mutual distrust is not expected to disappear solely because they reestablish embassies in each other's capitals over the coming eight weeks, Singh said.
"And it will be interesting to watch how the U.S. responds to this game-changing act of China, given they have almost totally burnt their bridges with Tehran and faced the strange reality of increasingly strained relations with Riyadh, which had been their closest ally in the Middle East," he said.
Despite the increasing diplomatic autonomy of Middle Eastern countries, the influence of the U.S. cannot be underestimated due to its long-term involvement in regional affairs, Liu Bin, a professor at Zhejiang International Studies University, pointed out.
Jin said feuds will not be solved overnight and the two sides may also face new challenges due to external interference. "China needs to help ensure the sustainability of friendly relations between the two countries," he concluded.
(Print Edition Title: A Historic Reconciliation)
Copyedited by G.P. Wilson
Comments to mamm@cicgamericas.com