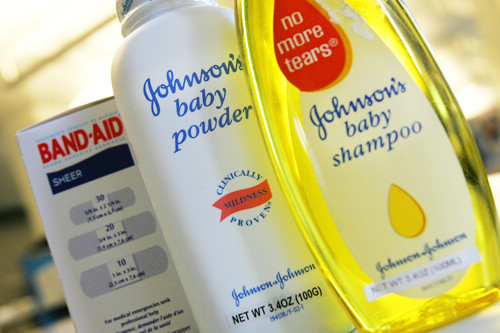 MORAL IS GOLD: Chinese consumers accuse Johnson & Johnson of having a double standard in China (XINHUA)
Beijing resident Zhang Hua has been a loyal customer of Johnson & Johnson, using the company's shampoos and other baby products on her infant son since he was born two years ago. But now, Zhang feels guilty for using Johnson & Johnson products so blindly, especially since the company is embroiled in a scandal involving the discovery of carcinogens in its products.
Even after her doctor told Zhang that her baby's health wasn't affected, Zhang still felt uneasy and removed all the Johnson & Johnson products from her bathroom.
On November 1, the United States' non-profit Campaign for Safe Cosmetics scolded Johnson & Johnson for selling its shampoo with traces of quaternium-15, a known carcinogen, in China, Indonesia and other countries. The chemical was removed from bottles sold in Denmark, Finland and South Africa.
Quaternium-15 is added to many cosmetic products to prevent spoiling and contamination, and works by releasing formaldehyde to kill bacteria. The group also cited the presence of dioxane in baby shampoo.
As early as 2009, several baby shampoos produced by Johnson & Johnson were found to contain toxic chemicals including the carcinogens quaternium-15 and dioxane. After that, Johnson & Johnson promised to remove toxic chemicals from its baby products. The fact is that today the company is still using the formaldehyde-releasing ingredient in its baby shampoo in China, while making formaldehyde-free versions of the shampoo available in Japan and the EU.
Zhang, like other Chinese parents who used to trust Johnson & Johnson, hopes that the multinational will "practice morality" in response to the revelation of harmful chemicals in its baby products.
For its part, Johnson & Johnson released a statement on November 2 saying that they have been phasing out formaldehyde releasing preservatives from their baby products and the preservative technologies they use are safe and approved by authorities in the European Union and the United States, as well as in China and India.
But Johnson & Johnson's statement could not ease the fury of Zhang and other Chinese customers. Since no official departments in China have declared that the chemical contained in Johnson & Johnson's baby products is harmful, its products were still on supermarket shelves instead of being recalled or removed.
The panic was particularly intense among young Chinese mothers. A poll conducted by Ifeng.com, which is affiliated to Hong Kong's Phoenix TV, showed that 94.4 percent of interviewees are boycotting Johnson & Johnson's baby shampoo.
China's State Food and Drug Administration (SFDA) said on November 4 that in the wake of a recent debate on the safety of infant products, its experts have started to evaluate and monitor possible risks regarding the use of quarternium-15 in cosmetics.
On November 8, SFDA spokesperson Wang Lianglan said, "China caps maximum content for quaternium-15 at 0.2 percent, similar to the United States and Europe. Some countries ban the ingredient altogether. Therefore, the experts participating in the evaluation have different opinions and we will adopt measures regulating the sales of related products once the evaluation is complete."
China's General Administration of Quality Supervision, Inspection and Quarantine carried out an inspection on Johnson & Johnson's products in 2009 following allegations that the company's bath products contained harmful substances.
The quality check showed that all tested infant bath products were in line with the country's regulations, although one batch was found to contain a slight amount of dioxane.
This time SFDA will focus its check on quaternium-15. According to China's Cosmetics Hygiene Standard released by the Ministry of Health in 2007, quaternium-15 is one of 56 preservatives allowed in cosmetics and a maximum dose of 0.2 percent is allowed.
Actually, the check on Johnson & Johnson is not about China singling out foreign companies. Enterprises should fulfill their social responsibilities, and they are not only bound to obey laws and regulations but must also practice morality and self-discipline, said state news agency Xinhua.