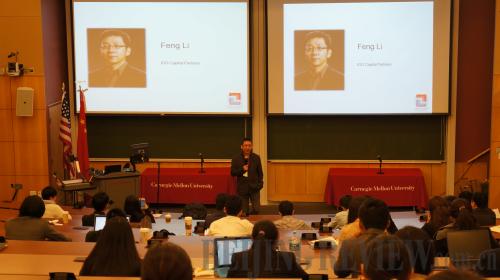 "Once you have the competence, you will be the winner," IDG Capital Partners' Li Feng told students at the CMU summit (SHEN ANQI)
Investors, entrepreneurs and industry giants of the East and West met April 25 for a two-day summit on China-U.S. innovation and entrepreneurship at Carnegie Mellon University (CMU). University students were given the opportunity for deep discussions with industry leaders revolving around hot topics such as information technology, finance, innovation, energy and environment.
In addition to providing a platform for exchanging ideas about current technological and industrial developments, the annual summit was highlighted by its new venture competition, breakout sessions and networking opportunities for leading scholars, students and entrepreneurs from China and the United States.
"The best entrepreneurial era in China is around the corner," said Li Feng, partner at IDG Capital Partners, in his keynote speech. 
With the sustained development of the Chinese economy and a more favorable startup environment for college entrepreneurs, [IDG Capital Partners] are relying on every beneficial factor to reach innovative achievements, Li said. Furthermore, according to Li, the "government makes policies to encourage resources and money to create an open environment instead of a closed environment."
Over the past year, IDG Capital has stepped up its search for skillful, experienced and open-minded young entrepreneurs from overseas--a drive for new investment ventures that shows no signs of stopping this year. Li, reflecting over his many investment cases for post-'90s entrepreneurs, told students: "Once you have the competence, you will be the winner."
Business representatives and venture partners from IBM, Dream Chaser Funds and Zhenge Funds delivered keynote speeches at the summit to share their entrepreneurial experiences and investment focuses, stimulating the entrepreneurial enthusiasm of Chinese students and guiding them to take advantage of their own strengths to increase their chances of success.
"Don't make impulsive decisions to start a business, but once your venture is started, do it seriously and firmly," said Xiaoliang Wei, co-founder of SmartStudy and SmartPigai, as he shared his entrepreneurial story with the students.
Wei encouraged all attendees keep the spirit of innovation alive. After the forum, members of the audiences flocked to the podium to further discuss their views.
David Lu (second from the left), vice president of Business Solutions Development and Technology Development at AT&T Services, Inc., answers questions during an IT panel discussion at the CMU summit (SHEN ANQI)
During the two-day summit, several angel investors said that although Chinese students face language barriers and poor practical experiences in their relevant fields, their solid professional knowledge and international background will provide unique advantages on their way to starting a business.
"So far, there is no big difference between China and the United States in the entrepreneurial environment. If I have to compare, China's economic situation is more conducive to start a business," Bo Zhu, chief "dream chaser" of Dream Chaser Funds and founder of Innovalley, told Beijing Review. "To the young entrepreneurs, I suggest starting their business in China since foreign entrepreneurs are hard to be accepted by American mainstream. Meanwhile, Chinese students also face cultural differences, which enhance venture difficulty."
When it comes to his choice of investment projects, Zhu said he has three principal considerations: First, "potential"--namely whether the entrepreneurs are engaged in a growing or "sunrise" industry; second, "thing"--evaluating whether the project is in line with market needs; and, third, "people"--deciding if the project leader is the right person to achieve success. Under these three factors, age is not a problem, Zhu said.
"I have invested in a young entrepreneur who was born in 1998, less than 17 years old." Zhu said, adding that, in fact, the new generation of entrepreneurs has better disruptive thinking skills, innovative minds and executive abilities than any other generation.
Perhaps the most exciting highlight of the summit is the annual New Venture Competition, attracting 120 teams of students from more than 50 universities including MIT, Columbia University, CMU and the University of Pittsburgh. A total of 11 teams made it to the final round to show their outstanding achievements to judges selected from venture capital firms. Teams from Harvard University, Yale University, and University of Chicago were selected as winners and awarded more than $15,000 in funding for their projects.
Gao Yingkai, vice chair of the CMU summit team, appealed for more than 2,000 participants to join this forum. "We want to provide students with a platform which not only helps them achieve their entrepreneurial dreams but also provide students with opportunities to talk with VC (venture capital)," Gao said, adding that the interest in this year's competition surprised organizers with more teams than ever before with high-quality entrepreneurial projects.
CMU was founded in 1900 by industrialist and philanthropist Andrew Carnegie. CMU is known for its programs in science and technology, including computer memory such as wireless networks, JAVA programming language, dark blue and so much information technologies were invented by CMU scholars. The school also lays claim to hatching major tech companies like Adobe, Sun Microsystems, Juniper Networks and others. According to the latestU.S. News university rankings, CMU ranked first in computer science, visual communication and multimedia, and information and technology management.
(Reporting from Pittsburgh, Pennsylvania)