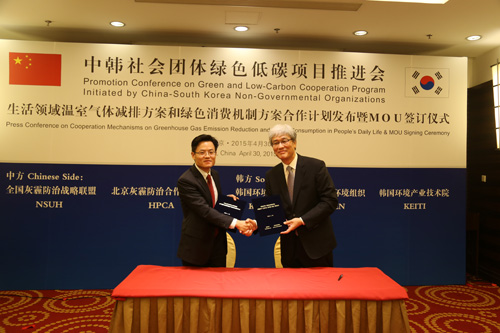 Li Junyang, Secretary General of NSUH & HPCA, signs the memorandum of understanding with Kim PillHong, Director General of KEITI, on April 30 in Beijing (BY COURTESY OF IEEPA)
In the wake of the 17th China-Japan-South Korea Environmental Ministers Meeting held in Shanghai on April 29-30, three non-government organizations from South Korea and two from China signed agreements on April 30 in Beijing concerning the reduction of greenhouse gas emissions and environmentally-sound consumption.
Three organizations from South Korea are Korea Environment Corp. (KECO), orea Climate & Environment Network (KCEN), Korea Environmental Industry & Technology Institute (KEITI). They accompanied the South Korean Delegation to attend the ministerial meeting in Shanghai. The two organizations from the Chinese side that attended were the National Strategic Union On Haze Prevention & Control (NSUH) and Beijing Haze Prevention & Control Association (HPCA).
This represents a continuing trend of increased cooperation between Chinese and South-Korean NGOs working to support efforts between their governments. The Promotion Conference on Green and Low-Carbon Cooperation Program initiated by the organizations mentioned above and a signing ceremony for the memorandum of understanding (MOU) were also held in Beijing at the same time in which Ni Xiaojing, Counselor of the Ministry of Foreign Affairs, played the host.
Relevant action plans are already put in place. Under the support of the South Korean Ministry of Environment, three programs concerning environmental protection developed by KECO, KCEN and KEITI will be introduced to China and the Chinese side--NSUH and HPCA will be in charge of the implementation domestically.
Li Junyang, Secretary General of NSUH and HPCA signed a MOU on carbon credits with Ahn YeanSoon, Executive Director of HQ of Climate and Air Pollution Management of KECO; a MOU on a "green card" system with Kim PillHong, Director General of KEITI; and a MOU on a proposed "Green Touch" software initative with Kim Jaiok, President of KCEN.
The proposed "green card" program, which will be accessible to all South Korean citizens, refers to a system that gives financial incentives to customers purchasing environmental protection and energy conservation products. Carbon credits will be a daily-life mechanism that offers discounts for households based on their greenhouse gas emission reductions in their water, gas and electricity saving efforts. Green Touch will be an energy-saving software that could be installed on PC or other digital devices.
While attending the MOU Signing Ceremony, Li Junyang, Secretary General and Vice President of NSUH and HPCA, said that the central governments of China and South Korea have all given strong support in NGO cooperation between our two countries. Thanks to the visit by Chinese President Xi Jinping to South Korea in 2014, our NGO cooperation has entered a new phase of greater vigor and vitality. China is now deepening reform and development in an all-round manner to build an open economic system. This will bring huge investment opportunities and consumption demand, thus providing broader cooperation room for economic cooperation between our two countries.
Being neighbors, China and South Korea share common goals for green development and environmental protection with huge cooperation potentials in energy conservation and environmental protection. NGOs of both countries have begun serving as an important force in deepening cooperation along with closer governmental exchanges. Echoing the new model of China-South Korea Economic Cooperation in Asia proposed by South Korean Ministry of Knowledge Economy at the China-South Korea Business Promotion Conference, we hereby initiated a new mechanism of China-South Korea NGOs cooperation in Asia to advance efforts in energy conservation, emission reduction and environmental protection.
"It is of greater significance to hold the MOU Signing Ceremony between China and South Korea NGOs during the China-Japan-South Korea Ministerial Meeting," South Korean representatives said, "we are looking forward to new heights of cooperation between our two sides."