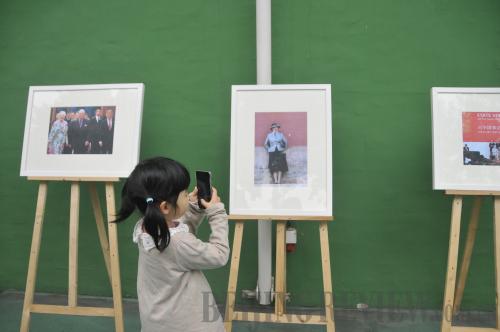 A young Chinese attendee views photography on display on the Open Denmark Day on May 9 (ZHANG YI)
The light rain experienced on May 9 did not succeed in dampening spirits, as nearly 8,000 visitors took in displays pertaining to authentic Danish design, gastronomy and art forms at the Royal Danish Embassy compound in Beijing.
This constituted the fifth time the embassy has held a public event of this nature so as to present all facets of this Scandinavian country to the Chinese people and to quench their curiosity with regards to what Denmark has to offer. 
On the occasion of the 65th anniversary of the formal establishment of relations between China and Denmark, this year's event served to give a flavor of the current "all-time high" reached between the two countries in terms of bilateral ties.
"I am more than happy to welcome the thousands of guests we have had today. This event expresses our eagerness to showcase the best of Denmark to the Chinese citizens," said Friis Arne Petersen, Danish Ambassador to China.
"During my five years in China, I have witnessed many important and also cheerful moments that have helped shape the bilateral relationship to the peak where we are today--not least the many and frequent people-to-people contacts that have helped grow our ties." 
In what was a varied selection of events, ballet dancers from the Royal Danish Ballet School and the Beijing Dance Academy demonstrated their talents in silhouette. Audiences were treated to a number of musical performances, while a patrol dog all the way from Denmark named Ticko showed his mastery of police dog tricks in addition to his impressive detection skills.
Danish chef John Kofod Pedersen also demonstrated his New Nordic Cuisine recipes and invited visitors to avail themselves of this opportunity to have a taste of the Nordic kitchen.
Some big name Danish brands also hosted exhibits. A long list of Danish companies and organizations such as Carlsberg, Kjeldsens Cookies, LEGO and many more also presented their products and services at their respective booths.