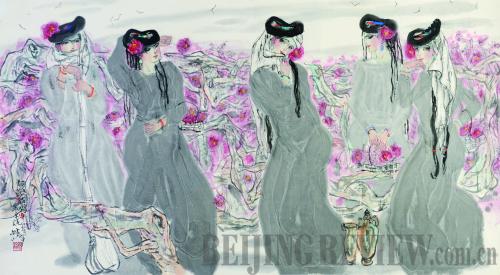 Aksu Girls
Camels in the desert, cows and sheep grazing on grasslands, and beautiful young Uygur and Kazak ladies dressed in colorful, traditional clothing are key elements of Chinese painter Lin Feng's paintings.
From May 20 to June 1, more than 70 of Lin's works are on display at an art exhibition at the National Art Museum of China.
The 77-year-old painter has spent more than half a century living in Xinjiang Uygur Autonomous Region. Lin hails from southeast China's Fujian Province. After graduating from the College of Art and Craft of Xiamen in 1961, a coastal city in Fujian, Lin volunteered to work in the far northwest region of Xinjiang.
During his time in Xinjiang, he traveled around the region, sketching portraits of locals, mostly farmers. "Local people are happy to be painted. Young women line up in a queue waiting to be portrayed. Sometimes I could do 80 sketches a day," Lin said.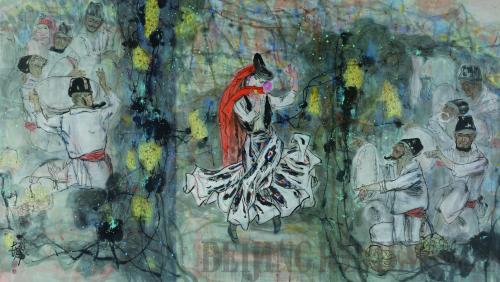 An Autumn Night in Turpan, Xinjiang
The vast and magnificent natural scenery of Xinjiang and the warm-hearted local people enthralled Lin and inspired his paintings.
He has focused his paintings mostly on the people and scenery of Xinjiang during his entire artistic career. "I like the Xinjiang people quite a lot. They are kind-hearted and diligent," said Lin.
Over 50 years' experience of living in Xinjiang has changed Lin's habits as the region in northwest China is vastly different from his hometown in the southeastern province of Fujian, which is adjacent to the sea.
"Before I came to Xinjiang I didn't eat any spicy food. However, now I cannot live without spicy dishes," said Lin.
Lin returned to his home province in the 1990s after retiring as vice president of the Painting and Calligraphy Academy of Urumqi.
In his hometown, he drew pictures reflecting life of local people. The fisherman lifestyle in his hometown formed a sharp contrast with the scenes of life in Xinjiang depicted in his previous paintings.
"Because he is a Fujian local, he wanted to reflect the diligence, kindheartedness and patriotism of his fellow country folk in his paintings," said Shang Guanping, Lin's wife for over 50 years.
Lin regards the region as his second hometown. He has kept traveling back and forth between Fujian and Xinjiang since retiring.
Artist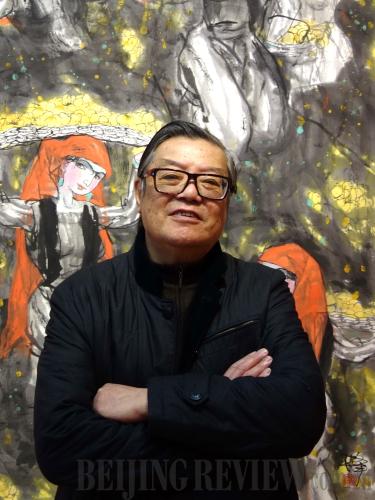 Lin Feng, the painter
Born in Indonesia in 1938, Lin returned to his hometown in Fujian Province with his family before he turned 10. In his early days as a painter, he had learned from the great masters of Chinese painting such as Wu Guanzhong (1919-2010), whose theories had a big influence on him. In 1981, he was enrolled in a master's program in the Zhejiang Academy of Art (now known as China Academy of Art), where he received lectures from Chinese painting master Wu Shanming and became friends with him later.
 "Lin has shed the confines of the three-dimensional space and uses points, lines and surfaces and colors to draw," said Wu. "In spite of a focus on Xinjiang sceneries and people, his paintings cover a wide range, from the gentle sceneries of southern China to vast deserts in Xinjiang, from delicate beauties in cities to simple and bold girls in rural Aksu," Wu added.
"Lin's works vividly portray the happy life of ethnic minorities in Xinjiang and are infused with his love for life," said Fan Di'an, President of the Central Academy of Fine Arts.
"He studies the facial expressions and actions of the people he paints carefully and focuses on representing the dancing and singing scenes of Xinjiang's minorities. Therefore, his pictures are filled with the rhythms of dance and music. Even people not dancing or singing in his paintings look lively," Fan added.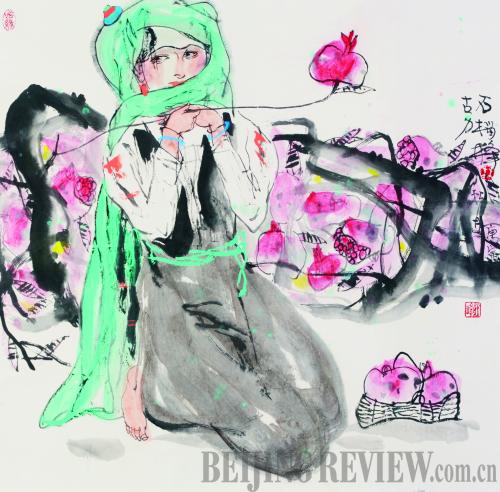 Pomegranates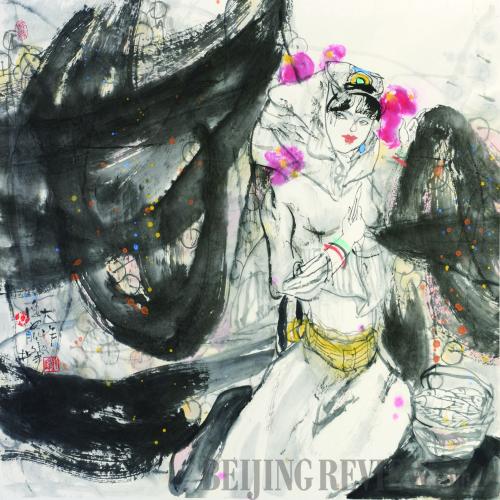 A Fisherwoman in Dazha, Fujian