Visiting Chinese Premier Li Keqiang and Brazilian President Dilma Rousseff shake hands in Brasilia, capital of Brazil, on May 19 (XINHUA)
Involving the lengthiest duration, the farthest distance travelled, and the greatest number of cities visited during any diplomatic tour of his tenure thus far, Chinese Premier Li Keqiang's first official visit to Latin America since his inauguration in 2013 garnered much attention both at home and abroad.
Following his nine-day-long state visit to Brazil, Colombia, Peru and Chile from May 18-26, China-Latin America relations were raised to a new level through the reaching of agreements and consensus on cooperation across a wide span of fields.
In parallel with China's phenomenal growth in the past three decades, trade with Latin America has been on the rise and relations are getting cozier. Last July, during the China-Latin America and the Caribbean Summit in Brasilia, Chinese President Xi Jinping proposed a framework for developing China-Latin America relations and cooperating in five distinct areas: politics, economy and trade, culture and people-to-people exchanges, international affairs, as well as multilateral and bilateral relations.
In January, the first ministerial meeting of the China-CELAC (the Community of Latin American and Caribbean States) Forum was held in Beijing, during which all parties opened a new chapter in their partnership.
Premier Li's trip to Latin America was seen as a major step toward consolidating relations upon the bedrock laid by previous efforts.
Chinese Premier Li Keqiang attends a welcoming ceremony held by Peruvian President Ollanta Humala in Lima, capital of Peru, on May 22 (XINHUA)
The '3x3' model
Fully aware of the colossal potential benefits of Chinese-Latin American cooperation, Premier Li's recent trip sees him tackling the steps necessary to get the job done
Reaching consensus on cooperation with respect to production capacity was one major theme of Premier Li's four-nation tour. Throughout his trip, Premier Li once again gracefully pitched Chinese technology and manufacturing to overseas markets.
In Brasilia, the first leg of his Latin American trip, Premier Li signed a total of 35 trade agreements worth $27 billion with Brazilian President Dilma Rousseff. The half-an-hour signing ceremony for contracts and agreements covering mining, technology and finance was attended by industrial and business representatives from both sides.
Premier Li proposed a new 3×3 model of China-Latin America cooperation in production capacity at the China-Brazil Business Summit in Brasilia on May 19. In his opinion, China and Latin American and Caribbean countries could focus on three major fields of logistics, power and information with the end goal of achieving connectivity on the South American continent. He pointed out that both sides could expand financing channels including fund, credit and insurance.
"The new 3×3 model aims to boost the relationship between China and Latin America and the Caribbean countries through cooperation in terms of infrastructure construction and the establishment of joint ventures," Wang Yiwei, Director of the Institute of International Affairs under Beijing-based Renmin University of China, wrote in People's Daily on May 26.
Premier Li also announced at the summit that China will establish a special fund of $30 billion to promote China-Latin America cooperation in production capacity and equipment manufacturing.
In recent years, Brazil has become an increasingly important partner of China in bilateral relations and multilateral affairs, working through organizations such as BRICS, which consists of Brazil, Russia, India, China and South Africa. It is also China's biggest trading partner in Latin America. According to statistics of China's General Administration of Customs, bilateral trade between China and Brazil in 2014 totaled $86.67 billion.
The need for industrial cooperation between China and Brazil is strong, as each boasts distinct comparative advantages. During President Xi's visit to Brazil last year, Chinese buyers ordered 60 passenger planes from Embraer S.A., the country's leading airplane producer. The first 22 jets have now passed China's approval procedures upon Premier Li's arrival.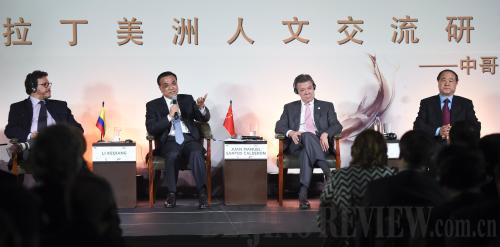 Chinese Premier Li Keqiang and Colombian President Juan Manuel Santos attend a symposium on China-Latin America cultural exchange in Bogota, Colombia, on May 22 (XINHUA)
Meanwhile, made in China is also catching on in Brazil.
Rio de Janeiro, Brazil's second largest city, is at present readying itself for hosting the Olympic Games next year. The city must improve its public transportation conditions to accommodate swarms of fans and to herd both domestic and foreign visitors from sports venues to and from hotels and residences. Chinese companies have contributed by proffering their high-quality metro trains and automobiles for use.
During the Brazilian leg of his tour, Premier Li got on board the Chinese-made metro and ferry currently undergoing test runs in Rio. In 2013, Rio State Government bought seven ferries from China Shipping (Group) Co. to lift maritime transportation capacity of the coastal city. The first ferry made in China was put into use last year. CNR Corp. Ltd., China's leading locomotive and train producer, has finished delivering all of the 90 subway trains to Rio by May 25. These brand new metro carriages will be in service when the Olympic Games come around.
Chinese carmakers are also tapping potential in the Latin American market. For example, Chery Automobile Co. Ltd. opened a plant in Sao Paulo in 2014. JAC Motors also plans to expand investment in Brazil this year in response to the thriving market.
Chinese brand cars are increasing their presence in other Latin American countries as well.
Li Baorong, Chinese Ambassador to Chile, told People's Daily that he was surprised to see Chinese car brands on the streets when he first landed in the country.
Over 20 Chinese car brands have set up dealerships in Chile since the first one Haval SUV arrived on the scene in 2007. Chinese cars account for 15 percent of the market overall. Meanwhile, more and more goods from Chile are being exported to China. As much as 98 percent of blueberries and three quarters of cherries sold in the Chinese market come from Chile, Li said.
Chinese companies have not only brought China's technology to the Latin American market but also created job opportunities for locals.
Locals account for about 70 percent of employees in Chery's branch in Brazil, Peng Jian, General Manager of Chery Brazil, told Xinhua News Agency.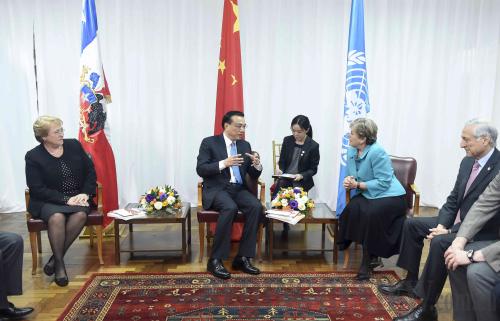 Accompanied by Chilean President Michelle Bachelet (left), Chinese Premier Li Keqiang meets with Alicia Barcena (right), Executive Secretary of the United Nations Economic Commission for Latin America and the Caribbean, in Santiago, Chile, on May 25 (XINHUA)
Free trade benefits
Growth in bilateral trade has benefited from the 2005 free trade agreement reached between China and Chile, Li said.
Indeed, Chile was the first Latin American country to sign such an agreement with China with bilateral trade now extending from goods to service and finance.
A free trade agreement with China has also brought considerable benefits to Peru since a bilateral pact took effect in 2010. Trade volume between the pair reached $14.32 billion in 2014. By the end of that year, Chinese investment in Peru had totaled $14.24 billion. Peru is also home to the largest Chinese community in Latin America.
Reaching an agreement to conduct a feasibility study on a proposed transcontinental railway line was one major fruit borne by Premier Li's tour to Lima.
The proposed railway will connect Peru's Pacific coast with Brazil's Atlantic coast. In 2014, the project was discussed by the leaders of China, Brazil and Peru. Considering its potential in advancing economic development in locations lying along the railway line and in accelerating industrialization and urbanization in South America, the three countries have agreed to speed up efforts toward progressing in the project.
Premier Li stressed that the project will proceed under conditions pertaining to environmental protection and biological diversity at a press conference which took place after his talks with Peruvian President Ollanta Humala on May 22.
China and Colombia have begun a feasibility study on a potential free trade agreement. Premier Li's visit to the country will accelerate the negotiation progress, said Qi Fengtian, a researcher at the Institute of Latin America of China Academy of Social Sciences (CASS).
It has been 30 year since a Chinese premier has stepped foot on Colombian soil. The Colombian Government troops and the guerrilla forces agreed on a cease-fire for 24 hours during Premier Li's visit, according to China's State Council website.
During a meeting with Premier Li in the nation's capital, Bogota, Colombian President Juan Manuel Santos said he believed that cooperation with China will surely be conductive to aiding post-war reconstruction and the overall economic and social development of Colombia.
"Currently, a domestic peace agreement is expected to be reached between the government forces and the guerrillas, which will bring about more opportunities for cooperation between China and Colombia," Qi said.
In spite of domestic security challenges, Colombia still managed to secure nearly 5 percent GDP growth on average from 2010 to 2014. Trade between China and Colombia also fast increased within that same period.
Qi of the CASS said Colombia's economic growth in recent years can be attributed to two major factors. First, the Santos' administration took a series of economic incentives to encourage foreign investment in mining, infrastructure, agriculture and industry in addition to taking measures to improve the business environment in the country. Second, the security situation in Colombia has also improved with the government dedicating itself to promoting peace domestically.
People-to-people exchanges
As an ancient Chinese saying goes, "Amity between people holds the key to sound relations between states."
Apart from economy and trade, Premier Li's tour in Latin America boosted ties in the field of cultural and people-to-people exchanges. Despite an intensive schedule, Premier Li managed to attend a number of such events during his visit.
At a symposium on China-Latin America cultural exchanges in Bogota on May 22, Premier Li called for more cooperation between China, Colombia and Latin America at large at the cultural level.
Over 100 figures from literary and art circles in both countries attended the symposium. Chinese Nobel laureate of literature Mo Yan said at the symposium that he has been greatly influenced by the masterpieces of Colombian writer and fellow Noble laureate Gabriel García Márquez, while President Santos returned the compliment by saying that many Colombian writers greatly admire the sweep and depth of China's 5,000-year-old culture.
In Lima in Peru, Premier Li visited an exhibition on the Chavin and Inca cultures as well as a photo exhibition on the origin of the Chinese civilization at the National Museum of the Archaeology, Anthropology, and History. He returned the favor by gifting a replica of an ancient Chinese mask to the museum.
Guo Cunhai, a researcher at the Institute of Latin America of CASS, told Xinhua News Agency that in the next five years, relations between China and Latin America are likely to develop quickly. In this sense, both sides must deepen mutual understanding, he stressed.
China has established over 30 Confucius Institutes in 14 Latin American countries so far, which have played an important role in promulgating Chinese culture and promoting cultural exchanges.
The fruits of Premier Li's tour and ongoing cooperation reflect the sound ties between China and Latin America. As Alicia Barcena, Executive Secretary of the United Nations Economic Commission for Latin America and the Caribbean, wrote in Chilean newspaper El Mercurio on May 24, China-Latin America relations are now full of vitality.
Copyedited by Eric Daly
Comments to baishi@bjreview.com