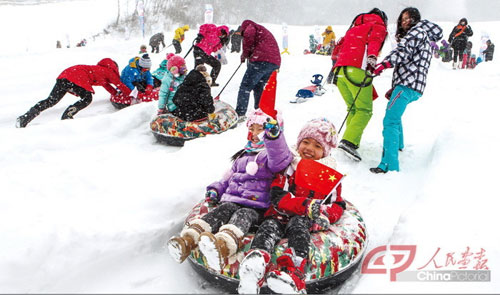 Winter wonderland (WU DIANSEN)
In 2013, the Beijing 2022 Olympic Winter Games Bid Committee (OWGBC) applied to the International Olympic Committee (IOC) to host the Winter Olympic Games. Zhangjiakou City of Hebei Province was included on the list as organizer of skiing events, and Beijing the organizer for ice sports. Beijing is highly experienced in hosting after the 2008 Olympic Games and still has plenty of ready venues such as the Bird's Nest, Water Cube and Wukesong Stadium. However, Zhangjiakou has never undertaken such a major international event.
What does Zhangjiakou look like? Why was it chosen to pair with China's capital to bid to co-host the Winter Games? Let's take a closer look at the city yesterday and today.
History and culture
Located in northeastern Hebei Province, Zhangjiakou is a famous ancient city in northern China. Its Nihewan Ruins are considered a cradle of ancient humans rivaling Olduvai Gorge in East Africa in terms of research value. It was here that Yellow Emperor City, the first capital in Chinese history, was established some 5,000 years ago.
During the Ming and Qing dynasties (1368-1911), Zhangjiakou served as a commercial hub facilitating trade between northern China and other countries such as Mongolia, Russia, and Eastern European countries, enjoying fame on par with Guangzhou (Canton) in southern China. It was the starting point of the "Northern Silk Road" that stretched 1,400 km to Mongolia and Russia.
Zhangjiakou takes pride in its abundant cultural resources--380 intangible cultural heritage items across 10 categories, including opera, quyi (Chinese folk art forms), and folk handicrafts, music and dancing.
Of its many cultural legacies, 150-year-old paper-cutting from Yuxian County sell well in more than 40 countries and regions, including the United States, Japan, Canada, and Singapore. It has been listed by UNESCO as representative World Intangible Cultural Heritage.
Moreover, Zhangjiakou is home to a number of folk arts with strong local flavors such as the watchman's clapper and song-and-dance duet, as well as the yangko from Yuxian, puppet show from Yangyuan, and bass drum from Zhangbei.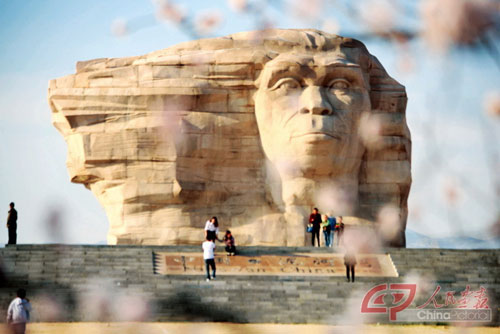 A thematic sculpture in the Nihewan Ruins, Zhangjiakou, shows that this place was one of the cradles of ancient human civilization (CFP)
Three advantages
Zhangjiakou would not have been chosen to partner with Beijing for the Winter Games without its three advantages.
First, it is only 180 km from Beijing. After the completion of the Beijing-Zhangjiakou High-Speed Rail in 2015, it will take only 50 minutes to travel between the cities.
More importantly, Zhangjiakou has great conditions for skiing events, supplementing Beijing with its five ice sports events. Zhangjiakou enjoys favorable topography and climate for skiing: Its slopes are fit for skiing 150 days a year. It is already home to five ski resorts, and many of its trails have been identified by the International Ski Federation (FIS). These ski resorts have served as training and competition bases for the national team as well as professional teams from other countries including South Korea and Japan.
Over the last few years, the city has accumulated rich experience in hosting international events such as FIS' alpine skiing tournaments and the Far East Cup.
Third, the city enjoys quality air, of which residents of Zhangjiakou are proudest. Statistics show that 315 days of 2014, its air quality met the quality standard, leading 37 cities north of the Yangtze River which are regularly monitored.
Chongli Ski Resort offers plenty of skiing choices (WU SHEJUN)
The good news
As a location of military importance through the centuries, Zhangjiakou opened to the outside world in 1995, more than 10 years after China's introduction of economic reform and opening-up policies. The city has seen slow growth in economics and fiscal revenue due to its heavy responsibility as an ecological protective screen for Beijing.
Its geographical position, neighboring the country's capital, could be a factor influencing the city's slow economic development, but could also become a driver of development. In 2009, it confirmed tourism as its leading industry thanks to tremendous tourist markets of Beijing and Tianjin, another municipality under the direct jurisdiction of the Central Government.
Bidding to host the Winter Olympics in 2022 has brought new opportunities for development as well as the promotion of local brands, such as Chongli Ski Resort and Kangbao Grassland Snow & Ice World. In 2014, nine skating rinks were established in five counties and districts and they now welcome over 5,000 winter sports fans daily. In winter, the city receives some 1.4 million skiers. In 2014, Zhangjiakou took in more than 23 billion yuan ($3.7 billion) in fiscal revenue, doubling the number of 2009, thanks to the contributions of the skiing industry.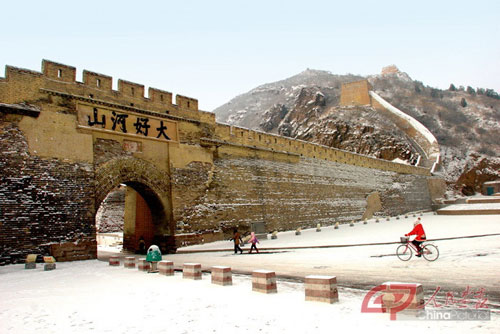 Dajingmen in Zhangjiakou was a strategic pass among the many passes along the Great Wall (XINHUA)
A successful bid would be crucial for future economic development in Zhangjiakou to adjust and improve its industrial structure. The driving force of the Winter Games will surely help build a cultural, tourist belt between Beijing and Zhangjiakou and elevate segments of culture, sports and tourism into pillar industries.
The Winter Games will bring 200,000 job opportunities to the local residents and drastically change lives in Zhangjiakou. It's hardly a surprise that 99.5 percent of residents support the bid, according to a France-based survey firm.
(Source: China Pictorial)