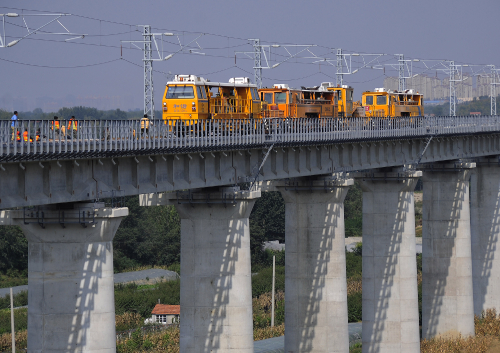 FULL STEAM AHEAD: An inter-city high-speed railway line in east China's Shandong Province is tested on October 5. The 300-km railway connects three major cities of the province—Qingdao, Yantai and Weihai (SUN WENTAN)
China's economic growth rate has been declining since 2010, falling to a six-year low of 7.3 percent in the third quarter of 2014. This has been the longest growth slowdown since the country adopted the reform and opening-up policy in 1978. In an article recently published on the Reference News, Justin Yifu Lin, a professor of economics at Peking University and former chief economist and senior vice president of the World Bank, thinks that the growth slowdown is mainly caused by external factors. He believes China can still achieve a relatively fast growth of 7 percent or more by fully tapping into its advantages as a latecomer. Edited excerpts of the article follow:
My coauthored book--The China Miracle: Development Strategy and Economic Reform--published 20 years ago forecast that China may surpass the United States to become the world's largest economy in 2015 in terms of purchasing power parity (PPP), if it continues to put forward reforms. At that time, most scholars didn't believe such a prediction. Yet, 20 years later, the forecast has been proven correct, as indicated in the data from the World Bank and the International Monetary Fund.
However, China's huge population means its per-capita GDP remains low compared with the United States. The Chinese population is four times that of the United States. Even if China's GDP surpasses U.S. GDP, the former's per-capita GDP measured by PPP is only one fourth of the latter's. Moreover, measured by exchange rate, China's per-capita GDP is only one eighth that of the United States. Therefore, China still needs to maintain relatively fast growth for years in order to catch up with developed countries in terms of per-capita GDP.
Potential remains
When I finished my tenure with the World Bank in 2012, I predicted that the Chinese economy still had the potential to expand at an average annual rate of 8 percent for 20 years starting from 2008. This prediction was again met with many questions and doubts from domestic scholars. They argued that since the reform and opening up began in the late 1970s, China had already maintained average annual growth of 9.8 percent for 35 years, which has never happened in history. After 35 years of high-speed growth, how could it be possible that China still has the potential to maintain such momentum?
In fact, China's economic growth has been declining since the beginning of 2010, falling to 7.3 percent in the third quarter of 2014. Moreover, the downward pressure remains great. Such a trend appears initially to confirm their views.
What caused the GDP growth to continuously decline since the first quarter of 2010? Does it mean the country's growth potential has slid below 8 percent? Or, is it caused by the so-called "intrinsic systematic problems" claimed by some doomsayers?
I believe the recent economic growth slowdown has been mainly attributed to external factors. Similar slowdowns were seen in other emerging economies, including India and Brazil, as well as high-income East Asian nations like Singapore and South Korea (see graph). Therefore, it can only be international cyclical factors that weighed on these countries' economies. Moreover, China performed much better in comparison with those countries.
Latecomer advantage
Putting external shocks aside, how much growth potential does China's economy still have? We need to take a closer look at the nature of economic growth and the decisive factors behind rapid growth.
The nature of economic growth is the continuous growth of per-capita GDP, which is based on rising levels of labor productivity. Meanwhile, continued technological innovation and industrial upgrading are the decisive factors behind rapid growth of the modern economy. Yet, unlike developed countries that had to rely on their own research and development starting with the industrial revolution in the 18th century, developing countries are able to imitate, introduce and integrate existing technologies at lower costs with lower risks. This is the "latecomer advantage."
Theoretically speaking, if a developing country can make use of this advantage to achieve technological innovation and industrial upgrading, its economic growth could be faster than that in developed countries. According to research by the Commission on Growth and Development led by Nobel laureate Michael Spence, after World War II, 13 economies utilized the latecomer advantage to achieve annual GDP growth of 7 percent or more for 25 years or longer, more than double the growth rates of developed countries.
The latecomer advantage was a major reason for China's fast growth, which became one of the above-mentioned 13 economies after 1979. Whether the country still has the potential for further rapid growth depends on how much of the latecomer advantage it can still harness.