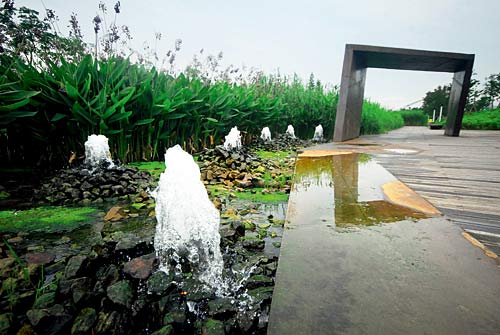 GREEN MEMORY: Houtan Park will be one of the legacies of the Expo (LIN YAN)
The Bureau of International Expositions says the 42 national pavilions designed and built by countries themselves are temporary buildings and must be demolished after the Expo. We have to observe the rules.
Everyone who has been involved in the Expo must have a soft spot for those pavilions. They are like our children and are the fruits of years of hard work. Emotionally speaking, we do not want to see them pulled down.
What will happen to the space after the pavilions are removed?
The removal cannot be finished in one day. The demolition will be a long process. If the construction of pavilions is a part of the Expo, why not the demolition? In fact, I would rather give the demolition a new name—transformation. In the past we transformed the Jiangnan Shipyard into Expo pavilions. So why can't we transform pavilions into museums in the future? In my view, good transformation is more important than good construction. The Chinese people are wise enough to deal with this problem.
What about the Puxi (west of the Huangpu River) side of the Expo site? Will the displays continue?
The Urban Best Practices Area (UBPA) and corporate pavilions on the Puxi side display some of the most advanced and modern ideas in urban planning and other fields, which will be essential to urban development in the future. The success of today's Shanghai can be traced back to industrialization and modernization more than 100 years ago. Today's display in the UBPA and corporate pavilions might enlighten some cities or enterprises. So why not change corporate pavilions into the museums of various businesses? Why could the area not become a platform for China's major businesses in the future? Someday the most advanced ideas might develop here.
For creative industries, the workshop is always more important than a mere product display. As we all know, the process of painting interests visitors much more than the final work itself. The UBPA allows us to study how cities evolve and grow, rather than how the city looks today.
What will Puxi become in the future?
Puxi made glorious achievements in industrialization early last century. China's first cannon and airplane were produced in Puxi. In the future, Puxi will play a leading role in promoting new practices in urban development and the newest technology and trends will be disseminated there.
For average Shanghai residents, what are most important legacies of the Expo?
The huge green land along the Huangpu River will be the biggest legacy for common people. Lovers, children and senior citizens will be able to relax there. This April, I saw a migrant worker couple play with water in Houtan Park. You know, the water there used to be polluted and the Expo has changed that. Greatly improved public transportation will be another legacy.