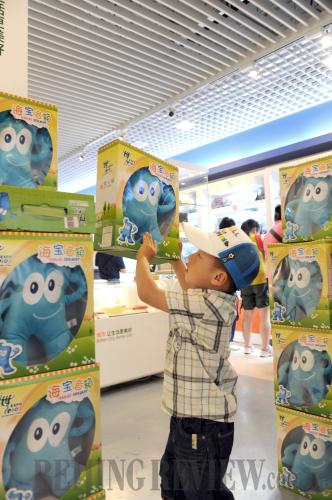 POPULAR MASCOT: Haibao toys are favored by young visitors (LI BAISHUN)
For a large number of visitors, shopping at the World Expo's many souvenir shops in Shanghai has become an integral part of the Expo experience. The souvenirs will be valuable reminders of the wonderful time they spent in Shanghai.
According to the Shanghai Expo Licensed Product Department, about 15,000 products are available for purchase at the Expo. These items fall into 29 categories, including garments, toys, accessories and personal care products.
The most popular souvenirs, according to local media, are toys featuring Expo mascot Haibao, miniature models of the China Pavilion, Expo passports, Expo-themed playing cards, pencil boxes and erasers, badges, pins, stamps and postcards. Apart from Expo-themed items, souvenirs offered in country pavilions, ranging from French perfume and wine to Polish amber jewelry and hand-painted Russian Matryoshka dolls, also have a strong appeal.
Souvenirs are reasonably priced to ensure that no shopper will leave the park empty-handed. According to the licensed product department, about 83 percent of the items on sale are priced at or below 500 yuan ($74); only 5 percent of the items are priced at or above 5,000 yuan ($735).