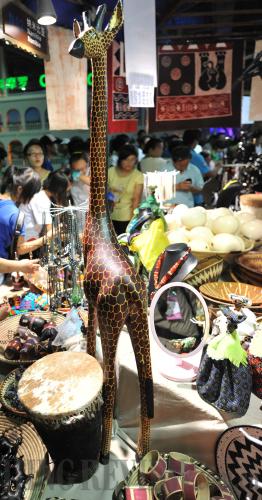 OUT OF AFRICA: A giraffe carved out of wood stands among a variety of products in the Africa Joint Pavilion's souvenir store in Shanghai (DING HAITAO)
Xin Juehui, Sales Manager of the Shanghai Expo Licensed Product Department, said the average visitor spends around 20-30 yuan ($3-4) on Expo products.
It is easy for shoppers to find the souvenirs they are looking for. Eighty Expo franchise product stores are scattered around the park. Visitors can easily pick up a souvenir or two between trips to the pavilions and restaurants.
The flagship store near the Expo Axis in Zone B of the Expo boasts the richest variety of licensed products. Shoppers can find both expensive gold bars and cheap Haibao balloons there.
Expo souvenirs are also available in stores outside the Expo site. Xin said more than 7,500 stores selling World Expo-licensed products have opened in China, about 5,000 of which are currently operating in Shanghai, with the rest scattered in other parts of China. By the end of August, the total sales volume of these products had hit 24 billion yuan ($3.5 billion).
Fifteen foreign retail chains, including Carrefour, Wal-Mart, RT-Mart and Auchan, have signed contracts with Expo organizers to be licensed retailers of Expo souvenirs. Currently, these chains have about 200 stores selling Expo-licensed products in China.
Badges and pins
More than 100 types of Expo pins and badges have been released. For collectors, every pin has a unique and interesting story. In addition to licensed Expo-related pins, almost every pavilion has its own badge or pin. They can be found either in shops selling licensed Expo souvenirs, or in pavilion souvenir shops. Shanghai student volunteer organizations and the colleges these volunteers represent have also designed their own.
Most pins and badges are priced around 20 yuan ($3) with the highest at about 70 yuan ($10). To celebrate important occasions, some pavilions have issued limited edition commemorative pins, which now have collector value.
Ma Bo, a staff worker at the Beijing Case Pavilion in the Urban Best Practices Area, is a pin enthusiast. He has collected a total of 173 pins so far. He said that he often visits other pavilions in his spare time looking for pins he hasn't collected yet. He puts the pins in transparent plastic bags, which allows him to take them wherever he goes and look at them whenever he wants. Ma also exchanged pins with or even purchased them from other collectors.
Stamps
For stamp fans, the Expo seems to be the biggest stamp fair in the world. Most of the pavilions offer special or souvenir stamps, including some limited edition Expo commemorative stamps.
"As an important component of the culture of the World Expo, the stamps have been accompanying each Expo since its first event," said Liu Mingyan, General Manager of the China National Philatelic Corp. (CNPC).
On December 19, 2007, China Post issued its first set of 2010 Expo-themed stamps, two stamps featuring the Expo logo and mascot. Feng Xinsheng, Deputy General Manger of CNPC, said that the commemorative Expo stamps China Post issued from 2007 to 2010 were themed on China and the World Expo, the Expo Park in Shanghai, and the 2010 World Expo's opening ceremony.