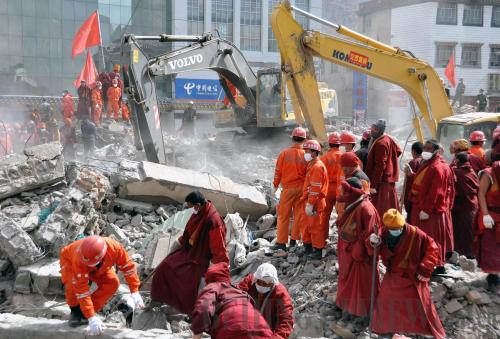 REFUSING TO GIVE UP: Rescuers use excavators to remove earthquake debris in Yushu on April 18, in order to search for survivors (XIAO HONGHUAN) 
 HIGH-LEVEL CONCERN: During his visit to Yushu on April 18, Chinese President Hu Jintao comforts a resident in Gyegu Township who lost his house to the earthquake (LAN HONGGUANG)
As donated food, clothing, quilts and heating devices flood into earthquake-devastated Yushu Tibetan Autonomous Prefecture in Qinghai Province from across the country, and power and water supply and telecommunications services resume, survivors of the catastrophic earthquake on April 14 see hopes of emerging from the traumatic event and starting a new life.
At least 2,183 were killed in the 7.1-magnitude earthquake and 12,135 injured, according to the official tally on April 21. The devastating earthquake affected approximately 100,000 people in a 30,000-square-km area, said the China Earthquake Administration.
Yushu, covering 267,000 square km, has a population of more than 252,700 people, 97 percent of whom are Tibetans. The prefecture's average altitude of 4,000 meters poses an extra challenge to rescuers from other parts of China, who are often prone to altitude sickness.
By 11 p.m. April 19, a total of 1,236 aftershocks had occurred, with the strongest measuring 6.3 in magnitude and killing 46-year-old Wong Fuk-wing, a volunteer at a local orphanage from Hong Kong. Wong, who went back to a crumbling building to save stranded orphans, was crushed under collapsed houses after pushing three orphans to safer ground.
On April 20, the Central Government declared April 21 a national day of mourning for earthquake victims, demanding the halt of all entertainment activities and that national flags fly at half-mast throughout the country, as well as its embassies and consulates overseas.
The 11th Panchen Lama, Bainqen Erdini Qoigyijabu, hosted a prayer ritual on the morning of April 20 in the Xihuangsi Temple in downtown Beijing, to guide the souls of those who died in the earthquake through their sufferings to heaven.
The ceremony was co-hosted by Jamyang Losang Jigme Tubdain Qoigyi Nyima, a prestigious living Buddha. They also prayed for people in the quake zone to help them get through their sufferings, and for the peace and safety of the whole world, said a press release.
Prompt action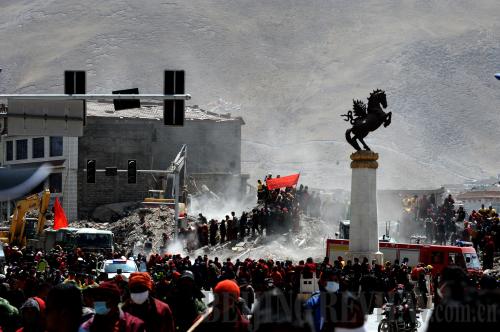 STRENGTH OF MANY: Rescue professionals, volunteers and local residents dig through earthquake debris in Gyegu Township, Yushu, Qinghai Province, to look for more survivors on April 18 (ZHU XIANG) 
Cutting short his visit to Latin America, Chinese President Hu Jintao headed for Yushu shortly after his return to China on April 17.
Arriving in Yushu on the morning of April 18, Hu told rescue teams while standing on earthquake ruins the top priority "is to rescue those still buried alive and treat those injured."
"Each life must be cherished," he said.