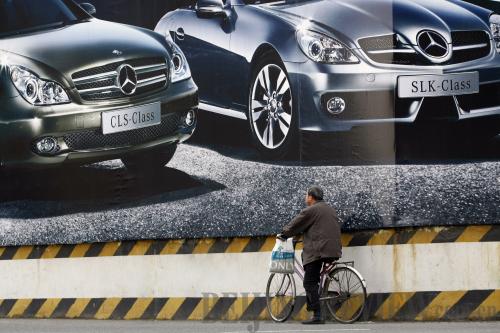 (CFP)
The income gap between regions, urban and rural areas, industries and various social groups is widening in China. The gap, as indicated by the Gini Coefficient, extended beyond an alarming level. A World Bank report said the Gini Coefficient for China surged to 0.47 in 2009, exceeding the "red line" of 0.4. The problems caused by the rising income disparity have been the focus of public attention. Some experts believe that it is high time for China to shrink this income gap. A Xinhua News Agency research team recently analyzed this trend, and published an article in the Economic Information Daily. Edited excerpts follow:
The income gap for China as a whole and between social groups has been growing, said Su Hainan, Director of the Wage Institute under the Ministry of Human Resources and Social Security. Currently, the incomes of urban residents are 3.3 times greater than that of rural residents, whereas the urban rural income ratio in other countries is no more than 2. Income disparity between industries is also pronounced—incomes in the highest-paid industry are about 15 times that in the lowest-paid industry.
The gap between people in different positions has also grown rapidly. In listed state-owned enterprises, senior executives' average incomes are about 18 times that of workers in the front line. The average pay of executives in state-owned enterprises is 128 times that of China's national average, Su said.
Li Shi, Director of the Income Distribution and Poverty Research Center of Beijing Normal University, said that the income gap between the wealthiest 10 percent of the population and the poorest 10 percent rose from 7.3 times in 1988 to 23 times in 2007. Li has participated in administering four large income surveys since the 1980s.
Lucrative industries
Some experts believe that in recent years, as China's economy has grown rapidly, land, natural resources and capital have become three production factors have been playing an important role in wealth distribution. Real estate, mining and securities industries have become the most lucrative industries allowing a small number of people in these industries to ascend to "the richest" status almost overnight.
According to Forbes' 2009 list of the richest people in China, among the top 400, 154 were property developers. Five of the top 10 also came from the property sector.
Since land is the leading factor in the real estate industry, property sale is basically land sale, said Tang Jun of the Social Policy Research Center under the Chinese Academy of Social Sciences. On one hand, property developers acquire land from farmers at low costs, and on the other hand, they sell houses to the public at high price. The difference between the housing price and land cost partly turns into the fiscal revenue of local governments and the rest becomes the profit of property developers. As housing prices skyrocket, non-home owners are basically excluded from the door to large fortunes, Tang said.
Non-renewable mineral resources are controlled and exploited by a small number of people, who have quickly become rich. In coal-rich Zuoyun County, Shanxi Province, hundreds of "coal bosses" were billionaires, while the average per-capita annual net incomes for local farmers were only 4,359 yuan ($641), more than 400 yuan ($58.8) lower than the national average.
"Unequal allocation of resources contributes to a less equal distribution of social wealth," said Chang Xiuze, a researcher with the Macroeconomic Research Institute of the National Development and Reform Commission (NDRC). This has something to do with the shortcomings in the mineral resource ownership system in China, he said. Obvious examples are that the natural resources tax is low, the mining cost is low and the environmental cost is not taken into account. This is why "coal bosses" have gotten rich so quickly, said Chang.
In recent years, the capital market has been "red hot," and speculative investment has been rampant, which has augmented capital's wealth generating effect and enlarged the gap between capital gains and labor incomes, allowing the rich to become richer while the poor become poorer.
Hidden incomes
Wang Xiaolu, Deputy Director of the National Economic Research Institute under the China Reform Foundation, has been doing research on "gray incomes" for a long time. Several years ago, he surveyed the family incomes and expenditures of more than 2,000 residents at various income levels in dozens of cities and counties all over China. He found that some high-income residents have large amount of "hidden incomes." The survey revealed that at least 4.8 trillion yuan ($705.8 billion) of urban residents' incomes were not recorded in China's official statistics. Three fourths of the "off-the-book" income belonged to high-income urban households, who accounted for 10 percent of total urban households.
Some experts believe that another important cause for the current income disparity is corruption. An unsound system gives rise to a large amount of "gray incomes" and illegal incomes.
Statistics from the Supreme People's Procuratorate demonstrate that in 2009 alone, 18,191 major embezzlement and bribery cases were investigated and 2,670 at or above county-level government employees punished, of whom, eight were ministerial-level officials. Chen Tonghai, former Chairman of the Board of China Petrochemical Corp., was given a reprieved death sentence for accepting bribes valued at almost 200 million yuan ($29.4 million).
Corruption affects income distribution in three ways, experts agree. First, it disturbs the order of income distribution. Second, corruption makes it difficult to audit personal income, and hence difficult to implement relevant policies. Third, the corrupt members of vested interests groups can and will be the biggest blockers to income distribution reform.