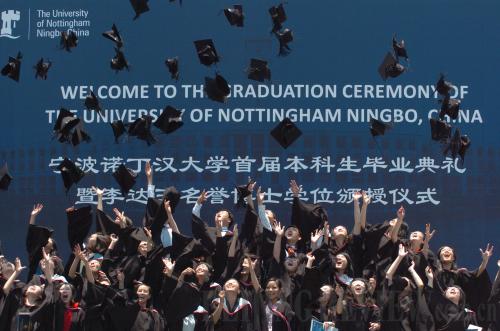 TIME TO CELEBRATE: Students at the University of Nottingham-Ningbo, the first Sino-foreign university in China, celebrate their graduation on July 5, 2008. More than 100 of them would go abroad for postgraduate study (CFP)
As the summer heat subsides, students are about to go back to school. Yang Guang, a tall and slender 16-year-old boy with a sunny smile, made an increasingly common decision. Rather than going to a first-rate public high school that prepares students for Chinese universities, Yang enrolled in a private international high school in Beijing, which is dedicated to preparing students to go to overseas universities.
Yang excels at math and science, and his dream is to go to the Massachusetts Institute of Technology in the United States after graduating from high school, his mother said.
There has been a phenomenal increase in the number of international high schools in China recently, said Wang Peng, Principal of New Oriental International High School (Beijing).
Since China implemented the reform and opening-up policy in the late 1970s, Chinese students studying abroad have shown different chrematistics in different periods, reported China's Central Television (CCTV). Early on, most students received government financing. Then, outstanding students went for graduate studies with scholarships from foreign universities. Later, some students who did not do well on their College Entrance Examination went to foreign schools. Now, students get ready for their overseas education by attending international high schools.
Alternative path
Wang said most of the top public high schools in Beijing have international programs that prepare Chinese students for undergraduate studies in foreign universities.
The High School Affiliated to the Renmin University of China has an international program that combines General Certificate of Education Advanced Level (A-Level) courses in mathematics, physics, chemistry and business with regular Chinese high school courses. A-Level courses are required to enter UK universities, and are generally recognized around the world.
The high school is prestigious in Beijing. During the 2010 College Entrance Examination, three science students from this school swept the top three places in Beijing. One student in this school just scooped a gold medal in the 41st International Physics Olympics that concluded on July 25.
The A-Level courses in this school are taught by qualified foreign teachers. A majority of graduates from this program have been admitted into internationally famous schools, including the University of Chicago and Columbia University.
Several other top public high schools in Beijing such as Beijing No.8 Middle School also started international programs recently.
The Experimental High School Attached to Beijing Normal University has been running a joint program with the University of Toronto in Canada and Politecnico di Torino in Italy. Graduates from this joint program can enter the two universities as long as they pass an interview. This year, the high school launched another international program for students who want to apply to other universities. More than 50 students in the school will abstain from the 2011 College Entrance Examination, and apply to study in foreign universities instead, reported Beijing Television Station.
A boom of such international high schools is not only being seen in mega cities like Beijing and Shanghai, but also in many smaller cities such as Taizhou City of Jiangsu Province, Zhengzhou City of Henan Province and Zibo City of Shandong Province, according to reports in local papers.
The mushrooming of such schools or programs corresponds with a surge in the number of Chinese students that have skipped the College Entrance Examination, and in the number of students going abroad for undergraduate programs.
Statistics from China's Ministry of Education show this year at least 340,000 high school graduates opted not to take the College Entrance Examination, while 9.57 million took the exam.
In 2009, 229,000 Chinese students went to foreign universities, up 27.5 percent from the previous year. Of these students, 91.6 percent were self-financed.
In the 2008-09 academic year, the United States saw a large increase in undergraduate students from China, which was the primary driver for an 11-percent increase in undergraduate enrollments of international students in the United States, said the Open Doors 2009 report on international students in the United States. In comparison, graduate enrollments grew only 2 percent.
Students from China's mainland, the second leading source of international students for the United States, increased 21 percent to a total of 98,510 in the 2008-09 academic year, the report said.