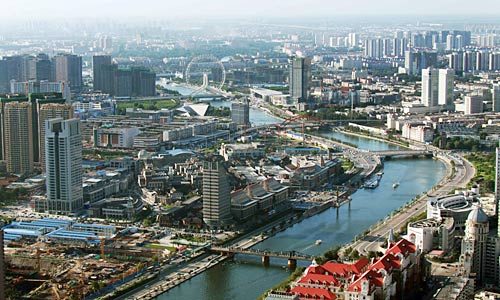 CRADLE OF LIFE: Haihe River flows through Tianjin. The city has cleaned up the river and restored it to its past glory in a three-year campaign (LIU HAIFENG)
The World Economic Forum's Annual Meeting of the New Champions 2010, or the "Summer Davos," was held in north China's Tianjin Municipality from September 13-15 under the theme "Driving Growth Through Sustainability."
More than 1,500 business leaders, government officials and academic researchers attended this year's gala to brainstorm solutions to global economic issues. At the opening ceremony on September 13, Chinese Premier Wen Jiabao reassured foreign investors that China is fully committed to creating an open and fair environment for multinational companies. "I wish to reiterate that all enterprises registered in China, according to Chinese laws, are Chinese enterprises. Their products are made-in-China products," Wen said.
Leaders of multinational companies doing business in China, as well as a senior researcher with a Chinese think tank, discussed China's past and current business environment and expressed their views on the Chinese market at a session called "Multinationals in China: The Way Forward." Beijing Review reporter Liu Yunyun covered the event. Edited excerpts follow:
Ferdinando Beccalli-Falco (President and CEO of GE International, Belgium):
The Chinese economy is going to be the biggest economy in the world. It's not a question of "if," but more a question of "when."
General Electric, which is a global company, is going to be a Chinese company in China, an American company in America and an Italian company in Italy.
Right now, we're looking into the Chinese market with great interest.
Our strategy is fairly simple and based on three principles. First of all, we must localize. Second, we need to do things that the government encourages, or try to satisfy the needs highlighted by the government. Third, we need to cooperate and work closely with major state-owned enterprises.
GE investment in China is going to be aimed particularly at people and talent. We understand one of the most important current government objectives is reducing unemployment. So we are planning to hire a fairly large number of people on top of the 13,000 that we have already welcomed aboard our company. We are expanding our sales force, and we are hiring a lot of people in the western part of China. The original settlement of GE in China was on the line: Beijing, Shanghai and Guangzhou. Now we are moving west, setting up offices and hiring people along the way.
We are also going to create innovation centers across China. We already have a strong innovation development center in Shanghai with about 2,000 people. Now, we are going to duplicate that model and do the same thing in other cities in order to be closer to the customers and best satisfy their needs. This will be part of our short-term investment.
GE isn't moving production elsewhere only because of labor costs. Rather, strategic importance, talent and market are among our greatest considerations.
We can envision a future where the cost of labor in China is going to be on the same level as that of developed countries. But that is not bad, because China is going to be the biggest market where you can make a profit.
I think the attitude that multinational companies have to take is to work with China and to help them solve some of these problems.
Glenn Jordan (President, Pacific Group of the Coca-Cola Co., USA):
China has become exceedingly important for multinational companies. The indication is that the market will become very competitive. In our sector, almost all companies are learning and adapting quickly, and demonstrating the readiness to operate wherever needed.
We have been here for more than 30 years, during which China has changed rapidly. China has to adapt and evolve its strategies, and, in the meantime, we can look back on our track record and find ways to make changes.