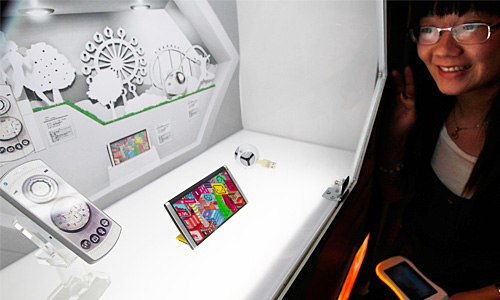 PHONES OF TOMORROW: Future cellphones are displayed inside the Information and Communication Pavilion (PEI XIN)
Visitors to the Information and Communication Pavilion might be impressed by a Haibao robot, which can walk, dance, take photos and shake hands with visitors. How could the robot be so intelligent?
The explanation lies in a quasi-4th generation mobile telecommunication technology called TD-LTE (Time Division Long-Term Evolution). What's more, the robot is also integrated with many other advanced technologies like automatic control and high-definition (HD) multimedia.
China Mobile, one of the world's largest mobile operators, is a global partner of the World Expo in Shanghai. In 2009, it selected vendors to deploy the World Expo TD-LTE demo network, the first of its kind in the world, signifying the debut of TD-LTE in the largest mobile communications market in the world.
The application of 3G (third generation telecommunication technology) is on the upswing in China; however, the era of 4G (fourth generation telecommunication technology) has also begun. Therefore, along with the application of the TD-LTE network for the Shanghai World Expo, the Expo site has also become the first 4G demonstration area.
Enhancing expo security
The World Expo in Shanghai has attracted tens of millions of visitors from home and abroad. All of the venues, roads, pavilions, along with buses and Huangpu River ferries, present major safety and security challenges.
Unfortunately, traditional video surveillance systems are simply not enough to ensure security since buses, ferries and people move. For example, in typical mobile video surveillance systems, image definition is often sacrificed for mobility. Consequently, the image definition is usually only one fourth or even one sixteenth of standard definition. For this reason, an HD video surveillance system has been put in place at the World Expo.
The introduction of the mobile HD video surveillance system over the TD-LTE network clears up the images. The system enables the images collected by mobile video monitors to reach the level of standard definition by improving the video quality up to 16 times, allowing for the display of 720-pixel or 1,080-pixel HD videos. The system not only renders videos with quality comparable to a fixed network but also satisfies other mobility and higher bandwidth needs.
Real-time full-range monitoring contributes greatly to ensuring visitor safety, especially since the TD-LTE video surveillance system covers the entire Expo. The ferries on the Huangpu River, buses on land, and surrounding high-rise buildings are all closely monitored by video.
Clearer communication
Instant shoot and transfer technology is another feature of TD-LTE that has wowed visitors at the Expo site. It represents a technical revolution as well as a turning point in the history of news video.