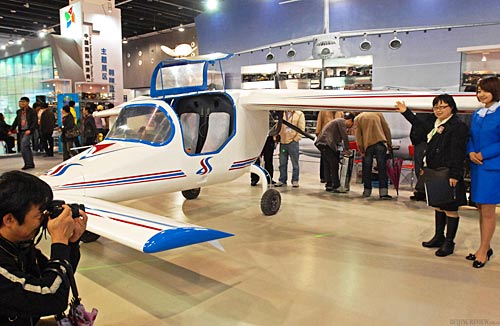 STIMULATING CONSUMPTION: A visitor takes a photo with a two-seater light aircraft exhibited at a tourism commodity fair in Yiwu, Zhejiang Province, on November 12, 2009. China stresses further expansion of domestic consumption in its new development plan for the next five years (TAN JIN)
The Communist Party of China (CPC) issued the full text of a proposal that will play a crucial role in shaping the country's development over the next five years on October 27.
The document, the CPC Central Committee's Proposal on Formulating the 12th Five-Year Program (2011-15) on National Economic and Social Development, was adopted at the Fifth Plenary Session of the 17th CPC Central Committee which ended October 18.
Divided into 12 parts, the proposal provides the basis for drafting the 12th Five-Year Program. It includes accelerating transformation of economic development patterns, further expanding domestic demand and pushing forward the modernization of agriculture.
The proposal also stresses development of a modern industrial system, coordinated development of all regions, and the construction of an energy-efficient and environmentally friendly society in the coming five years.
"Substantial progress shall be made in transforming the economic development pattern; the country's comprehensive national power, international competitiveness and capability in shielding against risks shall be remarkably strengthened; notable progress shall be made in meeting people's living and cultural demands," the document says.
Acceleration of the transformation of the economic development pattern was a profound reform and should proceed throughout all sectors of economic and social development, while economic strategic restructuring should be a major task in the transformation, according to the proposal.
Economic strategic restructuring requires China to expand domestic consumption, strengthen agriculture, grow emerging industries of strategic importance and prudently proceed with urbanization.
To support the transformation, China should upgrade its capabilities in indigenous research and innovation in science, technology and administration, train more innovative talents, said the proposal.
The "fundamental end" of economic transformation was to improve people's lives, which can only be achieved by giving priority to creating jobs, providing equal public services to every citizen and stepping up reform of the income distribution system, said the proposal.
China will increase residents' property incomes, boost employment, raise minimum wage standards, ensure worker wages are duly paid and increased as well as enhance the role of taxes in regulating excessive incomes, it said.
In transforming the economic development mode, the importance of building a resource-saving and environmentally friendly society should be stressed to save energy, reduce greenhouse emissions and tackle global climate change.