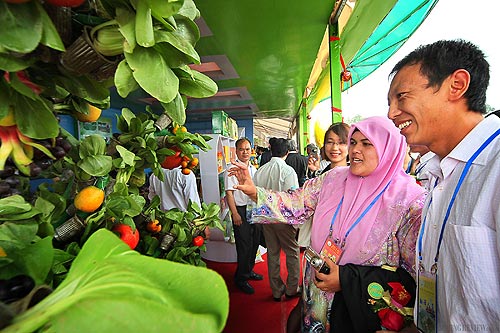 A FRUITFUL TRIP: Visitors from ASEAN countries appreciate a fruit tree at an agricultural exhibition in Baise, Guangxi, on October 25 (MA ZHENYU)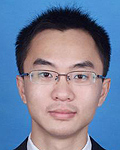 Despite the increasingly fierce power game in East Asia and the complex relations between countries in the region, China-ASEAN relations remain strong and stable, and are gradually becoming even more pragmatic.
On October 28-30, the 13th ASEAN-China Summit, the 13th ASEAN Plus Three (China, Japan and South Korea) Summit and the fifth East Asia Summit were held in Hanoi, Viet Nam.
Chinese Premier Wen Jiabao attended the series of summits and made new proposals on advancing ties between China and ASEAN. He also stressed East Asian cooperation should continue, with ASEAN Plus Three as the main channel.
Looking back at the summits and the development of China-ASEAN relations over the years, we can arrive at the following conclusion: During the long history of exchanges between China and Southeast Asian countries, official and nongovernmental exchanges have been interwoven, and the traditional culture of harmony has been adhered to. All these contribute to a strengthened relationship between China and ASEAN in the future.
State-to-state relations are two-pronged and include official, as well as nongovernmental, exchanges and cooperation. Official bilateral cooperation can only be regarded as effective, if the general public benefits. Reviewing the history of exchanges between China and ASEAN, it is clear that relations in both areas are continuing to deepen.
Official exchanges
Since China became ASEAN's dialogue partner in 1991, the two sides' cooperation surged across the board. Politically, China and ASEAN signed the Treaty of Amity and Cooperation in Southeast Asia and the Joint Declaration on Strategic Partnership for Peace and Prosperity in 2003.
Economically, the two sides signed the China-ASEAN Framework Agreement on Comprehensive Economic Cooperation in 2002 and, on January 1 this year, launched the China-ASEAN Free Trade Area covering 13 million square km and benefiting 1.9 billion people.
In terms of security, they issued the Declaration on the Conduct of Parties in the South China Sea and the Joint Declaration on cooperation in the Field of Non-Traditional Security Issues in 2002. These two declarations required strong cooperation and helped to maintain regional stability.
In the meantime, both sides have sought to resolve regional issues through official cooperation. For instance, during the Asian SARS outbreak in the early 2000s, China and ASEAN held a summit aimed at controlling and preventing the spread of the epidemic.
Currently, China is calling on both parties to actively strengthen cross-border cooperation on animal and plant disease prevention and control. It is also working toward signing a memorandum of understanding on health cooperation with ASEAN to promote disease prevention and control and the application of traditional medicine.
Nongovernmental links
Nongovernmental exchanges have also intensified and become an important link between the two sides. For instance, in April 2007, the Beijing University of Chinese Medicine sent a delegation to Indonesia, Malaysia and Singapore for academic exchanges. The delegation exchanged research on traditional Chinese medicine, the integration of Chinese and Western medicine and clinical medicine with universities and colleges in the three countries. The visit was part of a larger effort to increase exchanges regarding traditional Chinese medicine between China and Southeast Asian countries.
Since then, cooperation between the Beijing University of Chinese Medicine and its Indonesian counterparts has continued to deepen. They signed an agreement on the planting and processing of medical herbs, traditional medicine education and medical cooperation. Indonesia designated May 27 as Herb Day. Indonesian President Susilo Bambang Yudhoyono delivered a speech at the Beijing University of Chinese Medicine in 2008 and advocated deepened nongovernmental exchanges between China and Indonesia.
China and ASEAN started to create a platform of cooperation for their cultural industries at the annual China-ASEAN Expo in Nanning, capital of south China's Guangxi Zhuang Autonomous Region, in 2004. A series of activities, including cultural forums, folk song festivals and car races, have been held. These activities have greatly strengthened mutual understanding between the people of China and Southeast Asian countries.