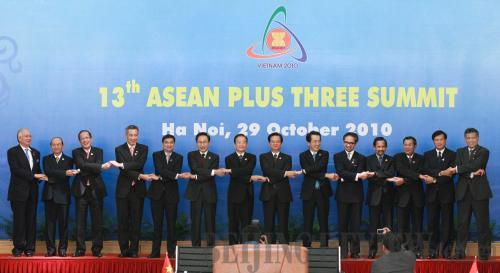 REGIONAL REVIVAL: Leaders from ASEAN countries, China, Japan and South Korea meet in Hanoi, Viet Nam, on October 29 (PANG XINGLEI)
Contentious issues have not hindered progress in East Asian integration. And Chinese Premier Wen Jiabao's attendance at the ASEAN summits in Hanoi showed integration would continue despite difficulties, said Chinese analysts.
"China promotes East Asian cooperation from a long-term perspective," said Zhang Yunling, a research fellow with the Chinese Academy of Social Sciences. "Wen's proposals at the Hanoi summits showed that China's commitment has not wavered and that regional cooperation will not lose momentum."
Wen attended a series of summits between ASEAN and its partners in the Vietnamese capital from October 28 to 30. He also held bilateral meetings with several leaders, including Vietnamese Prime Minister Nguyen Tan Dung and Indian Prime Minister Manmohan Singh.
Although a formal meeting between Wen and Japanese Prime Minister Naoto Kan failed to materialize, the two had a brief conversation on the sidelines of the summits.
Relations between China and Japan worsened after the Japanese coast guard intercepted and detained a Chinese fishing boat in waters off the Diaoyu Islands in the East China Sea in September. Both countries claim sovereignty over the islands.
Territorial disputes over the Diaoyu Islands, as well as the South China Sea, should be resolved through long-term consultations, said Zhang. China has maintained its position, but has not allowed these sensitive issues to interfere with Asian cooperation.
For instance, at the ASEAN summits, Wen said China and ASEAN should pursue a sustainable development of their economic and trade relations, while enhancing the interconnectivity of road, railway and water transportation networks, as well as telecommunications systems, energy pipelines and power grids.
Moreover, China will further expand imports from ASEAN in a bid to raise the annual bilateral trade volume to $500 billion by 2015.
Official Chinese statistics show the China-ASEAN trade volume was $211.31 billion from January to September this year, up 43.7 percent from the same period last year. China's imports and exports amounted to $111.78 billion and $99.53 billion, respectively, resulting in a deficit of $12.25 billion.
Regarding the South China Sea, Wen said the territorial disputes are bilateral issues between China and some ASEAN members and all involved countries should abide by the Declaration of the Code of Conduct of Parties in the South China Sea.
Under the declaration, signed between China and ASEAN members in 2002, the countries pledged to deal with territorial disputes peacefully. The disputes first arose decades ago, when Viet Nam, the Philippines, Malaysia and Brunei started to claim sovereignty over China's Nansha Archipelago.
Despite strained Sino-Japanese ties, Wen proposed further cooperation between China, Japan and South Korea. The Chinese premier urged efforts to complete the three countries' joint studies on a trilateral free trade agreement by 2012. He also called for collaboration in energy conservation, environmental protection and renewable energy.
The ASEAN Plus Three (China, Japan and South Korea) mechanism, rather than the East Asia Summit (EAS), should serve as the foundation for East Asian cooperation, Zhang said.
The EAS, currently consisting of China, Japan, South Korea, India, Australia, New Zealand and 10 ASEAN states, mainly provides a forum for discussing strategic issues, he said.
Russian Foreign Minister Sergei Lavrov and U.S. Secretary of State Hillary Clinton were invited to this year's EAS as special guests. The two countries will become permanent members of the EAS next year.
Washington's eagerness to join the EAS demonstrates it has acknowledged the far-reaching political, economic and strategic implications Asia may have for the United States, said Yuan Peng, Director of the Institute of American Studies of the China Institutes of Contemporary International Relations.
He said that, in addition to coping with China's rise, the United States hopes to achieve other goals, such as cementing bonds with allies and promoting economic interests, by increasing its Asian presence.
Zhang believes U.S. involvement is a positive sign, because it highlights the great importance Washington has attached to Asia's changing dynamics, fueled largely by China's rapid growth.
With the participation of the United States and Russia, the EAS will include all major countries in the Asia-Pacific region. An expanded EAS could help improve relations between major powers in the region and address regional conflicts, Zhang said.
At the same time, participants should see to it that the EAS does not become an arena where major powers compete for leadership, he added.