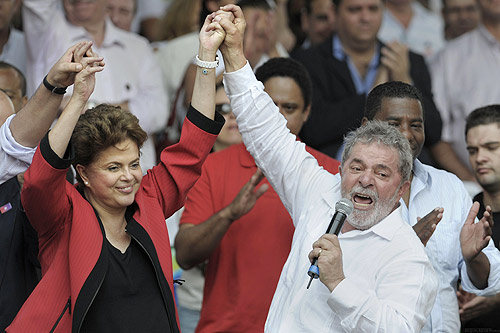 HAND IN HAND: Brazilian President Luiz Inacio Lula da Silva supports his handpicked presidential candidate Dilma Rousseff at a rally in Campinas on September 18 (XINHUA/AFP)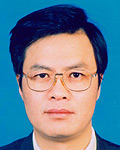 In accordance with Brazil's Constitution, incumbent President Luiz Inacio Lula da Silva will leave the presidential palace on New Year's Day 2011. But to his relief, his handpicked successor, Labor Party candidate Dilma Rousseff, came out on top in the second round of voting on October 31.
With the victory, Rousseff will become the first female president in Brazilian history.
This year's ballot was the first to not include Lula's name since Brazil embraced democracy in the 1980s. Lula ran three unsuccessful presidential campaigns before achieving victory in the 2002 election.
Although Rousseff received the most votes in the initial election on October 3, she failed to receive the necessary 50 percent. The October 31 runoff was then scheduled against her Social Democratic rival Jose Serra.
It can be expected that Rousseff will continue Lula's policies, both domestic and foreign. After taking power, though, she will still have to confront many challenges.
Challenges
After moving into the presidential palace, Rousseff will be faced with hosting the 2014 World Cup and preparing for the 2016 Summer Olympics. Brazil is clearly a football kingdom—no Brazilian president would ever deliver a television speech during a football match. But during the campaign, Serra, Rousseff's opponent, went to the football field to engage football fans, even showing his skills.
The Brazil Olympics will mark the first time the Games grace South America since their inception in 1894. Brazilians went wild with joy upon hearing the news of the country's successful bid. Pele, renowned as the world's best football player, and Lula both shed tears of joy.
These two major events illustrate the rise of Brazil's international status. However, Brazil must complete venue construction in a timely fashion, improve its social order and make athletes, as well as visitors, from across the world feel welcome. This could be a major hurdle for Rousseff's administration.
Another challenge for Rousseff will be how to maintain Brazil's economic growth. Brazil was considered the last Latin American country to be affected by the global financial crisis and the first to emerge. The measures it took proved effective and statistics show the Brazilian economy began to recover in the second half of 2009. Therefore, its annual GDP growth rate in 2009 only fell by 0.2 percent.
Although its economic growth is likely to slow down in the third quarter of 2010, it will still hit a growth rate as high as 7.6 percent for the year, ranking first among major Latin American countries. Some international media said the Brazilian recovery once again proved emerging countries would play a more important role on the world economic stage in the post-crisis era.
Brazil has a vast territory and huge reserves of resources; these are favorable conditions for economic development. On the one hand, it should continue to give full play to these comparative advantages. On the other hand, it should strive to upgrade its industrial structure. Moreover, Rousseff should make efforts to accumulate domestic capital, improve infrastructure, control inflationary pressure and further enhance the country's international competitiveness.
The Economist highlighted the areas in which Brazil was behind other emerging markets: Brazil has the highest taxes, the highest interest rates and the lowest rate of public investment. If Rousseff could solve these problems, she would certainly win the approval of most Brazilians.