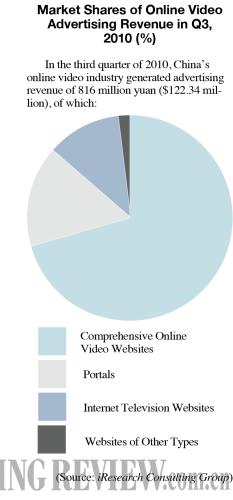 Due to the frequent infringement cases, the profit-making pattern for online video websites like Tudou.com has come under scrutiny.
Nasdaq-listed Ku6.com tried to combat piracy last June by deleting all videos that violated copyrights, purchasing copyrights and developing its own original content. The website's efforts, however legitimate, resulted in losses of $10 million for each of the two following fiscal quarters.
For Tudou and its similar commercial pattern, Ku6's losses mean bigger challenges in the capital market. More importantly, Tudou has yet to explain to investors how it will solve its profit-making and copyright problems. Industrial insiders agree that if a large proportion of Tudou's videos are pirated videos, especially U.S. films and TV shows, following its listing, the website will likely face a deluge of copyright litigation.
Zhao Xufeng, a senior analyst at iResearch Consulting Group, said competition revolved around revenue, content and the number of users. After online video companies go public, the fiercest competition will surround content. But if video websites deal with piracy like Ku6 did, they are likely to have similar results and see their values decrease rapidly.