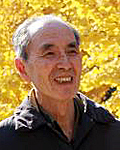 Lin Wusun (JIANG XIAOYING)
For most Westerners, Confucius (551-491 B.C.) is synonymous with China. Chinese also feel much the same—generally viewing the philosopher as ancient China's foremost thinker due to his immeasurable impact on the Chinese culture. The thinking of Confucius—especially his emphasis on harmonious filial and social relationships—is probably best known through The Analects, a record of the sage's wisdom compiled after his death. This classic has been translated extensively into all the world's major languages. In March this year, the Beijing-based Foreign Languages Press published a new English edition of The Analects. Lin Wusun, a celebrated translator and leading scholar of comparative philosophy, translated the new version. Recently, Lin sat down with Beijing Review reporter Zan Jifang to discuss his rendering of this classic.
Beijing Review: Why did you decide to translate The Analects? How long did it take?
Lin Wusun: To be frank, when I was young, I had little interest in Chinese philosophy. That's why I chose Western philosophy as my major when I studied in the United States in the 1940s. At the time, I was deeply obsessed with Western methodology. But when I returned to China in the early 1950s, I gradually realized how much traditional Chinese thought had influenced Chinese people's thinking and values. We Chinese need to learn something about the roots of our culture.
After I retired in 1994, I finally had time to do some of the things I had been interested in. Translating traditional Chinese classics was one of them. First, I translated The Art of War by Sun Zi and The Art of War by Sun Bin.
I began translating The Analects in the late 1990s. Later, because of the publisher's change of plan, I had time to revise my own translation. That gave me an opportunity to increase my understanding of the original text.
While revising my work, I read all the relevant academic works available to me. As a result, I ended up revising my translation five times. This process also deepened my understanding of the sage.
Compared with former translations, what do you think is a unique aspect of your version?
Since The Analects is an ancient classic, different people have different understandings of it. Therefore, each translation reflects the translator's own understanding of the original text.
Furthermore, as time passes, language also changes in certain ways. For example, the concept of ren in The Analects was translated as "benevolence" in the past. But today, the word "benevolence" cannot convey the full meaning of ren. In my translation, the term of ren is rendered as "humaneness."
In addition, the evaluation of ancient classics has been different, to some extent, in different eras. That's why there have been many translations of the same classic. In the future, newer translations of The Analects will surely come out.