The hike in housing prices has even had an impact on the increase in vegetable prices. "Soaring housing prices drove rentals higher, which increased the operational costs for vegetable dealers," said Ma Xiaochun, an analyst with the Distribution Productivity Promotion Center for Chinese Commerce.
CPI growth over 3 percent is often considered a signal for potential inflation. According to the NBS, China's consumer price index (CPI), a major gauge of inflation, reached a 25-month high of 4.4 percent in October, 0.8 percentage points higher than September. The figure topped the market forecast of around 4 percent.
The biggest driver of the CPI's increase in October was the jump in food prices. The price of food, which accounts for one third of the basket of goods used to calculate China's CPI, surged 10.1 percent year on year in October.
Food price has kept growing during the past several months. It rose 8 percent in September, 7.5 percent in August, 6.8 percent in July and 5.7 percent in June.
Government actions
A statement released on November 17 after a State Council executive meeting presided over by Premier Wen Jiabao said the government would further support agricultural production to maintain steady growth in output and put state reserves of grains, edible oils and sugar on the market when necessary in order to guarantee supplies.
The government should keep a close eye on winter vegetable production to increase supplies through the winter, take measures to cut delivery costs for agricultural products, and increase cotton transportation from Xinjiang Uygur Autonomous Region.
Hoping to tame the rapidly increasing prices, all ministries have been motivated to launch the campaign against price hikes.
The National Development and Reform Commission, Ministry of Finance and MOFCOM on November 22 auctioned off 200,000 tons of reserve sugar in a bid to guarantee market supplies and curb prices, the second such auction during the current processing season.
The State Administration of Grain said on November 19 it will increase grain supplies to meet people's needs and stabilize market prices.
The MOFCOM also asked local authorities to keep a close watch on the market and work out contingency plans to cope with increased demand for oil during the winter.
On November 20, the State Council announced 16 measures to rein in rising commodity prices to ease economic pressures on consumers.
The 16 measures cover the entire chain from production to consumption and will play an essential role in stabilizing agricultural products, said Zhang Yuxi, President of Beijing's Xinfadi Market.
To reduce delivery costs, road tolls for vehicles transporting fresh or live farm produce will be eliminated starting December 1, the State Council's announcement said.
"This will effectively help reduce the price of some agricultural products," said Zhang.
"To standardize management and processing of agricultural products" will be the most effective stipulation if practiced correctly, said Zheng Fengtian, Deputy Director of the School of Agricultural Economics and Rural Development at the Renmin University of China.
This measure says that the country will rectify the procurement of agricultural products, review collectors' qualifications, enhance monitoring over collectors' capital and clamp down on illegal cotton collectors and processors. Governments at various levels should shut down unqualified corn processing enterprises.
"It hits the target by intensifying monitoring over hoarding and speculation of major agricultural products," said Zheng.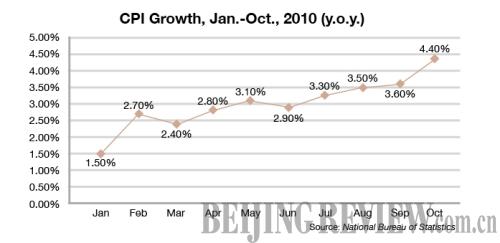 On November 20, the State Council announced 16 measures to rein in rising commodity prices:
1. Boost agricultural production;
2. Stabilize the supply of agricultural products;
3. Reduce the delivery cost of agricultural products;
4. Ensure the supply of fertilizers;
5. Coordinate coal, power, oil and gas supplies;
6. Disburse temporary price subsidies;
7. Establish a coordinated social security mechanism linked with price rises;
8. Continue to implement the provisions for standardizing charges;
9. Actively and steadily push forward price reform;
10. Standardize management and processing of agricultural products;
11. Intensify supervision on the futures and electronic transaction market of
agricultural products;
12. Improve laws and regulations for price supervision;
13. Strengthen price supervision and inspection and anti-price monopoly
law enforcement;
14. Enhance the price information release system;
15. Hold provincial governors accountable for the prices of grain and make
mayors responsible for vegetable supply; and
16. Establish an inter-ministerial joint conference system for market price control.