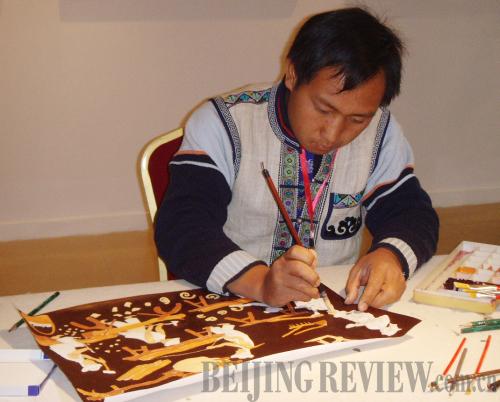 EVENT FOCUS: Bi Jinwen, a farmer from Yunnan Province, paints at the exhibition (YU LINTAO)
Surrounded by dozens of visitors, Bi Jinwen keeps calm and concentrates on drawing a picture. After an hour, a vivid scene of carpenters working appears on his drawing paper, simple but lifelike.
The 30-something painter, in traditional Yi ethnic minority group costume, is from Shilin County in southwest China's Yunnan Province. He is just one of the scores of farmer-painters from all over the country participating in the first Chinese Farmers Art Festival (CFAF), which was held from November 17-22 at Fubao Village near Kunming, the provincial capital.
The festival, a celebration of Chinese farmers, included series of activities centered on farming and village life, including themed exhibitions and a singing contest.
"What I draw most are working scenes of the villagers around me as well as the mountains and rivers in my hometown, because they are familiar to me and every scene strikes me deeply," Bi said, wielding his paintbrush skillfully and continuing on the portrait of the working carpenter.
"I have been fond of painting from my childhood. But I only began to paint in middle school following an amateur painter in my village," Bi said.
Bi said he regretted not entering art college, but luckily the government now arranges tuition sessions for aspiring painters every year. Not only have amateur painters been encouraged, but also their children.
Bi's passion for painting and gradually improving family financial conditions are both indispensable for him to be engaged in painting. Most farmers in Shilin live on planting tobacco and corn. Local households' annual income tops 20,000 yuan ($3,325) on average.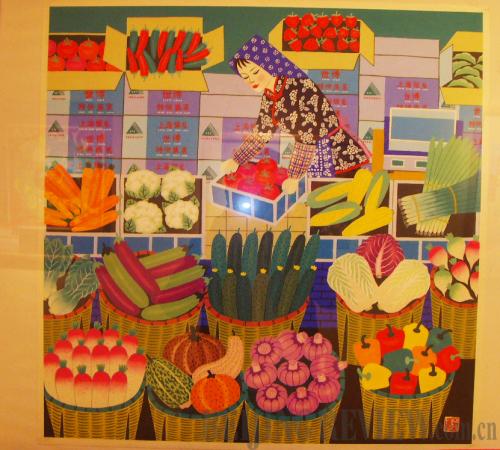 ORGANIC VEGETABLE AT WORLD EXPO by Wang Jinxi from Shanghai (YU LINTAO)
"As their lives grow better and better, greater numbers of farmers are becoming fond of art," said Ni Jinkui, a painter from the Cultural Center of Yunnan who is in charge of CFAF's art exhibition. The exhibition showed 134 paintings from 13 provinces and autonomous regions. Ninety-five of the 131 participating painters are genuine farmers, while the others are farmer-painters and grassroots art workers."
"Though painted by farmers, the paintings are of high artistic quality. They are even appreciated and studied by professional painters and art students. Farmer painting not only refers to works done by farmers but has also become an art genre," Ni said.
The subject matter of the paintings on display during the CAFA is drawn from and inspired by nature and real life. Farm Yard, by Wang Xichang from Shaanxi Province, depicts a harmonious family scene of a common northwest China farm house. A family of three, a young mother with her school-age daughter and infant son, constitute the main body of the painting. With the mother making shoes, the girl doing homework and the boy playing pinwheel while the fowls peck casually at feed, the peaceful country life of farmers stands vividly on paper.
Organic Vegetable at World Expo by Wang Jinxi, from Shanghai's Jinshan District, shows his interest in the 2010 World Expo in Shanghai. "The theme of this creation is so novel. It reflects the support for the World Expo of Shanghai farmers. The painting is rich in color but also shows us a sense of purity and freshness. It is really well done," Ni said.
Liu Qiongli, also a painter, said, "I have lived near Dianchi Lake in Kunming since I was a little girl. As I watch the hardworking fishermen every day, my paintings center on their traditional way of fishing."
Zhang Runping, a mural painter from Taiyuan, Shanxi Province, said his paintings have already earned him money. Among his sold works, Great Wall, 2 meters high and 68 meters wide, fetched more than 20,000 yuan. Zhang learned to paint when he worked in a tile factory in his 20s. Since then he has been fascinated with painting, but currently still mainly makes his living from farming.
"Painting is not a way for farmers to make money at the moment. But the government attaches great significance to its being sold, and hopes it will bring farmers more money. It is also an effective way to promote the development of farmer painting and the inheritance of folk arts," said Ni.