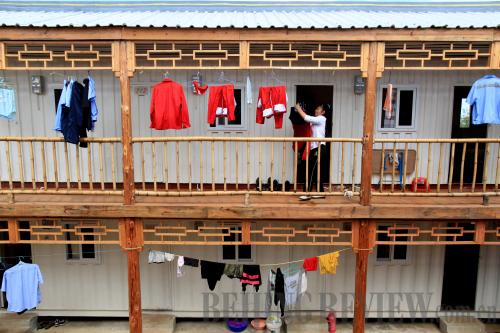 CONTAINER HOME: A company in Hainan Province has turned retired containers into dorms for its employees (CFP)
Twenty-four-year-old Dai Haifei lived in an "egg" for two months in Beijing. He is among millions of youth who have come from all parts of China to the mega city to pursue their dreams, but find difficulty coping with the high living cost. So, he decided to build a home by himself, an egg-shaped home that costs little to live in.
"I want to have a home of my own, no need to be too big, as long as it shelters me from the sun and the rain, he said on his blog explaining the egg house. "I do not want to live in a remote corner of the city."
Born in rural Shaoyang, Hunan Province, Dai tried to convince his parents, a construction worker and a cleaner, to go back to the countryside to enjoy farm life instead of struggling in the city to make money for their son to buy a house and marry. "But they don't know it will take 200-300 years to buy a house in Beijing with their salary," said Dai.
Near the end of his time at university, Dai managed to find an internship at a Beijing-based company, Standard Architecture, in 2009. The company was involved in the "egg of the city" design project, which endeavors to provide movable small homes for struggling groups of people in the city such as migrant workers, the college students and street vendors. The project includes the KTV house, bench house, small shop house, fruit stand, recycler house and backpackers' house.
Inspired by the project Dai decided to build his own house in Hunan. After graduation, he took his idea to one of his teachers, Tang Doudou, who had been very supportive and arranged a few friends to help out with Dai's work. Dai also had finical support from his cousin who lent 7,000 yuan ($1,060) for the construction of the house, which basically consists of steel, wood and bamboo.
Dai worked from July to September. Material costs added up to 6,400 yuan ($969). Afterward, the "egg house" was transported from Hunan to Beijing, ending up in his company's compound. Moving the house cost 3,500 yuan ($538). "So, I have owned a house of my own costing no more than 10,000 yuan ($1,538)," Dai said.
Despite its low cost, the wheeled "house" features a few green technologies. There's a solar panel installed on top of the "egg" to store power for lighting. Under the bed there's a water pump system, which can hold water for basic washing for about three days. On the outside of the "egg," grass seeds were planted and some have already sprouted.
The double-side life in the "egg"
"I can get to work within seconds, no need to be on a crowded bus. This is considered a luxury in traffic congested Beijing," said Dai in his blog post.
SELF-MADE SHELTER: The owner of the "egg" house, Dai Haifei, explains life inside the small movable abode (CFP)
Dai used to rent a room, but he found it was still too much for a recent graduate like him. "I used to rent one of those huge rooms divided into many small rooms with wooden boards. Only a couple square meters cost 800-900 yuan ($123-138) a month." Now he's used the money he saved from not paying rent to pay for an annual gym pass, where he can go swimming, take showers and use the sauna. There's no room for a kitchen in the egg, so Dai has to have dinner at various local restaurants around his workplace, which has saved him a lot of time cooking.