On weekends he goes to a coffee shop to read or ride a bike around old alleys. "When the function of a house is so simple as just one bed, other things are taken care of in public places. This is a free lifestyle," Dai said.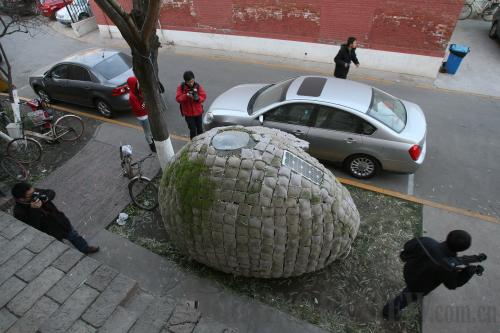 NOVEL HOME: The "egg" house built by 24-year-old Dai Haifei has attracted a lot of attention in Beijing (CFP)
After Dai put up his post about the pictures of his "egg" home and the life in it, it caused an Internet sensation and the media followed. Many netizens posted their questions about Dai's novel way of living. Dai confessed there were inevitable disadvantages living in the unusual home. He had to get most of his water and electricity supply from his company.
One other problem is heat, as the egg doesn't hold heat in very well, so Dai bought a sleeping bag to keep warm.
The tough way out
After two months of living in the egg, the movable home was ordered to be removed by city managers saying it didn't conform to housing standards. The act stirred great dispute about the existence of the unusual house. Many agree that the "egg" might not be legal, but the novel idea and creation need to be supported.
"The 'egg' house is something of a creative design and you can't impose the standards of ordinary residential buildings on it," said professor Zhou Yanmin from the architecture school of Tsinghua University, who also sang praise of its green concept.
As the average cost of buying and renting a house is continually rising, it has become a top concern for young people who want to live in major cities across China. In early 2010, Song Xiuqi, a former senior official from Shandong Province, suggested China make use of its old containers, as the country has nearly 1.2 million such containers retired. He said it is possible to make containers into houses for migrating population in big cities, and that such houses can be used for at least 50 years.
"In some developed countries, containers have already been made into houses and hotels, three to five stories on average. And the construction work is much simpler and easier," said Song, adding that rental for such houses can be 200 to 300 yuan ($30-46) per month, which is reasonable for migrant workers and recent graduates.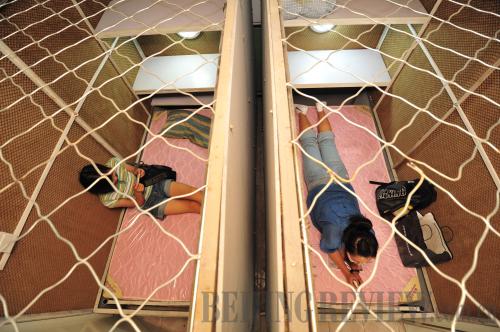 MINI APARTMENT: The first batch of "capsule apartments" was built by 78-year-old Huang Rixin to help the low-income fresh college graduates (CFP)
Also in April this year, 78-year-old Huang Rixin had built eight units of "capsule apartment" in Haidian District in Beijing, to help those who just graduated from college and can't afford the high rentals. His idea was inspired by a newspaper article about Japanese capsule hotels—tiny rooms that only fit one person yet provide amenities and privacy.
Each unit of the "capsule apartment" is less than 2 square meters, but in the unit tenant can lie down, sit, watch TV and go on the Internet. The monthly rental is between 200 and 250 yuan ($30-38).
"Young people in Japan enjoy that way of living. It's a country with limited land. The situation in Beijing and Shanghai is much the same and I believe it can become popular in China," said Huang, who has continued to build more tiny apartments in different places in Beijing.
As the "egg" house initiator, Standard Architecture has a vision for the future of new migrating residences. They want to provide a comfortable, movable home for the urban migrating population and they believe such an idea and concept could bring good fortune to future urban life.
Dai and his company have been contacting the related government department to ask for approval for such new and brave ideas. "I hope when spring comes, my 'egg' house will be covered by green grass with me living inside it again," he said.