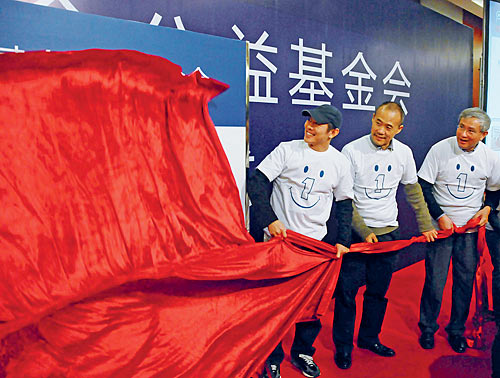 NEW START: Jet Li (first left) and guests at a ceremony celebrate the One Foundation going public in Shenzhen, Guangdong Province, on January 11 (WANG HAOMING)
On January 11, One Foundation launched by martial art star-turned-philanthropist Jet Li formally announced its transition into a public foundation.
According to China's current Regulations on Foundation Administration, public foundations are allowed to raise funds from the general public, whereas private foundations, which are established with funds provided by individuals or businesses, are banned from doing so.
Last September, Li took people by surprise saying the high-profile One Foundation could close at anytime because of difficulties in fundraising due to its fuzzy legal status. At that time, the three-year-old foundation operated as a project under the Red Cross Society of China and could not raise funds independently.
Li's remarks shed light on the difficulty that individuals and businesses have registering foundations.
The successful transition of One Foundation should be attributed to an agreement signed between the Ministry of Civil Affairs (MCA) and Shenzhen, a boomtown in south China's Guangdong Province, on July 20, 2009. Reform programs launched by the MCA, those on foundation registration for example, would be piloted in the city under the agreement. One Foundation registered as a public foundation with Shenzhen's Civil Affairs Department on December 5, 2010.
Registration thresholds
Currently, a private organization must have a supervising government department or government authorized organization before they can register with the MCA or local civil affairs departments, said Deng Guosheng, a Tsinghua University professor studying non-governmental organizations (NGOs).
Many government departments are reluctant to shoulder the responsibility as supervising private organizations, Deng said. As a result, many non-public charitable organizations are registered as corporations, or have never registered.
The government set up the current management system out of concern that civil affairs departments were not capable of managing highly diversified non-public organizations, Deng said. This system played certain positive roles before, yet its drawback is becoming increasingly prominent, Deng told the Beijing-based Guangming Daily. 
Deng said the management system should be reformed. On one hand, the registration requirements should be lowered, and competent charitable organizations should be allowed to directly register with the civil affairs departments; on the other hand, for fears that some private foundations are not good at using resources or even attempt to profit, the government and society should strengthen supervision, said Deng. 
Sun Weilin, Director of the Bureau of NGO Administration at the MCA, said civil affairs departments had been actively supporting the development of private foundations, and set relatively lower requirements on private foundations than on public foundations in terms of registration and the percentage of charitable spending.
Sun said the MCA and local civil affairs departments would actively shoulder the responsibility of supervising agencies as long as private foundations are in the fields of their jurisdiction, such as social welfare and philanthropy.
Some people question requirements, such as an initial capital requirement for charitable foundations. They think it will prevent people from engaging in philanthropy. Liu Zhongxiang, an official working on foundation management in the MCA, said the worry is understandable but unwarranted. Foundations are only one organizational form of philanthropy, he said, people can engage in philanthropy in many ways, such as by delivering money, services or emotional support.
Tax burdens
Wang Ming, a Tsinghua University professor studying NGOs' development, suggests the government give more preferential tax treatment to charitable foundations, such as waiving taxes on their capital gains.  
China has preferential tax treatment for individual and corporate donors. Currently, charitable donations from a company not exceeding 12 percent of its total profit in that year and charitable donations from an individual not exceeding 30 percent of his or her taxable income in that year can be deducted from taxable income.
Donors who give money to foundations can enjoy tax deduction only when the foundations are on the government's list of qualified foundations for tax deduction. The list has been expanded to include private foundations, yet only a few are on it. 
Many donors didn't apply for tax deductions because they did not know such a policy existed or they gave up applying due to complex procedures, said Wang Zhenyao, Dean of Beijing Normal University One Foundation Philanthropy Research Center and a former official at the MCA.
Xu Yongguang, Vice President of Narada Foundation, a private foundation based in Beijing, particularly believes regulations issued in November 2009 by the Ministry of Finance and State Administration of Taxation would discourage rich people to set up private foundations.
The regulations do not exempt capital gains of private foundations from the 25 percent corporate income tax. On the other hand, private foundations are required to spend at least 8 percent of the previous year's fund balance on charity. China's tax policy will only let the size of private foundations shrink over time, said Xu.