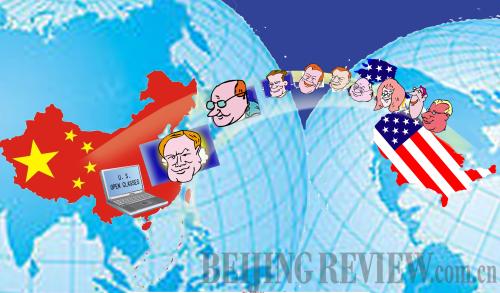 (LI SHIGONG)
Bo Yulai, a third-year student at the Shanghai Institute of Foreign Trade, found a new way to spend his winter holiday: taking open courses from Yale University. But he doesn't have to go to Yale; all he needs is just a few mouse clicks on his computer and he will have a variety of excellent courses recorded on video clips from such big-name universities as Yale, Harvard and the Massachusetts Institute of Technology.
"I keep watching the videos of the courses by a Yale professor named Craig Wright. Like other foreign students in his class, I am a music fan who wants to understand the essence of music," Bo told Beijing Review. There's a similar music course in Bo's school, but he found it boring.
Growing popularity
The trend of downloading free courses is picking up steam among China's youth. The courses range from social science to business management. Most viewers are white-collar workers or college students who cannot afford to go overseas to study.
"The online courses are excellent, professors are humorous, topics are interesting and the delivery is fun," said Guo Lei, an office worker in Beijing. Guo has picked up the habit of watching online courses during her lunch hour. She's one of many fans of online free courses. Some of them have established groups on social networking sites to share open course resources and discuss specific courses each day.
In 2001, the Massachusetts Institute of Technology initiated a free education sharing program with the aim of benefiting people all over the world with opportunities to take world-class courses anytime, anyplace. The program has attracted other top universities in the United States including Yale, Harvard, and Duke, with a shared vision to popularize it in 10 years. Each one bears an estimated cost of $20,000 to $40,000. The costs are covered by private donations from the American public.
As the wave of economic globalization spreads, it seems that campuses once regarded as "Ivory Towers" can't escape the influence. The international education resources sharing spirit that was started in foreign countries has stepped into China.
Education experts said knowledge sharing was novel and praiseworthy, because universities are providing free information online without concern for intellectual property rights.
"Online open courses provide a new form for modern education by means of modern technology. They give everybody access to receive advanced education and popularize knowledge in society," said Fan Yi, Dean of the School of Foreign Languages of Ningbo University in Zhejiang Province.
"I should be thankful that I'm living in such a modern age when I can feel the pulse of the world without leaving my front door," said Bo, who also keeps a learning diary on his blog.
The only headache, said Bo, was insufficient supplementary reading materials for the courses.
The popularity of the Chinese taking open foreign university courses has made even leading Internet portals in China, such as Sina.com and 163.com, launch special sites offering open courses services for users to access. The lineup of foreign universities on Sina.com's education site includes Yale, Harvard, Princeton, University of California, Berkeley in the United States, and Oxford and Cambridge in the UK.
Even for those who don't know much English, it's not a big problem as there are many volunteer groups who are willing to translate English courses into Chinese subtitles. A typical 45- to 70-minute course takes 70 hours of work, according to a group working together voluntarily to translate lectures into Chinese subtitles.
The emerging social networking websites in China have helped popularize foreign universities' open courses. Someone had set up an open courses study group on the popular youth online community Douban.com in June of 2010 and the number of members soon reached 2,000.
An IT employee in Beijing even started a website, CICIstudy.com, dedicated to open courses study in 2010. The founder, under the English name Vincent, said it's still hard to tell the future of such open courses sharing websites, because they were still at the early stage.
"To date we have found the targeted users are mostly white-collar employees rather than university students," he said.
Positive impacts
"I like watching the open courses from U.S. universities because they are more diversified and more interesting," said Bo. Besides music lessons, he has watched open courses in other intriguing subjects. Introduction to Psychology and Justice, What's the Right Thing to Do? are popular courses given by famous professors.
One of the most popular courses, called Death is given by philosophy professor Shelly Kagan at Yale. His unique teaching style and casual humor have made it popular. "We don't have courses discussing death in China, but the professor presents this serious topic in a very inspiring and thought-provoking way," said Bo.
For instance, Justice, What's the Right Thing to Do?, one of the most popular open courses in China, has made the lecturer, Harvard professor Michael Sandel, well known to many Chinese. When Sandel was invited to Fudan University in Shanghai in March 2010, the lecture hall was packed.
Li Na, a white-collar worker in Shanghai, had kept her computer running all night just to download a whole series of the video course Listening to Music by Craig Wright. Li, a seven-year veteran in the advertising business, still has a dream to become a pianist. "For my generation and the generation of my father's, there's barely any basic music education," said Li.
Work and life made Li forget her dream of being a pianist. Now, since she learned of the video courses, Li decided to pick it up again though she was 35 years old.