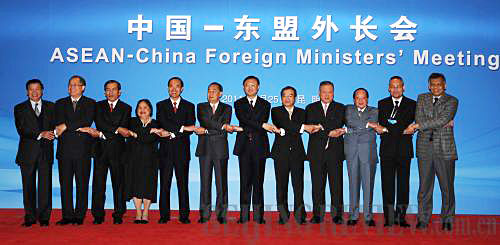 JOINING HANDS: Officials pose at the opening ceremony of the ASEAN-China Foreign Ministers' Meeting in Kunming, capital of southwest China's Yunnan Province, on January 25 (LIN YIGUANG)
In this post-financial crisis age, China has reason to take pride in Asia's economic achievements. A huge developing nation with an emerging economy, it is the engine driving Asia's astonishing growth.
China also has another reason to be proud, though. By conducting practical economic cooperation, it is promoting secure regional development. A peaceful and wealthy region, built through cooperation, will contribute to international economic growth, narrow the South-North gap, decrease global poverty, help establish new world economic and political orders and promote widespread peace.
Flourishing cooperation
Commenting on China's relations with its neighbors, China's Assistant Foreign Minister Hu Zhengyue said, in an interview with Xinhua News Agency in January, emerging economies like China, India and Indonesia had maintained robust economic growth and were helping to lead the world economy out of the shadow of the financial crisis.
To boost growth, China and other Asian nations are now in the process of creating free trade areas (FTAs). The China-ASEAN FTA, completed in 2010, is the world's largest FTA among developing countries. It has created a healthy environment for trade and investment in the region, as it enables the factors of production—such as capital and technology, as well as natural and human resources—to flow more efficiently among countries, Hu said.
China is also working with other East Asian nations to push forward the establishment of an East Asia FTA, and to combat trade protectionism. It has signed an FTA agreement with Pakistan and has started bilateral FTA negotiations with South Korea.
The cooperation of China, Japan and South Korea not only serves their own interests, but also drives East Asian regional cooperation, Hu said. In 2010, leaders of the three nations mapped out a decade of future cooperation after two rounds of meetings in South Korea and Viet Nam. They agreed it was necessary to constantly improve their partnership and highlighted the strategic significance of trilateral cooperation.
Trilateral cooperation has continued to deepen in various fields, from logistics and technology to environmental protection, Hu said. The three nations also agreed in late December 2010 to establish a secretariat for their cooperation in South Korea this year. Moreover, they have set a goal to complete their joint FTA study—which involves the government, industry and academia—by 2012.
Hu said China and its Asian neighbors are also increasing financial cooperation. In 2010, China signed a currency exchange agreement valued at 150 billion yuan ($22.8 billion) with Singapore, bringing the value of its bilateral currency exchange agreements with Asian nations to 510 billion yuan ($77.5 billion).
Active economic cooperation generates cultural and social exchanges between China and its Asian neighbors, Hu said. For example, China conducted "friendly year" activities with India, Indonesia, Viet Nam and Myanmar in 2010, and the programs greatly enhanced their mutual understanding.
In the meantime, a record number of people traveled between China and other Asian countries in 2010. The personnel exchange between China and Northeast, Southeast and South Asian nations reached 25.42 million last year, increasing 17.2 percent from 2009.
New opportunities
For years, China has cooperated economically with its Asian neighbors, but now there are new opportunities before them, said Kang Shaobang, a professor with the Party School of the Central Committee of the Communist Party of China.