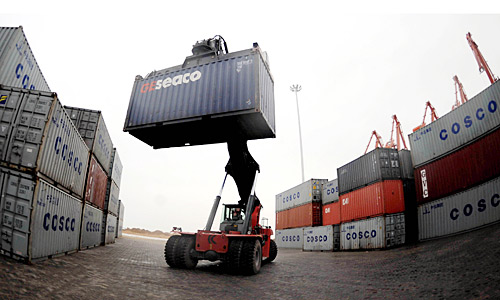 ROCKETING TRADE: Goods are moved at a container terminal in Qinzhou, southwest China's Guangxi Zhuang Autonomous Region. ASEAN is Guangxi's biggest trading partner and export market (ZHANG AILIN)
While other regions of the world continue to struggle to recover economically, East Asia is enjoying robust growth. One of the many factors fueling this growth is the China-ASEAN Free Trade Area (CAFTA). Just one year after its creation, the CAFTA is reaping economic benefits for the region.
Covering 11 East and Southeast Asian nations and 1.9 billion people, the CAFTA is the world's largest free trade area of developing countries. China and ASEAN countries have bonded through economic and trade ties, and in the future, the area will play an even more significant global role, both economically and politically.
Economic benefits
After a decade of preparation, the CAFTA was formally launched on January 1, 2010. The area encompasses a huge market, which has a total annual trade volume of $4.5 trillion and consists of China and 10 ASEAN members—Brunei, Cambodia, Indonesia, Laos, Malaysia, Myanmar, the Philippines, Singapore, Thailand and Viet Nam. China and ASEAN first opened dialogue in 1991 and later established "a strategic partnership for peace and prosperity" in 2003.
Xu Ningning, Executive Deputy Secretary General of the China-ASEAN Business Council Chinese Secretariat, said there are huge opportunities for Asia as international political and economic systems undergo rapid adjustments. The fates of China and ASEAN nations are now more closely linked than ever before, and a solid strategic partnership serves their common interests in these new circumstances.
China is now ASEAN's biggest trading partner, while ASEAN is China's fourth largest trading partner. Statistics show the average annual trade growth between China and ASEAN from 2005 to 2007 was about 25 percent. From 2008 to 2009, that number slipped to about 3 percent, due to the global financial crisis.
Xu said the implementation of the CAFTA was difficult in the early days given the lingering effects of the crisis. But figures hint trade growth would remain vigorous into the future. The General Administration of Customs of China said the 2010 bilateral trade between China and ASEAN totaled $292.8 billion, marking a year-on-year increase of 37.5 percent and far exceeding the $250 billion expectation.
The CAFTA's extremely low tariffs directly stimulate this soaring trade. China's average tariff on ASEAN commodities has plummeted from 9.8 percent to 0.1 percent. The average tariff on Chinese commodities in Brunei, Indonesia, Malaysia, the Philippines, Singapore and Thailand has also been slashed from 12.8 percent to 0.6 percent. The other four ASEAN members—Cambodia, Laos, Myanmar and Viet Nam—are expected to realize zero tariffs on 90 percent of Chinese commodities by 2015.
The zero-tariff principle not only drives the free flow of commodities inside the free trade area, but it also encourages better service quality in the area. In addition, ordinary people within the CAFTA can now buy imported products at a lower cost.
Xu said a good beginning is half the battle and, during the past year, the CAFTA has made significant regional achievements. Aside from promoting economic cooperation between China and ASEAN members, trade and investment in the free trade area have reached a record high. This should play an important role in the economic recovery of ASEAN nations.
From January to November 2010, China invested $1.96 billion in ASEAN members. As of November 2010, China had invested a total of $10.8 billion in ASEAN. During the same period, ASEAN nations invested $5 billion in China, increasing 35 percent from the same period the year before.
Gu Xiaosong, Vice President of the Guangxi Academy of Social Sciences, said the CAFTA also boosted regional harmony. Residents in southwest China's border areas in Guangxi Zhuang Autonomous Region and Yunnan Province share many traditions with their ASEAN counterparts, as many have similar cultures and lifestyles, and some can even trace their origins to the same ethnic groups.
From January to November 2010, trade between Guangxi and ASEAN countries reached $400 million, increasing 29.4 percent from the same period in 2009. Some investors chose border areas as convenient locations to enlarge their businesses. The CAFTA also increased the number of cross-border commuters.