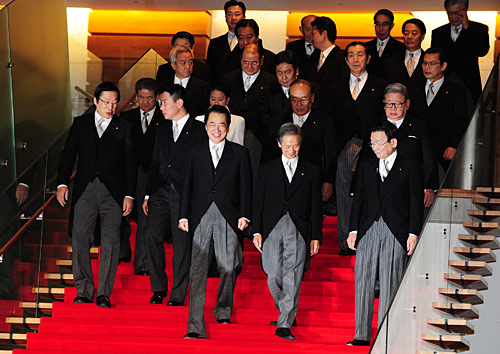 EMBATTLED CABINET: Japanese Prime Minister Naoto Kan with his newly formed cabinet on January 14. That day, Kan reshuffled the cabinet for a second time since taking office in June last year (JI CHUNPENG)
Japanese Foreign Minister Seiji Maehara resigned on March 6 after it was reported he had illegally accepted a donation from a South Korean supporter. Three days later, Maehara's deputy Takeaki Matsumoto was named Japan's new foreign minister.
The Shanghai-based Jiefang Daily published an article by Lian Degui, Deputy Director of the Center for Japanese Studies of the Shanghai Institutes for International Studies, analyzing Japan's ongoing political strife. The following is an excerpt from the article:
The approval rating for the cabinet of Japanese Prime Minister Naoto Kan has been lower than 20 percent for some time. Now the cabinet's political base has become more unstable with the resignation of Kan's right hand, Foreign Minister Seiji Maehara. There is evidence the Kan cabinet is likely to become another short-lived cabinet in Japan.
Kan has reneged on his election promises. His cabinet has performed poorly on the diplomatic front, and has encountered great difficulties in getting its budget bill passed and implemented. Worse still, the ruling Democratic Party of Japan (DPJ) is suffering a de facto split. All these are dragging the Kan cabinet into a political swamp.
Japan has changed its prime minister five times during the past five years. Then what are the factors that have led to the frequent leadership changes?
The fate of a prime minister in Japan usually is determined by a combination of the country's political system, culture, diplomacy and public opinion. As few politicians have advantages in all these areas, a short-lived cabinet has become the norm.
In Japan, the House of Representatives, the lower house of Japanese parliament, is the platform upon which the cabinet is formed. The term of a member of the House of Representatives is four years, while the term of the head of a political party generally is two years. If the head of the ruling party is not reappointed, he will serve as prime minister for two years at most.
In addition, it is part of Japan's cultural tradition that politicians should take turns in power. Japanese prefer collective leadership, and the leader of an organization or a party is only a coordinator. Once the balance in an organization is broken, its leader will easily be replaced.
Ever since the end of World War II in 1945, Washington has been successfully steering Japan's political situation and keeping it on a U.S. track. Therefore, a politician without U.S. support often finds it difficult to remain in power for a long time.
As public opinion reflects public will, approval ratings have become a standard that measure whether an administration is accepted or not. Political competition often turns out to be a game of fighting for approval ratings. When its approval rating falls, a cabinet falls.
If a cabinet has no scandal at home and no friction with the United States, it can maintain a stable approval rating, and the prime minister can fulfill a two-year term. If the prime minister is reappointed as head of the ruling party, he will stay in the position for another two years.
Under special circumstances, a prime minister served several terms because his party won elections to the House of Representatives. During the long-term administration of the Liberal Democratic Party, three prime ministers—Shigeru Yoshida, Nobusuke Kishi and Junichiro Koizumi—created a miracle with their long years in office.
But most other prime ministers were less lucky. During the past 66 years, there have been more than 30 prime ministers in Japan, with an average term of less than two years. The shortest term was less than a month. After Koizumi left the position, none of the five prime ministers over the past five years have completed a year as prime minister.
Kan is quite familiar with the secrets of Japanese politics, and he has done a lot of work to maintain his administration. But he still cannot break the curse of the short-lived prime minister.
Kan made a difficult change in his political leaning and started to cooperate with hawks inside the DPJ. He also drew lessons from his predecessor Yukio Hatoyama's failure. He has made peace with bureaucrats and compromises with Washington. However, his long-awaited visit to the United States has not materialized, because he cannot satisfy Washington on the issue of U.S. military presence in Okinawa. In the mean time, Kan's tough attitude toward China and Russia didn't play as well as expected at home. In fact, his diplomatic failure aroused condemnation from the opposition.
Given his deep rivalry with Ichiro Ozawa, a senior DPJ leader, Kan has created a de-facto split within the party. As a result, his credibility declined inside and outside the DPJ. After coming into power, the Kan administration started to expel those with different views and practice a nepotism. These moves have led to its current political isolation.
Now, the opposition is not willing to support an administration with an extremely low approval rating. Meanwhile, the Ozawa bloc intends to seize the opportunity and force the Kan administration to step down. Even Washington has no interest in saving a leader who is losing control of the domestic situation. Therefore, Kan's turn in power will likely soon come to an end.
One possible scenario is the resignation of the Kan cabinet would lead to chaos inside the DPJ. Another is Japan's parliament might be dissolved, throwing the country's political situation into chaos. Whatever happens, Japan's tradition of power shifting will continue.