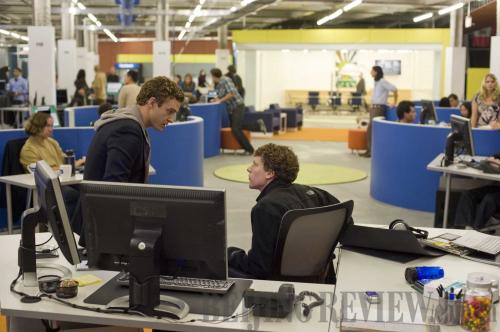 A still from The Social Network (FILE)
Beijing will finally realize a dream that's been brewing for years—to hold an international film festival. The event, which will run from April 23-28, will take advantage of Beijing's prominence as the capital of China's film industry.
"We really need such a platform to better communicate with international filmmakers," said Zhang Ziyi, a newly appointed image ambassador for the Beijing International Film Festival (BIFF) and actress in such movies as Crouching Tiger, Hidden Dragon (2000). She said she had just returned from Los Angeles and many friends there want to attend the festival.
World-famous movie star Jackie Chan has also been appointed image ambassador for the BIFF.
Beijing has pushed for a film festival for a long time. Almost 80 percent of film studios, directors, actors, management and marketing staff and other employees are based in Beijing. The city is also home to much of the country's film production capacity.
Beijing is also home to most of China's film schools and research institutions. In addition, Beijing has a large number of movie screens, and box office receipts in the capital are high.
"It possesses unparalleled film resources in China," said Li Chunliang, Director of the Beijing Municipal Bureau of Radio, Film and Television (BMBRFT).
La Peikang, Vice Minister of the State Administration of Radio, Film and Television, said he thought it was the right time to establish a film festival in Beijing. La said China's movie industry has grown 30 percent annually since the start of industry reforms in 2003. Since China is on track to become the world's second largest movie market and Beijing is also the cultural center of China, he said an international film festival in the city is necessary.
As part of the festival, 100 new foreign films and 60 Chinese-language films will be screened at 20 cinemas in Beijing. Both fictional and documentary films will be shown.
In addition to the film screenings, the BIFF will also feature dialogues between Chinese and international filmmakers, a meeting of 15 chairpersons of international film festivals, seminars, an industry trade fair and an exhibition of film memorabilia.
"The festival aims to provide a platform for exchange and transactions involving domestic and overseas films," said Pang Wei, Deputy Director of BMBRFT.
According to the festival committee, more than 400 films and 100 short documentaries from over 50 countries and regions are being considered for showing at the festival. They include Oscar-nominated films such as Black Swan and The Social Network. Studios involved include top Hollywood players such as Walt Disney and Paramount.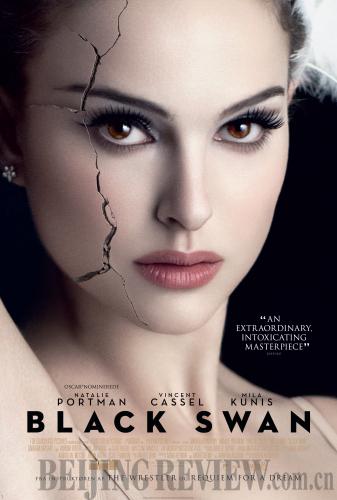 A poster for Black Swan (FILE)
Other foreign applicants include the Coen Brothers' True Grit and Danny Boyle's 127 Hours, as well as Mother (South Korea), 3 Idiots (India), Of Gods and Men (France), Silent Souls (Russia), Valhalla Rising (Denmark, Britain), Eternity (Thailand), The Sandman and the Lost Sand of Dreams (Germany, France), and Animal Town (South Korea). In addition, 162 Chinese films from over 60 film studios are being considered.
Presidents of such renowned festivals as the Toronto International Film Festival, the Venice International Film Festival, the Berlin International Film Festival Youth Forum, the Tokyo International Film Festival and the Pusan International Film Festival have been invited to the BIFF. In addition, world-renowned film makers, such as John Stevenson, Director of Kung Fu Panda, and John H. Williams, Producer of the Shrek series, have also been invited.
A revolving seven-bladed rainbow windmill was selected as the festival's logo, since it symbolizes the richness of film and culture. "Film is also called the seventh art. It brings together architecture, music, painting, sculpture, poem and dance," said Zhao Dongming, Executive Director of the festival committee.
The opening ceremony of the festival will be held at the National Center for the Performing Arts, while the closing ceremony and the award ceremony will be held at the Olympic Sports Center in Beijing.