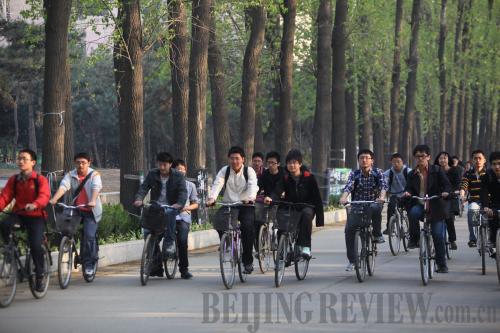 ADVANCING TOGETHER: Tsinghua students riding on campus. The university recently made a timetable for its progress toward a top world university (BAO FAN)
On April 24, the Great Hall of the People in downtown Beijing was packed. In session was not any meeting of the National People's Congress, China's top legislature, but a centennial anniversary celebration of Tsinghua University.
President Hu Jintao, a Tsinghua alumnus, extended congratulations to the university's students, faculty and alumni. He praised the university's cultural traditions, history and contribution to the nation and stressed the importance of innovation and education for a country's development.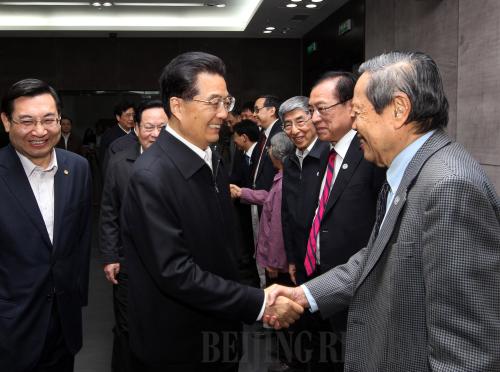 RETURNING TO ALMA MATER: President Hu Jintao, a Tsinghua alumnus, greets Nobel laureate in physics Chen-ning Yang when he visited the school on April 20 (LAN HONGGUANG)
"The centenary of Tsinghua University marks an important milestone as well as a new starting point in the university's development," said Gu Binglin, President of Tsinghua University and a physicist and material scientist. He said Tsinghua University will carry on its tradition, produce more talented people and creative works, enhance international exchange and cooperation and contribute to addressing global problems.
Tsinghua Xuetang, the predecessor of today's Tsinghua University, was officially established on April 29, 1911, shortly before the demise of the Qing Dynasty (1644-1911). It started as a preparatory school training students to be sent by the Qing government to study in the United States.
Often dubbed as China's MIT, Tsinghua University is widely regarded as a cradle of great engineers.
During the last 100 years, approximately 170,000 students have graduated from Tsinghua University, including many outstanding scholars, government officials and successful entrepreneurs.
The school's enrollment has soared from no more than 500 students at the inception to today's more than 36,000.
Tsinghua University's birthday is usually celebrated on the last Sunday of April. This year, it fell on April 24.
More than 50,000 Tsinghua alumni returned from home and abroad to the campus in Beijing for the anniversary celebration. The eldest class revisiting the campus graduated 60 years ago.
A total of 19 activities were held for the celebration, including academic forums and the Global Summit of University Presidents. Presidents from more than 100 renowned universities all over the world explored the development of higher education.
Birthday gifts to Tsinghua University include several new buildings, such as the New Tsinghua Xuetang and University History Museum constructed with donations from alumni, Kaifeng Humanities and Social Sciences Library and a music hall.
A celebration was also held on that day at Tsinghua University Hsingchu Campus in Taiwan. The two campuses each sent a delegation to attend the other's celebration.
Yip Ming-chuen, Vice President of Tsinghua University Hsingchu Campus, attended the celebration in Beijing. He said, "I hope the university's two campuses can join together to build a better Tsinghua in the future."