FEEDING CHINA: Farmers in Qingtongxia, Ningxia Hui Autonomous Region, harvest rice in September. Despite several years of bumper harvests, China still faces pressure to ensure its grain security (LIU QUANLONG)
As China integrates into the world economy, its economic sustainability and industrial health become more vulnerable to external factors. While China's grain security comes under intense pressure, the financial sector is confronted with looming risks. The country's manufacturing industry leads the world, but its competitiveness is impeded by a lack of high-end production. Many economists and experts discussed these issues at the 2011 China Economic Security Forum, recently held by the University of International Business and Economics in Beijing. Edited excerpts follow:
Han Jun, Deputy Director of the Development Research Center of the State Council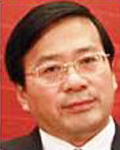 China has reaped bumper grain harvests for seven consecutive years. In 2010, the country's grain output reached 545.8 million tons. Despite the success, China still faces daunting challenges to ensure grain security for the following three reasons.
First, natural conditions for harvesting grain are fragile. Second, farmers have fewer incentives to plant more grain since the benefits are low, and, without government intervention, the balance of supply and demand will be shattered. Third, supplies of rice and wheat are being stretched thin.
Four major factors are posing a huge threat to China's grain security: land shortages, water scarcity, weak seed businesses and a capital bottleneck.
China only has 16 billion mu (1.07 billion hectares) of arable land for grain, and the area is shrinking while the population continues growing. Worse still, China has to deal with a serious quality problem of the farmland in some regions.
China has made significant progress in harnessing large rivers and their irrigated areas, but the inputs in rural areas are limited. The government's investments are insufficient, and farmers are less motivated to improve local irrigation systems. That is one of the major causes for the floods and drought disasters that have troubled China in recent years.
China's seed industry is highly fragmented. There are more than 8,000 seed companies in the country, but most of them lack the capability for independent research and development. In China, the top 10 seed firms only take up 13 percent of the market share, while the largest two U.S. seed companies—Monsanto and Pioneer—control 60 percent of the U.S. market, and these two giants have expanded their footprint in China.
The biggest challenge is soaring costs of planting. As labor cost grows, it is difficult for farmers to increase output and productivity. To deal with this, the government must hand out generous subsidies, otherwise grain shortages would occur.
As global grain supplies tighten, China will be less able to rely on imports to soothe domestic pressures. The country now accounts for more than 20 percent of the world's grain consumption and at least 25 percent of global grain imports. But the global grain market is experiencing increasing volatility and high prices, as well as short supplies. In 2008, an acute grain crisis struck the world, pushing up prices. The global poverty-stricken population has hit a record high since the 1970s because grain prices have become unaffordable for the poor.
The goal for China is to rely on domestic production to meet 90 percent of its demands for grain. Achieving this will require China to take the following solid steps:
First, reinforce support to agriculture and protect grain production. The government's finance on public welfare has yet to benefit all farmers, and efforts are still needed to bump up investments in rural areas.
Second, the country must step up direct subsidies to farmers to boost their interest in farming.
Third, the household contract responsibility system must be strengthened. China has allowed contracted households to transfer the right of land use to other households or organizations. But the government must prevent enterprises from massively scooping up farmland.