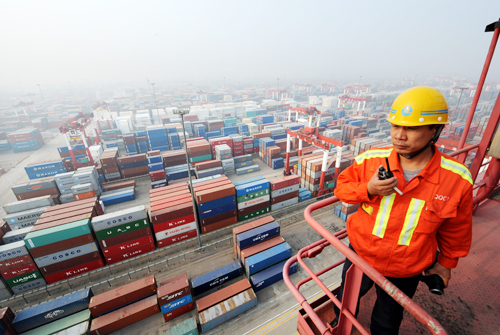 DIM OUTLOOK: A worker at Qingdao Port, Shandong Province, commands the dispatch of containers. China's exports face a darkening outlook due to weakening external demand (LI ZIHENG)
The Chinese economy is steering a stable course, though uncertainties are gathering over the growth outlook. China's GDP in the first three quarters of 2011 grew 9.4 percent year on year to 32 trillion yuan ($5.05 trillion). The GDP growth for the third quarter slowed to 9.1 percent from 9.7 percent in the first quarter and 9.5 percent in the second quarter, said the National Bureau of Statistics (NBS).
Despite complications on the international stage, such as the European and U.S. debt woes, the Chinese economy has been relatively healthy and is likely to continue growing steadily, said NBS spokesman Sheng Laiyun.
Moreover, the quality of the growth is improving, as reflected by rising industrial profits and residents' incomes, as well as a better welfare system, he said.
A second dip in the economy, as was feared earlier this year, is less likely given buoyant investment across the nation and vibrant consumer spending.
The ongoing unwinding of monetary stimulus and the scaling back of incentives for property and auto markets are behind the economic slowdown. More disturbing, though, is weakening exports as demand from the West has dropped.
Lu Ting, an economist with the Bank of America-Merrill Lynch, attributed the "inevitable slowdown" to two major factors: diminishing gain from institutional reforms and loss of demographic dividends.
"But two drivers also help buck the slowing trend: innovation as a result of rising research and development spending within the country, and industrial relocation to poorer inland areas," Lu said.
The Chinese Academy of Social Sciences (CASS) expected China's economy to grow 9.4 percent in 2011, down from 10.3 percent last year. It attributed the slowdown partly to the country's intense economic restructuring that allows the economy to depend less on government stimulus.
CASS also predicted that China's GDP would grow 9.2 percent in 2012, conditional on both domestic and international economic environments stabilizing first.
"Under the current global situation, if China can maintain its robust economic growth, it will be the biggest contribution China can make to the world economy," said Justin Yifu Lin, chief economist at the World Bank.
The world's second largest economy is able to continue bursting with vitality due to a high household savings rate and great potential for industrial upgrading, new infrastructure projects and rural development, he said.
As policymakers twist harder on credit screws to quell stubborn inflation, the tightening measures have taken a painful toll on growth. Worries abounded that the government might overshoot its tightening goal and sap growth momentum too much, especially if conditions in Europe and the United States continue to deteriorate.
Signs are emerging that the effects of credit tightening is cooling industrial activities. The output value of industrial enterprises with annual sales of more than 20 million yuan ($3 million)—grew 14.2 percent year on year in the January-September period, 0.1 percentage point lower than the first six months.
But bearing the brunt of the heavy blow were smaller firms due to their vulnerability to capital shortages and labor cost inflation. Newspapers have been constantly filled with reports of massive factory closures in Wenzhou, east coastal Zhejiang Province, or bankrupt entrepreneurs disappearing to avoid enormous debts.
Many cash-strained small firms in Wenzhou are turning to underground banks.
"As profit margins of those companies are mostly below 10 percent, borrowing from the black market at interest rates of more than 100 percent means financial suicide," said Guo Tianyong, Director of the Research Center of China's Banking Industry under the Central University of Finance and Economics.
"The situation seems even worse than in 2008 when the financial crisis rippled through China," he added. "If no actions are taken, the ailment may spread to the entire nation."
The exporters will continue to feel the pinch of tepid new orders, but that is less likely to become a significant drag on growth. Zuo Xiaolei, chief economist with the China Galaxy Securities Co. Ltd., said foreign trade would have a neutral impact on the broader economy.
"The economy has relied less on net exports as a driving force for growth," said Qu. "In addition, imports may also moderate, allowing the country to maintain trade surplus."
Although it is facing some chilly headwinds, the Chinese economy is surely nowhere near a hard landing.
The purchasing managers index, a barometer of manufacturing activities, has rebounded for two straight months after four consecutive months of decline.