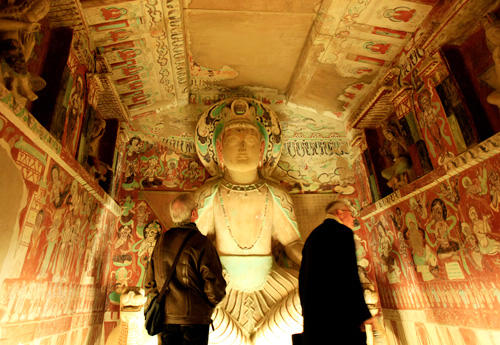 GRAND REPLICA: Visitors in Paris admire a replicate grotto in the style of Dunhuang Mogao Grottos at an art exhibition featuring Dunhuang culture on November 18, 2008 (ZHANG YUWEI)
Located in Dunhuang City, Gansu Province, the Mogao Grottoes is one of three most noted grottoes found in China. It is also one of the largest, best-preserved and richest sites of Buddhist art in the world.
Here, 735 grottoes of different sizes are scattered along a 1,600-meter cliff. The murals housed inside them feature myriad artistic styles from many dynasties.
For many visitors, though, the gorgeous history on display is not the only surprising feature at the site. It's also the sheer amount of measures in place meant to protect the art. The murals are delicate and struggle to survive amidst booming tourism.
The grottoes can only receive 2 million tourists annually, since carbon dioxide exhaled by people accelerates deterioration of the murals. Apparatuses have been set up to monitor humidity inside each grotto, and grottoes will be closed if any recorded number crosses the standard line.
There are several different possible tour routes to cover 10 of Dunhuang's grottoes. Together, these 10 represent all of the artistic periods found among the site's hundreds of other grottoes. With one ticket purchase, a tourist will find himself or herself set up with a professional guide, on his or her way to learning more about Buddhist history.
Liu Hongli is a grottoes guide. Her job is twofold. She explains the history and religious meaning behind the murals, and—perhaps more importantly—she unlocks and then locks the wooden doors that protect the art inside the caves. Unlike the murals, these doors aren't relics of the past; they were built relatively recently. No one may enter through them without permission.
Liu and her colleagues are not typical tour guides. To be a key-holder at the grottoes, a graduate degree is required along with a deep knowledge of history, art and religion in order to understand the value of the Mogao Grottoes.
According to Liu, among the more than 400 grottoes housing murals and sculptures, only 40 are open to tourists.
Soon, she says, this number will be halved when the new exhibition hall is finished outside the Mogao Grottoes. It will take no longer than two years. The new hall will give visitors a chance to experience the grottoes in three dimensions (3D).
This news may disappoint Mogao admirers. But even this protection cannot compete with natural erosion in the grottoes as time passes, explains Sun Xuehu, an official with the Dunhuang City Government. Still, he says, "I bet they are the least commercialized historical relics in the country."
Not all historical sites are as lucky as the Mogao Grottoes. In fact, most face a grim fate.
According to official statistics, around 40,000 heritage sites have disappeared in the past three decades. Excessive commercialization for tourism purposes has been one of the major causes of their demise.
As a city in northwest China, Dunhuang used to be a shining star on the renowned Silk Road, where Western and Eastern cultures first met. The city has over 240 historical relics, including passes on the Great Wall, old theaters, temples and ancient graves.
But most of these are not actual tourist sites yet, and they remain unknown to many visitors. There is not even a road for people to access these locations, which are mostly on the outskirts of the city. Tourism, in this respect, is lagging behind here.