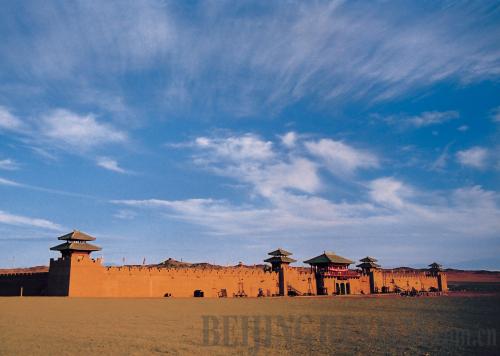 NATIONAL TREASURES: Appropriate measures are taken to preserve the Mogao Grottoes (XINHUA)
In order to legitimize their value, commercial exploitation is no doubt the best choice. Given the general dangers these sites face, government investment is the most effective way to secure them. But this process is not an easy one.
"The biggest problem is lack of money and personnel," explains Zhao Zhiying, head of the Dunhuang Administration of Cultural Heritage.
Local government officials agree. "What local government offers cannot meet the requirements," says Zhang Xiaoliang, a city official. "Until now, many projects have relied on state investment. But it's still not enough."
Because it's in a relatively underdeveloped area in China, Dunhuang is a city still struggling to see its economy catch up with other big cities in the country.
"The tight budget of our local government can only cover basic municipal operations," explains Zhang. In such an environment, spending money on "the past" seems too great a luxury.
Zhang believes that it is time to find a way to have private funds play a part in historical preservation.
But investment is always benefit-oriented, and this may ultimately hurt sites like the Mogao Grottoes. Past mishaps can be easily found around China. Considering these factors, the local government seems quite cautious.
"You have to let companies benefit from, but not hurt, the relics," says Zhang. "It's important to have strict standards for tourism development at these sites."
Commercialization of the Yangguan Pass serves as a good example. It is situated in the southwest of Dunhuang. Thousands of years ago, it was the main gateway connecting central China and the west. But over the years, the pass has been covered with desert sand.
In 2000, Ji Yongyuan, a scholar from the Dunhuang Academy, put together plans to build a private museum next to the Yangguan Pass. It took him 10 years to get his blueprints and budget together. Now open, the museum is filled with historical relics related to the pass. Visitors now number in the millions each year.
But Zhao says it's not an example that can be widely duplicated. Not all cultural heritage projects can be lucky enough to have a man who is rich in both knowledge and funding.
"We have to figure out different ways to deal with different situations," says Zhao.
Dunhuang government allowed private companies to invest in building roads linking the heritage sites to the city's downtown, to encourage more tourism. In similar cases, companies are able to share in a certain percentage of ticket revenue.
"Cooperation with companies can be a win-win strategy," notes Zhao.
Knowing the problems caused by commercialization, though, she stays alert about private capital. The bottom line, Zhao says, is that a company can invest in support facilities, but definitely nothing that involves touching any relics. "Protection is always the top priority."
More than 5,000 years of civilization has left China with around 700,000 historical heritage sites across the country. These precious treasures and landmarks have become the motivating force behind the nation's booming tourism. As commercialism poses a threat against their protection, finding a balance between the past and the forces of modernity is a task that China must now undertake.
Email us at: liuyunyun@bjreview.com