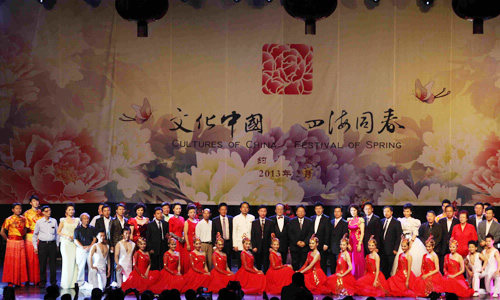 HARD TO SAY GOODBYE: Performers and organizers of the Spring Festival performance appear at a curtain call in Johannesburg, South Africa, on February 26 (LI JIANGUO)
A concert entitled, "Cultures of China, Festival of Spring," starring Chinese folk singer Song Zuying, was held in New York City on February 16 in celebration of the Chinese Lunar New Year.
The show opened with popular Chinese folk song What a Beautiful Jasmine, which drew warm applause for Song's sweet sound and natural charm.
The singer is one of the most well-known in China, having appeared in countless events both at home and abroad. This time her tour includes stops in New York, Washington, D.C., Los Angeles and San Francisco, running from February to March.
The star has invited Chinese singers on stage, including pop artist Sha Baoliang and Tibetan vocalist Tsewang Dorje to perform alongside her to promote the music of various ethnic groups amongst American audiences.
Song also collaborates with a symphony orchestra and chorus from the United States, saying music can serve as a bridge between cultures.
The singer's tour is one among a series of events staged around the world in praise of the Lunar New Year.
On February 17, a show took place in Houston, the fourth largest city in the United States, during which a group of 30 Chinese artists performed at the Cullen Performance Hall of the University of Houston in front of nearly 1,000 audience members, including home-sick overseas locals.
Traditional Peking Opera pieces such as Farewell My Concubine, as well as Judge Bao and the Qin Xianglian Case, showcased the charm of China's ancient stage art while the spoken word performance, Glamour of Language, took spectators on a tour of various local dialects.
The dance drama Thousand-Hand Bodhisattva, which has been shone on numerous stages across the world, again bewitched Houston audiences.
"The show is brilliant. We are so excited," said Liu Tao, chairman of a local overseas Chinese association. "We want to extend our heartfelt thanks to our homeland for sending such an excellent performing group of top artists."
"Though we have lived abroad for years, our compatriots at home have kept us in mind," he said. "In return for such goodwill, we will try to excel in our work and promote China-U.S. relations."
In addition to the United States, Chinese artists have also performed in front of overseas compatriots around the world.
On February 26, more than 3,000 overseas Chinese, alongside locals, enjoyed a Spring Festival show staged by a group of artists in Johannesburg, South Africa.
The population of Chinese living in South Africa increased rapidly in recent years, exceeding 300,000 at present, with most engaging in business and trade. Because of work obligations, few can afford to make the trip home over this important family holiday. The show made home feel a little closer.
China has a tradition of celebrating Spring Festival with compatriots who live overseas. Authorities have jointly organized shows to convey greetings to Chinese and local people around the world during each New Year celebration since 1984. To date, a total of over 200 troupes have been sent abroad to perform across 60 countries worldwide.
Since the spring of 2009, the government launched a series of brand-new cultural events for overseas Chinese to promote local culture.
For Spring Festival 2013, authorities have sent 11 troupes to 57 cities in 33 countries including North and South America, Europe, Asia, Africa and Oceania since January 22. Chinese artists staged about 60 shows featuring folk songs, classic dances, magic, traditional "talk shows" and Peking Opera.
"Cultures of China, Festival of Spring" aims to promote harmonious relations between overseas Chinese and local people and advance the friendship between China and other countries.
(With Li Jianguo reporting from Johannesburg, South Africa)
Email us at: baishi@bjreview.com