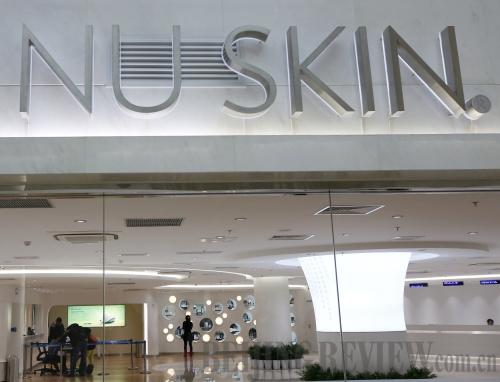 SURFACE TENSION: A Nu Skin user center in Beijing. The U.S.-based skincare and nutritional supplements company faces investigations on conducting pyramid schemes in China (CFP)
U.S.-based Nu Skin Enterprises, Inc. issued a statement on January 20 pledging to cooperate with a probe into its Chinese business operations by China's commerce and market watchdogs.
Before the statement was made, the State Administration for Industry and Commerce (SAIC) and the Ministry of Commerce (MOFCOM), which are responsible for crackdown upon pyramid selling and approval of direct selling respectively, both said that they have started investigating whether or not Nu Skin is involved in a Ponzi scheme.
Shen Danyang, a spokesman for the MOFCOM, said on January 16 that the ministry will publicize investigation results in a timely manner.
Founded in Provo, Utah in 1984, Nu Skin is one of the top five direct-selling companies in the world. Operating in 53 international markets, it is a leading supplier of personal care and nutritional supplement products.
Nu Skin began operations in China in 2003 and received a direct-selling license in 2006. According to the company's statement, from January to September 2013, its sales revenue on the Chinese mainland reached $667.4 million, nearly one third of its global total.
Business blemish
A young girl named Tian Tian recently sent a letter to People's Daily, a Beijing-based newspaper with a daily circulation of more than 3 million, setting off the Nu Skin pyramid-selling debacle. In her letter, Tian said that her aunt was brought into Nu Skin as a distributor by a female "tutor," who told her aunt that she could earn big money and utterly change her life by joining the company. After Tian's aunt had spent tens of thousands yuan buying Nu Skin's products, the "tutor" encouraged her to establish a sales network among her relatives. At the time, Tian began to wonder as to the exact nature of her aunt's "Nu Skin business."
People's Daily reporters then conducted investigations and published a report on January 15, claiming that Nu Skin may be in violation of Chinese regulations against pyramid selling. The report outlines several pieces of evidence supporting the allegation.
According to the report, on January 7, a distributor of Nu Skin invited a People's Daily reporter to his studio in Beijing and said to the reporter, "Do you want to earn 1 million yuan ($165,000) within half a year? Join our direct-selling team right now. The government work report to the Fifth Session of the 10th National People's Congress in 2007 also said 'direct selling is a current trend and the best opportunity for people to find jobs, and numerous people will definitely achieve success in this industry.' " The reporter later found that the government work report in 2007 never mentioned direct selling.
According to Nu Skin's brochures, the company has a team of top anti-aging technology consultants from across the world, including some Chinese professors. However, when People's Daily contacted a professor on Nu Skin's expert list, Cao Shilong, who has retired from Fudan University in Shanghai, said that he is an honorary consultant in name only but never did anything for Nu Skin. Georges Halpern, a professor at the Hong Kong Polytechnic University, also claimed that although he has a title of consultant, he had not attended any meetings conducted by Nu Skin or the consultant team since 2011. Indeed, he admitted that he had not contacted with Nu Skin in the past three years.