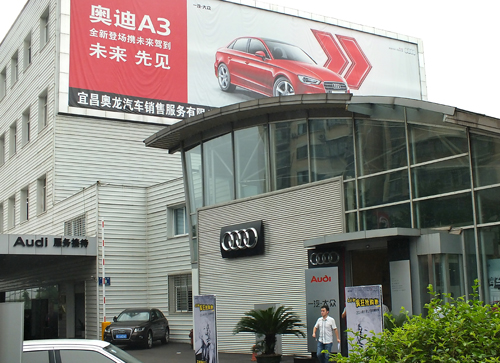 NO MORE OVERCHARGING: Customers exit an Audi dealership in Yichang, Hubei Province, on September 12. A total of 10 Audi dealers in the province have been fined for anti-trust violations (CFP)
As China continues to launch wave after wave of anti-trust probes in a broad range of industries covering all types of businesses—state-owned enterprises (SOEs), private businesses and foreign-funded firms, concerns that foreign businesses have been disproportionately singled out during the anti-trust campaign are gradually losing foothold.
In response to Chinese consumers' long-standing complaints that they have been overcharged when purchasing cars, auto parts and maintenance services, authorities have launched anti-trust investigations into carmakers involved in suspect activity. On September 11, the FAW-Volkswagen Sales Co., together with seven dealers of its luxury brand, Audi, were fined heavily. The same day, Chrysler Group China Sales Ltd. and three of its dealers were also held subject to financial penalties.
Chinese anti-trust investigators have descended on Qualcomm, Microsoft, Mercedes, Audi, BMW and Japanese auto part makers in a wave of high-profile cases over recent months.
On the other side of the equation, law enforcement departments have been equally tenacious in pursuing domestic firms that have violated the law, although punishments meted out to domestic businesses haven't been so widely reported as those given to foreign big names.
For instance, at the beginning of September, three Chinese cement companies were fined 114 million yuan ($18.5 million) in total for manipulating prices and reaching price-fixing agreements. Also this month, 23 Chinese insurance firms and the Zhejiang Insurance Industry Association were fined more than 110 million yuan ($17.8 million) for anti-trust violations.
When the Anti-Monopoly Law of the People's Republic of China initially came into force in 2008, China's first move was to target large domestic enterprises, as was the case in the investigations against telecom operators China Unicom and China Telecom in 2011. In 2013, five Chinese jewelers and two Chinese premium liquor makers were heavily fined for price fixing.
"Only 10 percent of the companies being probed by Chinese anti-trust authorities are foreign enterprises," Chinese Premier Li Keqiang said on September 9 during the Eighth Summer Davos in China's northern metropolitan city of Tianjin, dismissing the speculation that foreign businesses are being targeted. "China's door has opened, and it will never be closed again," Li added.
He said that an increase in the number of probes is a result of improved law enforcement. "We have improved the transparency of government supervision to restore the fairness of the market," he said. "But some of our efforts have been misinterpreted."
Li said that the supervision efforts, including anti-trust probes, are legal, transparent and fair, and that they will benefit China's opening-up programs and make more foreign investors willing to come to China in the long run.
Impartial treatment
China's Anti-Monopoly Law was enacted with the purpose of preventing and stopping monopolistic behavior, ensuring fair market competition, improving efficiency in the economy, and protecting public interests. The law became effective after Chinese authorities spent more than a decade drafting the legislation and consulting with foreign competition authorities from the United States, the EU and other jurisdictions.
The law is enforced by three regulators in China—the Ministry of Commerce (MOFCOM) enforces merger provisions; the State Administration of Industry and Commerce (SAIC) focuses on non-price related actions; and the National Development and Reform Commission (NDRC) takes on pricing monopolies.
The anti-trust law states that businesses engaging in monopolistic behavior will be fined 1 percent to 10 percent of their annual sales revenues. Punishments vary depending on the nature, severity, and duration of the violations and how cooperative the companies in question are with law enforcement.