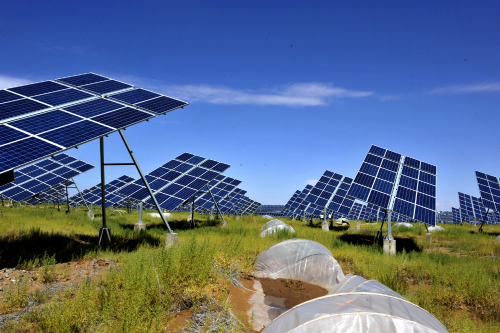 GREEN POWER: Solar panels are harnessed in an effort to generate clean energy in Gulang County of northwest China's Gansu Province (LIAN ZHENXIANG)
Lima, capital and the largest city of Peru, has welcomed government leaders, scholars as well as representatives of the business and NGO circles from more than 200 countries and regions this December. They will stay in the South American city for a battle of words at the United Nations Lima Climate Conference held from December 1 to 12, paving the way for the 2015 conference in Paris to reach an international community agreement and strengthen efforts in curbing climate change after 2020.
"Humans clearly influence the climate system, and recent anthropogenic emissions of greenhouse gases are the highest in history," the Intergovernmental Panel on Climate Change (IPCC) said in an assessment report released on November 2. "Each of the last three decades has been successively warmer at Earth's surface than any preceding decade since 1850. The period from 1983 to 2012 was likely the warmest 30-year period of the last 1,400 years in the Northern Hemisphere," said the IPCC.
When meeting with U.S. Secretary of State John Kerry in February, Chinese President Xi Jinping once again stressed that China has attached great importance to tackling domestic climate change and facilitating emission reduction.
"In this regard, it's not that anyone asks us to do it, but we ourselves take the initiative to do it," said Xi.
"China has been playing an active role in solving problems arising from climate change. It has intensified efforts by setting goals, taking actions and improving efficiency," said Xie Zhenhua, Vice Minister of the National Development and Reform Commission (NDRC).
According to statistics from China's Policies and Actions on Climate Change (2014) released on November 25, as of 2013, China's carbon dioxide emissions per unit of per-capita GDP had been reduced by 28.56 percent from 2005; and in the first three quarters this year, China's energy consumption intensity and carbon intensity further dropped by 4.6 percent and 5 percent year on year, respectively. In 2013, a total of 6.1 million hectares of forest and 2.52 billion trees were planted, surpassing the target for the year.
To achieve the goal of reducing 40 to 45 percent of carbon intensity by 2020, even measures like power rationing were taken in some areas of China in 2009 and 2010, said Xie, who also heads the Chinese delegation at the Lima conference.
Moving forward
According to calculations by the World Bank, from 1990 to 2010, China's energy-saving efforts accounted for 58 percent of the world's total energy efficiency. Moreover, the country's installed capacity of renewable energy accounted for 24 percent of the world's total, and its newly installed renewable energy capacity made up 37 percent of the world's total in 2013, according to the NDRC.
"Though China's achievements in energy conservation and emission reduction are here for all to see, its per-capita carbon emission is 40 percent more than the world average," said Xie, noting that China is still a developing country with an extensive mode of development and imbalanced economic structure, where 200 million people live below the poverty line of $1.5 per day.
Therefore, the negotiations carried out at the Lima conference as well as the agreement to be reached at the 2015 conference in Paris should be based on the principles of the United Nations Framework Convention on Climate Change (UNFCCC), especially the equality principle, common but differentiated responsibilities and the respective capabilities principles, said Xie.