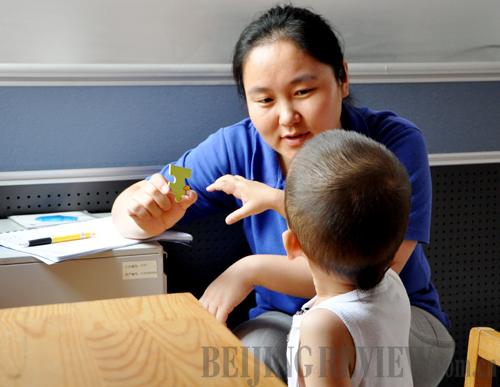 THERAPEUTIC: An autistic child has a one-to-one training session with his teacher at the Wucailu Center for Children With Autism (COURTESY OF WUCAILU)
Just like any other regular early-childhood education center, the Gaobeidian branch of the Wucailu Center for Children With Autism, located in Beijing's Chaoyang District, has corridors lined with chairs that seat mothers, fathers and grandparents as they wait for the most important people in their lives to finish up for the day.
Inside one of the spacious classrooms, which are divided into cubicles, several autistic children, aged 3 to 6, receive one-to-one tutoring from their teachers, who are mostly young women.
Xiao Qiang, a 4-year-old boy, is one of the autistic children. He sits facing his teacher, but seems to look beyond her. The teacher asks him to stand up, a request he doesn't respond to. His teacher puts her hands under his arms and lifts him to his feet while repeating the direction.
In another classroom, five children are taking part in a group lesson. While four of the children attentively string beads and play with blocks, one boy is restless. He gets up from time to time, wandering around the classroom, waving his arms and kicking his legs.
Four-year-old Xiao Tong is the only child in the center who greets visitors with a smile. "Say hello to aunty," his teacher said. "Hello, aunty!" he responded, waving his hand. It is hard to imagine such a vivacious boy is autistic.
"He has received therapy in the center for some time, and has made a lot of progress," said a male teacher surnamed Wang, who asked not to give his full name.
Autistic children can show a broad range of different symptoms—some may be unable to talk, while some can chat with others but are locked into rigid and repetitive patterns of behavior, Wang explained.
Understanding autism
Autism is a developmental disorder characterized mainly by difficulty socializing and communicating, with afflicted children also often behaving repetitively or having a very narrow set of interests, if not both.
In 2013, the fifth revision of the American Psychiatric Association's Diagnostic and Statistical Manual of Mental Disorders redefined autism spectrum disorders to encompass the previous diagnoses of autism, Asperger's syndrome, and the less-specific "pervasive developmental disorder not otherwise specified" category.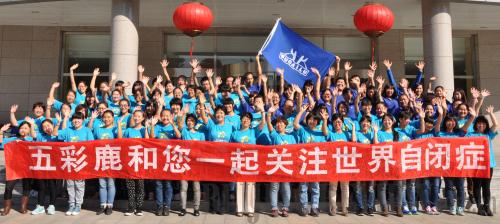 ONE BIG FAMILY: Teachers at the Wucailu Center for Children With Autism participate an autism awareness event in Beijing in September 2014 (COURTESY OF WUCAILU)
In China, there has been no nationwide epidemiological investigation into autism, and estimation based on rates in other countries puts its autistic population at more than 10 million, including 2 million children under 14 years old, said Sun Menglin, founder of Wucailu.
Sun revealed the numbers during a speech she made on April 2, World Autism Awareness Day, an event that has been observed since 2008.
Sun clarified some typical early signs of the disease, such as a lack of eye contact, not responding when one's own name is called, and neither smiling as a response nor responding to smiles. She reminded parents to be aware and if they have concerns, they should bring children to doctors as early as possible.
According to statistics from the U.S. Center for Disease Control, the prevalence of the disease was 1/5000 in 1975, while in 2014 the rate was close to 1/68. Medical experts, however, say that this may be not because of an increase in the disease, but improvements in diagnosis. Sun stressed that boys are four to five times than girls more likely to suffer from the disease.
The first four cases of autism in China were reported in 1982 by Tao Guotai, a professor at Nanjing Brain Hospital in Nanjing, east China's Jiangsu Province. In 1993, the Beijing Stars and Rain Education Institute, the country's first non-profit organization for autism, was set up by Tian Huiping, the mother of an autistic son.
Personalized help
Among China's more than 700 institutions offering training to autistic children, more than 90 percent are founded by parents of autistic children, and the remaining 10 percent are affiliated to hospitals and government departments, according to a survey conducted by the China Disabled Persons' Federation.
So far, there are no more than 100 doctors in China who can reliably diagnose autism, so many children miss the crucial pre-school period for intervention, said Wang with Wucailu.
Wucailu was established in 2004, the year after Sun first came into touch with autistic children while volunteering at Peking University Sixth Hospital, where she became aware of the pain of autistic families. She decided to help them.
Since its inception, Wucailu has effectively trained more than 3,500 autistic children, most of whom have improved their social skills, Sun said.
In addition, the center has also offered free training and consulting services to caregivers. In the past 10 years, it has hosted more than 300 training sessions for caregivers, with each session attended by nearly 70 persons on average.
Wucailu currently has four branches in Beijing and can accommodate a combined 400 autistic children. It has become one of the largest training institutions of its kind in China.
Based on diagnosis, the center develops individualized education program for every child, which is carried out together by teachers and the child's family members, Sun said.
A girl identified by the name Lele came to Wucailu in the spring of 2008 around the age of 6, after having attended a regular kindergarten. At that time, she could imitate other's pronunciation, but could not express herself clearly. Having difficulties in communicating with others, most of the time she didn't speak at all.
During training, her teacher found that Lele's visual processing was better than her speech processing. So the teacher prompted her to speak with pictures. She was taught to recognize Chinese characters, and she could use cards to answer questions.
Her teacher also taught her how to use computer, as in the digital age, the skill is important for her to integrate into society at large. Lele has learned to play computer games on her own, and type short messages in Chinese.
Continual progress
At present, more than 30 percent of Wucailu's teachers hold bachelor's or master's degrees in special education, psychology or early child education, while the remaining hold associate degrees, Sun said.
Since the center was established, Sun has been determined to introduce advanced therapeutic techniques from foreign countries to China, and tailor them to the needs of Chinese children. Guided by applied behavior analysis (ABA) theories, the center has already adopted a variety of internationally popular instructional methods.
Sun met Israeli expert Eitan Eldar at an international symposium on ABA in 2005. Eldar, first Chairman of the Israeli Association for Behavior Analysis, has more than 30 years of experience in helping young children with autism.
In 2006, at Sun's invitation, Eldar began to work as Wucailu's technical advisor. He has trained many Chinese instructors for the center.
Over the years, Sun has invited experts in autism from not only Chinese hospitals and universities, but also from Australia, Canada, Japan, the United Kingdom, the United States, Switzerland and Norway to share their expertise with teachers at Wucailu.
The center has established partnership with the special education programs of the Queens College of the City University of New York in the United States, the University of Oslo in Norway and Beijing Normal University. Professors and students of these universities visit Wucailu regularly to provide theoretical and technical support.
The center has been improving its training methods. Now, it emphasizes integrated education, under which autistic children accompanied by the center's teachers are placed into regular classes.
Copyedited by Kieran Pringle
Comments to wanghairong@bjreview.com