PROFESSIONAL TRAINING: Han Shuo (forefront), 19, lifts weights with his classmates on April 7 as part of their regular training at the Sangao training base in Beijing (WEI YAO)
Developing the level of youth football teams and leagues is seen as a crucial factor for enhancing the overall strength of the sport in China. The recent release of a reform plan on the sport by the State Council, China's cabinet, aims to cultivate football talent from a young age.
School football
"Through the plan, I can see the future of not only juvenile football, but the future of China's football as a whole," commented Liu Pengzhi, Principal of the High School Affiliated to Renmin University of China, who also is a counselor of the State Council, in an interview with Beijing Review.
The football education of the high school has been a shining example in China. The school has been the chair school for the Chinese School Football Association since the association was established in 2004, and Liu has been the chairwoman of the association since then.
"Adolescents are the key to the future of Chinese football," said Liu, stressing that she agreed with the reform plan in setting its mid-term target on the growth of juvenile football players.
"As the chairwoman of the association, I feel an obligation to promote the development of football in schools," she explained, expressing that she is delighted to see the plan has mentioned working out a cultivation plan from primary school to college for youngsters who are talented in football, so as to provide football players. "This is what our school has been working on for 20 years," said Liu.
Today, the school has become a successful talent scout because of its emphasis on football education. In 1992, the Beijing Sangao Football Club, a football training camp of the school, was established. It is the earliest high school football club in the country. Six years later, Liu made a bold decision to build a 180-mu (12 hectares) football training base for the school in northwest Beijing.
Li Lianjiang, Director of the Sangao Training Base and Deputy Principal of the High School Affiliated to Renmin University of China (WEI YAO)
"The biggest achievement of this model is that we have successfully combined school education together with sports training," said Li Lianjiang, Director of the Sangao Training Base and Deputy Principal of the high school, who has been in charge of the training base since construction started in 1998.
During the past two decades, the high school has built the training base into a complete schoolyard with teaching facilities and high-level faculty team, as well as professional football training facilities including four football fields.
There are 120 students in six grades, with 20 students in each class forming a football team. Han Shuo, a 19-year-old boy from Xuzhou, east China's Jiangsu Province, is one of them. He has been studying at the school for six years.
Han and his schoolmates were chosen from across the country for their outstanding football talent through a nationwide selection from among primary school students every year. They are still formal high school students, who will participate in the national college entrance examination after finishing their studies.
Han's daily life is similar to ordinary high school students. Usually, he takes the same courses in the morning and afternoon as those at the headquarters of the school in downtown Beijing. As all students at the training base are boarders, they also have regular night studies. Between the afternoon classes and night study, they train. This schedule rarely changes, only being interrupted before important matches when the students need to spend more time preparing for national and international games.
Unlike other sports schools, the Sangao training base encourages students to pay more attention to their academic studies. Li, director of the base, insisted a 2-hour daily training is enough for high school students, and the primary mission for them should always be education. "We hope to provide not only top-level football players, but also holders of master's and doctor's degrees. The training base provides students opportunities to make the best of their gifts," Li said.
Thanks to the study in the training base, Han and his classmates have more experiences of attending large-scale domestic and international football games than students in other high schools. Some of the matches they have been to include the China High School Football League and international high school football games in Brazil, the United States and Japan.
"I really love playing football. It has become a habit of mine. I will feel uncomfortable if I stop playing," said Han.
In June, Han will take national college entrance examination. If all goes well, he will enter his preferred university: Renmin University of China.
"In the past, I dreamed of being a professional football player as soon as possible. But now I would rather accept formal college education first. Then, if the timing is right, I will fulfill my dream eventually," he said.
Due to its stellar reputation, the training base not only has many opportunities to compete with foreign juvenile football teams, but has also attracted foreign coaches.
FOREIGN EXPERTISE: Marko Tomic, a 31-year-old assistant coach from Serbia, guides students in their warm up before regular training starts on a field inside the Sangao training base on April 7 (WEI YAO)
Marko Tomic, a 31-year-old assistant coach at the training base, is from Serbia. He used to be a professional football player in his home country, but had to give up his professional career because of a knee injury. He spent four years at a sports university in his country and got his coach license later. Previously, he coached in Jamaica for several years. In June 2013, he was introduced to Sangao.
"I fell in love with this country when I first came here in 2003. My dream is to become a good coach in China," said Tomic, "I like my work here: the clean and beautiful fields, as well as the students." Tomic believes his students are all talented, but also very different. "Even with great talent, if you want to be a professional player, you still have to work hard," he stressed to his students.
As the high school has been chair school of the football association, the Sangao training base also shoulders responsibility of promoting school football across the whole country. It holds regular training for school football coaches, and exchanges with other high school football teams from other places.
"I cannot glorify Sangao as the best example of school football in the country. But I am sure we can act as a good model for other schools," said Li, "Nearly 100 percent of graduates from our training base have taken advantage of their football talent."
In the past 20 years, about 90 percent of students in the training base entered universities including the prestigious Peking University and Tsinghua University, while the other 10 percent became professional football players.
"It is impossible for every school to follow us. I hope if the country opens football schools in the future, like the reform plan mentions, Sangao can be a blueprint for them. I insist that Principal Liu's suggestion of taking competitive sports back to the coverage of education. This should be the future of sports. Modern education should be open, inclusive and diversified," said Li.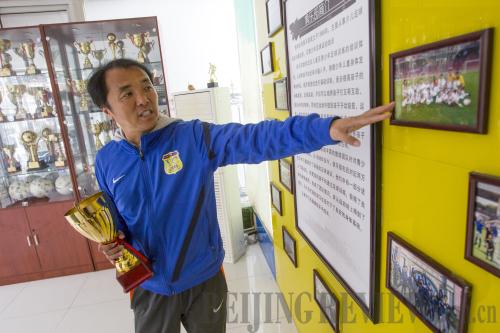 STORIED HISTORY: Gao Chao, a football coach and founder of Beijing-based Silver Tide Football Club, shows off some of the club's achievements on April 1 (WANG XIANG)
Club for children
When Gao Chao randomly kicked a football beside a bus stop with his friends 40 years ago, he never thought it would lead to him taking up a career in the sport. A football coach of a sports school discovered his talent and recruited him to play football. Gao became a football coach later, and then quit his steady job and opened the Silver Tide Football Club in collaboration with Beijing No. 18 Middle School in 1996. His club, which is very influential in southern Beijing, aims at promoting the sport among children between the ages of 5 and 13.
"I love football. I hope children can improve their health and learn the spirit of teamwork from the sport," 47-year-old Gao told Beijing Review. Football is a group sport that stresses team work. Football not only improves players' physical ability, but also cultivates their sense of teamwork and collective honor, faith and perseverance, stressed Gao.
"Football players must start training when they are kids," He pointed out that in a person's life, the period between 6-11 is a sensitive period for flexibility and suppleness. If children at this age receive professional training, they will have a strong body. Moreover, fast-moving football can improve their reactions, observation skills and creativity, which can help them in other areas of their studies, he said.
Ni Bowen, an 11-year-old boy, has been playing football at Silver Tide for several years. "I love football. Playing football has brought me great happiness," said Ni, "I become stronger, and I get better grades in physical education." Whether he is winning or not, he enjoyed playing football and participating games together with his friends at the club at weekends.
"Today, parents' opinion about football is more rational than before," Gao said, "In the 1990s, most parents sent their kids to my club, hoping their children would become professional league players. Now parents don't expect them to make a career out of football. They just simply hope their children can fall in love with the sport, and have fun."
Gao and his club have witnessed the development of football in China. In the 1990s, many parents rushed to send their children to numerous football clubs in Beijing. On the opening day of Silver Tide in 1996, more than 300 children enrolled for training. However, during the decline of the Chinese football league, Gao also encountered a decreased interest in his club.
"After the reform plan on football had been released recently, many people called us, hoping to send their children here. I believe the plan will greatly promote development of China's football, and also juvenile football of course," he said.
Gao is confident that the development of school football will be good for his club. "School football can improve student's health. But school football also is limited. A physical education class is not long enough to carry out a real competition. Besides, school coaches will keep football class as safe as possible to prevent injury. But injury is not unusual in a real game," he explained, "True football lovers can only experience a real competition outside school. For children, football clubs like Silver Tide will let experience the real joy of a team sport."
"When more youngsters devote their talents to football, it will be possible to develop China's adult leagues and build a strong national team, which will in turn help us to reach the World Cup eventually," said Gao, "These missions are impossible to fulfill without firm support from the country."
Gao suggested the government provide more opportunities of communication with foreign football teams for football clubs. "To be honest, our experience is poor if compared to similar clubs in Japan," he said. Last year, Silver Tide took part in a friendly match with a Japanese football club. "The skill level of individual players in the two teams was equal, but we still lost the game because we lack real match experience," he recalled.
Gao hopes the country can establish a system that attracts good coaches for youth teams. "Not all professional players can become good coaches. We hope to learn more from foreign coaches from countries with mature youth football systems as well," he explained.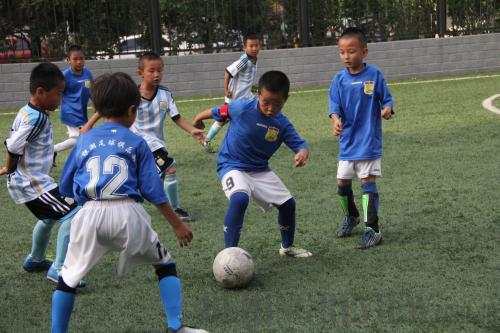 FUTURE PLAYERS : Primary students receive training at the Silver Tide Football Club (COURTSEY OF SILVER TIDE)
A system under construction
Educational experts stressed that the value of enhancing football education can benefit youngsters more than in the area of sports. They believe improving football education on campus will not only improve younger generation's physical quality, but also their moral values especially in team spirits and self-restraint.
There are over 5,000 schools that have set a good foundation of developing school football. According to the reform plan, there will be at least 50,000 schools of this kind 10 years later. The plan also points out that the target of promoting school football is to cultivate more football players and helping youngsters get familiar with rules and regulations.
While applauding the plan, many educators questioned that whether the country can clean away development barriers of school football within a short time. On April 7, Liu Peijun, an official with the Ministry of Education, gave answer to these questions at the first training course toward principals and management personnel of school football.
Liu Peijun stated that China will establish a special fund for constructing a school football faculty team in different ways including social recruit and inviting foreigners. Besides, the country will carry out a complete system to build a passage for talented students when it comes to training, foreign exchanges, opportunity of competition and career development. In the meantime, more attention will be paid to integrating current infrastructure facilities based on a new management mechanism. A national juvenile school football leading group will be responsible for the overall development of school football.
"China may have been a little slow to focus on the importance of cultivating its young athletes, but it will never be too late to start laying the foundations for a better football environment," Gao said.
Copyedited by Kieran Pringle
Comments to dingying@bjreview.com