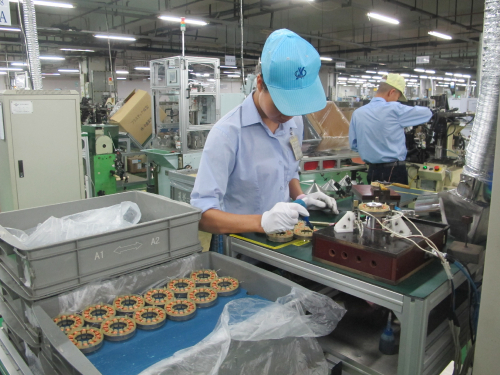 Workers produce motor parts in Dongguan Shinano Motor Co. Ltd. on April 20 (WANG HAIRONG)
Yantian Village in Dongguan, south China's Guangdong Province, defies stereotypical images of the southern Chinese countryside. It has no expansive paddy fields, nor blooming rapeseed flowers, nor livestock wandering on streets. Rather, it features row after row of modern buildings nestled amongst green, undulating hills.
The village, with more than 3,000 natives but approximately 100,000 migrants, boasts hundreds of factories, a four-star hotel, a library, a cultural center with a gym and theater, shops, hospitals, schools, parks and even a golf course.
Lying a mere 21 km from Luohu border crossing to Hong Kong, it covers a total area of 24 square km and wedges into Shenzhen--the pacesetter of China's reform and opening up--in the east, south and west. This unique geographical location has contributed to its prosperity.
Yantian is almost like a miniature version of many places in the Pearl River Delta that has flourished with influx of foreign investment and migrant workers after China's implementation of the reform and opening-up policy more than three decades ago.
In 2014, annual per-capita net income of native villagers approximated 50,000 yuan ($8,060), according to Deng Yaohui, former secretary of the village committee of the Chinese Communist Party (CPC), ranking among the top in the province, much higher than the national average of 9,892 yuan ($1,595) for rural residents that year.
Industrialization
Yantian had been an agrarian community for about 600 years, ever since farmer Deng Zhentian settled down there with his four sons. Until the 1980s, villagers, mostly descendants of the Deng family, still subsisted on farming.
Now, only small stretches of farm fields on the village's periphery are left, which are planted with vegetables. Even these fields are cultivated by migrants rather than locals.
"In the past, every villager was allocated no more than 0.2 hectares of arable land to work on. The village had a labor force of 1,100, and total annual output of 1.7 million yuan ($274,194)," said Deng Yaohui.
Poverty once drove some residents to move to Hong Kong to seek a better life. After the initiation of the reform and opening-up policy, some Yantian residents that had relocated to Hong Kong earlier returned to their hometown and set up factories. The first such factory went into operation in 1980.
"Initially, we assigned 200 villagers to industrial production, yet they created more value than the village's annual agricultural output," Deng said, "So it dawned on us that the way out of poverty was industry."
In 1984, the village's industrial output first surpassed that of agriculture. In 1985, the village's CPC committee made a daring proposal to put the land just contracted to individual households under the household responsibility system back under collective ownership.
By taking back the land, the village could plan for land usage, said Deng. The villagers supported the proposal.
Throughout the 1980s and early 1990s, more and more factories were built in Yantian. On average, four new companies opened each month from 1992-95, and from 1996-98, eight new firms were launched every year, according to New Governance in Yantian Village of Guangdong Province, a book authored by Hu Biliang, a professor of Economics and dean of the Emerging Markets Institute in Beijing Normal University.
The number of companies founded by investors from Hong Kong, Taiwan and from outside of China peaked in 1998 at around 400. Of this total, more than 90 percent were set up by Hong Kong investors, and more than half of the remaining founded by Taiwanese investors, as well as a few by Japanese and U.S. investors, Hu said.
In the early 1980s, these companies primarily assembled products with parts, materials and samples supplied by overseas clients and the finished products were sold overseas. Over the years, the types of products the companies produce have been gradually adjusted, Hu commented, adding that now the main products are metal hardware, electronics, plastic, toys, textiles and clothing.
Dongguan Shinano Motor Co. Ltd. (SKY), a flagship company in Yantian, was established in 1994. The Japanese-ventured company produces precision motors for household appliances, automobiles, office machines and banking machines, etc. It supplies motors for big-name brands such as Toyota, Nissan, Ford, Haier, Midea and Sharp, among others.
The company occupies four large factory buildings in Yantian and employs 3,900 people, including 28 Japanese citizens.
Wang Donghui, deputy head of the company's research and development department, commented that the company was relocated from Hong Kong to Yantian "because of its proximity to the customers and relatively cheaper land and labor."
These Hong Kong-, Taiwan- and foreign-funded companies have brought wealth to Yantian in the forms of rental for land and factory workshops, administrative costs and a share of the profits.
In 2014, 80 million yuan ($12.9 million) of the village's revenue was in the form of payments from manufacturing firms, according to Deng Zerong, secretary of the village's CPC committee.
These companies have also generated a large number of jobs for villagers and migrants alike.
Ban, a native of China's southwestern Guizhou Province, works in an electronic company in Yantian. The 30-something came to the village more than 10 years ago, where he met his wife who was also a migrant worker in the village. The couple has a 6-year-old son, who is going to go to a primary school in the village this fall.
In addition, these companies have spawned domestic manufacturing firms. Deng Jihua, a native of Hunan Province, came to Yantian in 1993. He initially worked as an equipment-testing technician in Dongguan Shinano Motor, during which period he received one-year training in Japan. In 1999, he set up his own plant to produce machine parts. Now the company has grown from a small workshop of two to three persons to an automation-equipment company employing more than 30 workers.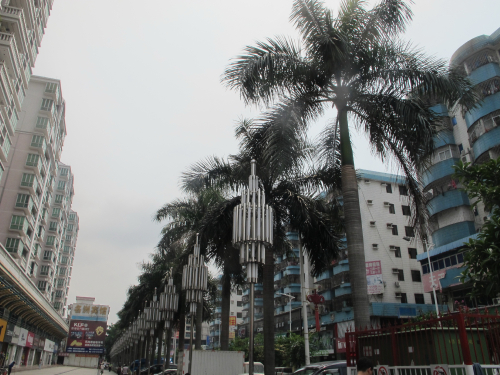 A typical street in Yantian Village (WANG HAIRONG)
Diversification
Yantian's early growth was labor-intensive and export-driven. In recent years, this growth model has encountered challenges from the international and domestic markets alike, with events such as the 1997-2001 Asia financial crisis, the outbreak of Severe Acute Reparatory Syndrome in 2003, the appreciation of the renminbi since 2005 and the rising costs of land and labor all taking their toll.
"It is not easy to recruit workers now," said Deng Jihua, the owner of Jingjiu Automatic Equipment Co. Ltd.
"Labor costs are rising. Ten years ago, the base monthly salary excluding performance pay for a worker was around 570 yuan ($68), and now it has risen to 1,800 ($290)," said an executive from Dongguan Shinano Motor.
"The price of products keeps on falling whereas workers' pay continues to rise. We cannot afford to continue following the beaten track. We must constantly seek new avenues," Wang said.
He said that the company is empowered by innovation, which has kept the firm a leader in motor industry.
But not every company is as resilient to risks. Some companies moved to cheaper places or went bankrupt.
The number of these companies invested in by people from Hong Kong, Taiwan and foreign countries plunged from its peak of about 400 in 1999 to around 150 now, said Deng Fenxing, a member of the village CPC committee and head of the village's general office.
The companies leaving the village also include some doing well, which moved away because they needed bigger plants for expansion, said Deng Jihua.
The dwindling number of factories meant less revenue for the village. The village thus began to look for ways to make good use of the money they earned.
"It is difficult to make money, and it is even more so to keep the money," said Deng Yaohui,
He said that the village leaders pondered alternative ways to use the village's collective revenue: to distribute it to villagers or to invest it to further develop the village's economy.
The village retains 40 percent of its annual income as capital for further development, said Deng Zerong.
A large portion of the village's income is from lease of land. Land resource in the village is limited, whereas outside the village, there is unlimited room for development, said Deng Yaohui. So village officials decided to take their savings and go out of Yantian to seek development.
In 2000, Yantian Enterprise Development Company, which is collectively owned by the village, was set up. It entered the real estate market of nearby Dongguan, as well as in major metropolises such as Guangzhou and Shanghai. Real estate market booms over the past decade rendered their property development projects profitable.
The village also aspires to develop financial industry. It bought shares of banks such as China Minsheng Bank and China Guangfa Bank. According to Deng Zerong, in 2014, the village invested 100 million ($16 million) in the stock market, and earned 50 million ($8 million), thanks for the bullish market.
In 2013, the village set up a mortgage guarantee company, which generated impressive profits for the village in its first year in operation.
While speaking of the village's future development plan, Deng Zerong said the village is going to set up a development bank and a stock exchange.
The development bank will absorb savings from residents and provide loans to small and medium-sized firms. Deng Zerong said that the bank is expected to gain approval of China Banking Regulatory Commission in May, and be launched after that.
The stock exchange will primarily sell financial products and issue additional shares for listed companies. It is projected to fetch an annual profit of 15 million yuan ($2.4 million), he said.
Realizing the risks in financial industry, he said that the village will work hard to defuse risks, yet he did not specify exactly how.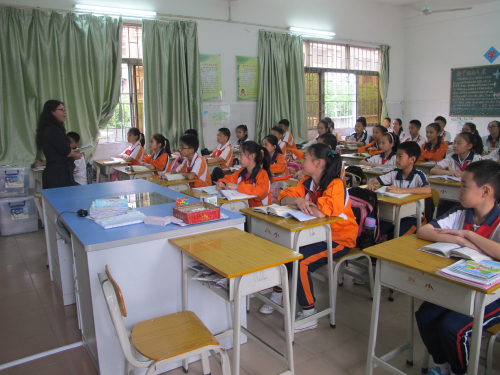 Students have class at a public school for children of migrants in Yantian Village on April 23 (WANG HAIRONG)
The village also encourages the development of service industry. Now, it is home to more than 2,000 shops, hotels, hospitals, banks and schools, and some of these are very large in scale.
The New Century School, founded in 1994, covers an area of 300,000 square meters and teaches 3,000 students from neighboring areas and more than 200 students from Hong Kong, Macao, Taiwan and abroad.
"The school is bigger than the average university in my country," said Jonio, a student from East Timor, who is taking an International MBA program at Beijing Normal University.
Southern Medical University Guangji Hospital is a private hospital set up in 2005. Now it has 730 hospital beds and employs 570 people. More than 8 percent of its staff members possess professional qualification equivalent to that of a professor or associate professor.
"In 2014, the hospital served 288,849 outpatients and 14,255 inpatients," revealed Yang Xiaojun, the hospital's general manager.
In addition, the village is also planning to develop "2.5 industry" that lies between secondary and tertiary industries, according to Deng Zerong. The plan is to attract companies to set up their headquarters in the village, with their production outsourced to places with cheaper land and labor.
The village would like to attract hi-tech and environment-friendly enterprises, said Deng Fengxing. To do this, it is building the Tianan Cyber Park to accommodate such companies and the main structure is almost complete, he revealed.
The village's endeavors to adjust its economic structure to foster new growth points are in line with the Central Government's policy focus. Change in the structure of Yantian's economy has been reflected in the village's income sources. Previously, manufacturing industry was the village's largest revenue source. In 2014, according to Deng Zerong, the village made more money from the financial market than from manufacturing industry.
Last year, Yantai's income from capital investment approximated 100 million yuan ($16 million), nearly 40 percent of the total income, while its income from industry stood at 80 million yuan ($12.9 million), about one third of the total. In addition, real estate development and property management respectively contributed nearly one fifth and one tenth to the village's total income.
Copyedited by Kieran Pringle
Comment to zanjifang@bjreview.com