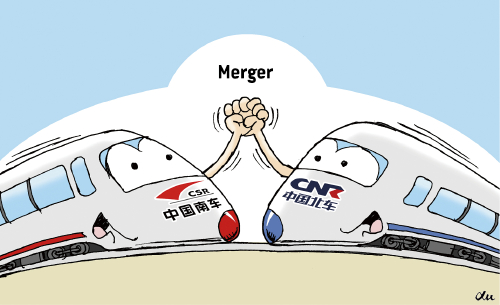 (XINHUA)
In China's classical novel Romance of Three Kingdoms, the development of an empire is described as "long divided, must unite; long united, must divide." The same is true in the business world.
In the early 2000s, a great number of large state-owned enterprises (SOEs) in China were divided into smaller companies that rivaled each other, in order to increase their competitiveness in the market. After more than a decade of fast development, some of them, however, have or will join hands again in response to changed market conditions.
The process started in late 2014, when China Agri-Industries Holdings Ltd., which engages in the production, processing and distribution of agricultural products, acquired China Huafu Trade and Development Group Corp. China's top train makers--China CSR Corp.Ltd. and China CNR Corp. Ltd.--announced their merger earlier this year. More consolidation is reportedly imminent, including the programs between China Power Investment Corp. and State Nuclear Power Technology Corp., and between China Railway Group Ltd. and China Railway Construction Corp. Ltd.
"In fact, the government has mulled over the significant integration for years. This year, mergers and acquisitions between major SOEs, especially for those eyeing international growth, will come to a climax," said Li Jin, Vice President of China Enterprise Reform and Development Society, a Beijing-based think tank. He predicted that the number of SOEs overseen by the of the State-owned Assets Supervision and Administration Commission of the State Council (SASAC), commonly known as centrally administered SOEs, will fall from more than 110 in February to somewhere between 30 and 50 when this round of consolidation grinds to a stop.
"These changes testify the government's determination to help SOEs grow larger and stronger and effectively make use of state-owned assets. But controversies are inevitable over the course of formulating the overall scheme for SOE reform," said Xiang Anbo, Director of the SOE Research Office under the Enterprise Research Institute, a subsidiary of the Development Research Center of the State Council, China's cabinet.
Hitherto, the State Council has organized a special steering group to hammer out the general scheme. Lian Weiliang, Vice Chairman of the National Development and Reform Commission, China's top economic planner, suggested that the reform focuses on invigorating SOEs, enhancing their global competitiveness and preventing the loss of state-owned assets.
Overseas competition
Fifteen years ago, to avoid monopolization and encourage competition, the then China National Railway Locomotive & Rolling Stock Industry Corp. was divided into China CSR and China CNR, which later turned out to be a brilliant decision, because both of them have seen business soar as a result of the rapid expansion of China's high-speed railway network.
However, as the goal China pursues changes with its growing integration with the world economy, adjustments should also be made to its strategy to develop SOEs, said Wang Zhigang, Director of the Enterprise Reform and Development Department of the SASAC's Research Center.
"As China's economy keeps expanding steadily, competitions with foreign rivals have become more meaningful than those among domestic players," Wang said, adding that China needs enterprises that can match international industry leaders in size and strength.
According to Li, by integrating superior resources and tapping into synergy, cutthroat competitions among domestic SOEs as well as vicious mergers and acquisitions can be remarkably reduced. "In this way, centrally administered SOEs will witness a dramatic elevation of international competitiveness and better ensure the nation's industrial security," he said.
Aside from that, falling profits of SOEs have also set off alarms. From January to March, the total profit of SOEs plunged by 8 percent from the same period of the previous year--9.9 percent for centrally administered SOEs and 0.4 percent for local SOEs, according to the National Bureau of Statistics (NBS).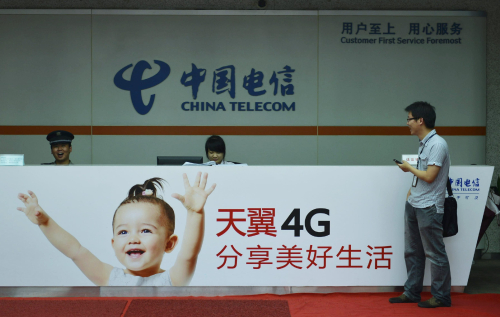 A man at a counter of China Telecom, one of the country's major mobile service providers, in Hangzhou, Zhejiang Province, on June 27, 2014 (XINHUA)
Currently, priority should be given to cutting and consolidating redundant state-owned assets, rather than blindly seeking expansion, Li said, arguing that SOEs in sectors suffering overcapacity such as construction, electricity and railway will be the main targets of the great overhaul.
Fork in the road
"SOEs should be categorized into three types--public service, natural monopoly and competitiveness; and be managed in different ways," said Wei Xiangyun, an expert with the SASAC, arguing that SOEs need to retreat from competitive fields.
Wei's viewpoint is echoed by Zhang Chunxiao, a research fellow with the Beijing-based Chinese Academy of Governance, who voices SOEs' gradual withdrawal from competitive sectors, opening up downstream fields and spinning off non-core businesses.
Kuang Jie, an expert on corporate governance, believes that merger and acquisition will be an inexorable trend in SOE reform. As a result, one or two investment groups should be established in each sector to carry out reorganization activities with capital as the linkage between enterprises.
Attention should not be focused on reducing the number of SOEs but on boosting their strength, Kuang said.
Li held that the reorganization of SOEs will forge ahead in two ways. "For one thing, to facilitate China's hi-tech exports, centrally administered SOEs in industries such as equipment manufacturing, nuclear power and telecommunications will team up by going through intra-industrial mergers and acquisitions. For another, after the general reform scheme and classification standards are unveiled, centrally administered SOEs in other sectors will be baptized by a wave of splitting and reshuffling amid the mixed ownership reform going deeper."
"In the near future, SOEs in the same sector are more likely to be integrated, in order to realize an overall listing," said Li Shuguang, Deputy Dean of the Postgraduate School, China University of Political Science and Law.
Every coin has two sides. While the integration of large SOEs can generate synergy and enhance their competitiveness in the international market, their alliance may lead to monopoly and affect the growth of private companies. Given the current flabbiness of private investment, SOEs will continue to be the main investors. Yet, the integration of SOEs will in turn further neuter the animal spirits of private companies, said Li Youhuan, a professor at the Guangdong Provincial Academy of Social Sciences.
Feng Liguo, an expert from China Enterprise Confederation, said that it's too early to sing highly of the merger of China CNR and China CSR. He warned that the government-led combination of the two separate oligopolies may allow them to call the shots in their trade with the China Railway Corp., the national railway operator that manages all commuter rail and freight transport in China, which may incur industrial monopoly.
In the past decade, China has made ground-breaking progress in high-speed rail technology, and the credit should go to the continuous fight for market share between China CNR and China CSR, Feng said.
As to who will be the next target, Wang said that it's difficult for policymakers to decide which industries should be reshuffled faster than others, and no matter dividing or uniting, there is a boundary.
Growth of Gross Revenue
All SOEs: -6%
Centrally administered SOEs: -7%
Local SOEs: -4.2%
Growth of Profit
All SOEs: -8%
Centrally administered SOEs: -9.9%
Local SOEs: -0.4%
(Source: Ministry of Finance)
Copyedited by Kylee McIntyre
Comments to dengyaqing@bjreview.com